'They could have saved themselves': Flyover in England honors memory of WWII aircrew credited with saving British kids
by
William Howard
February 23, 2019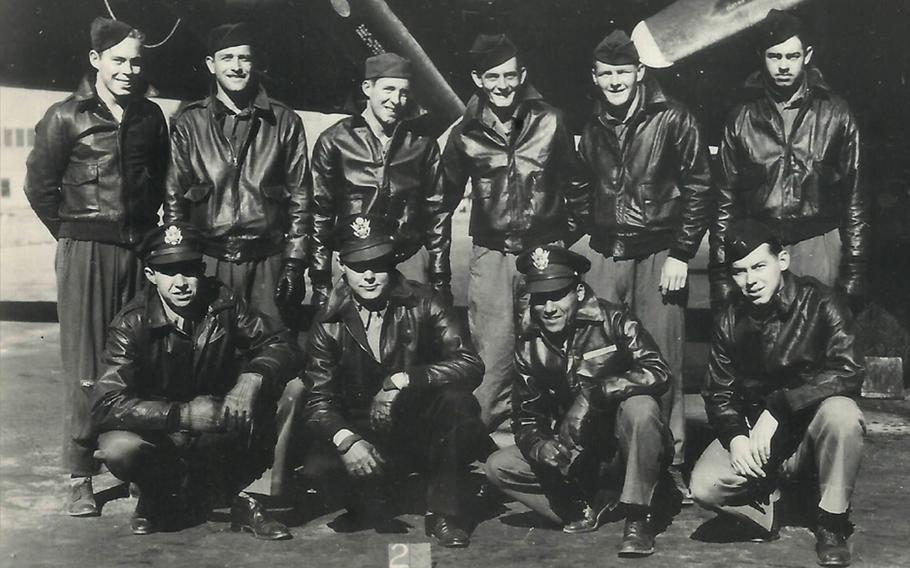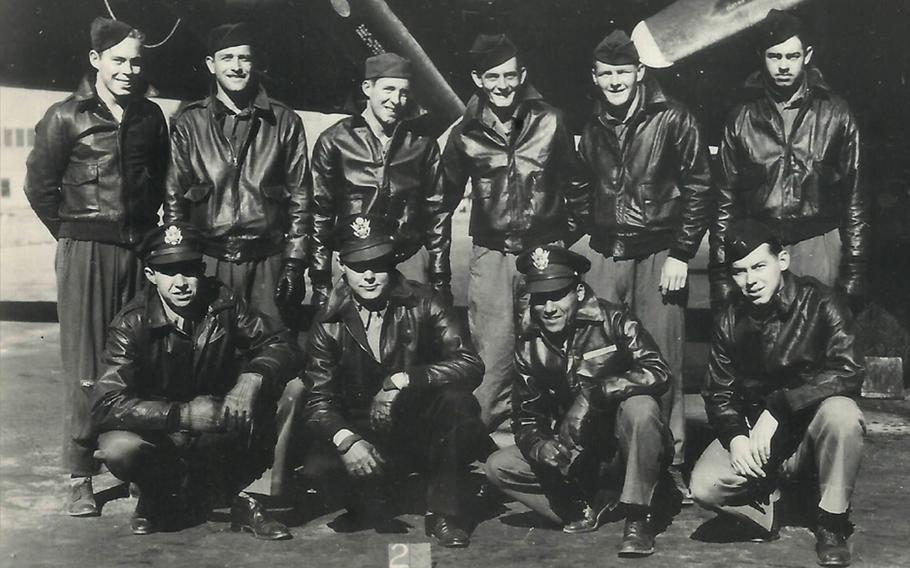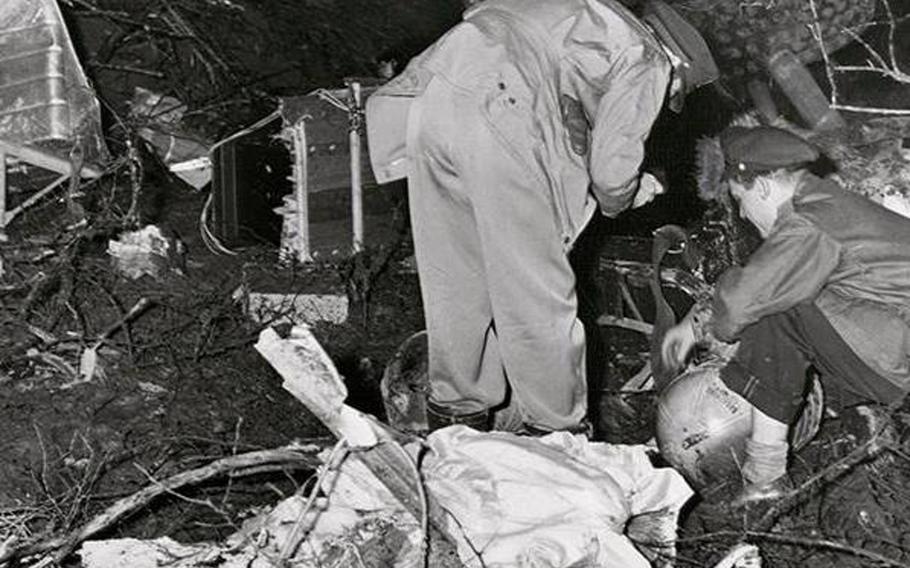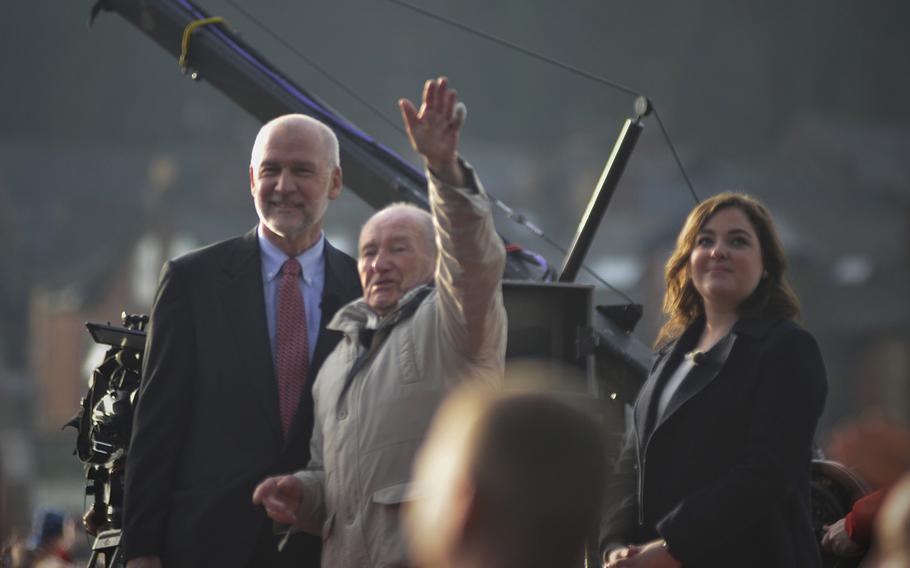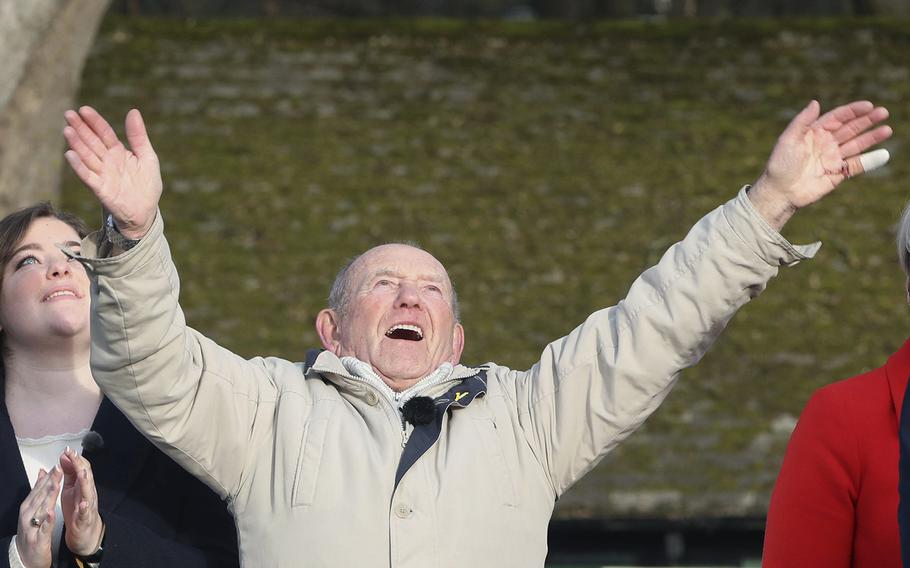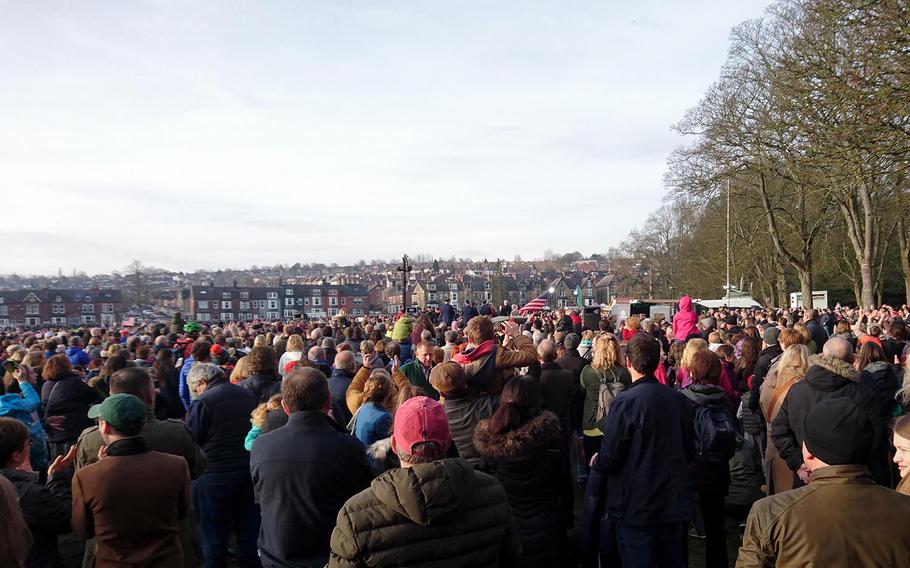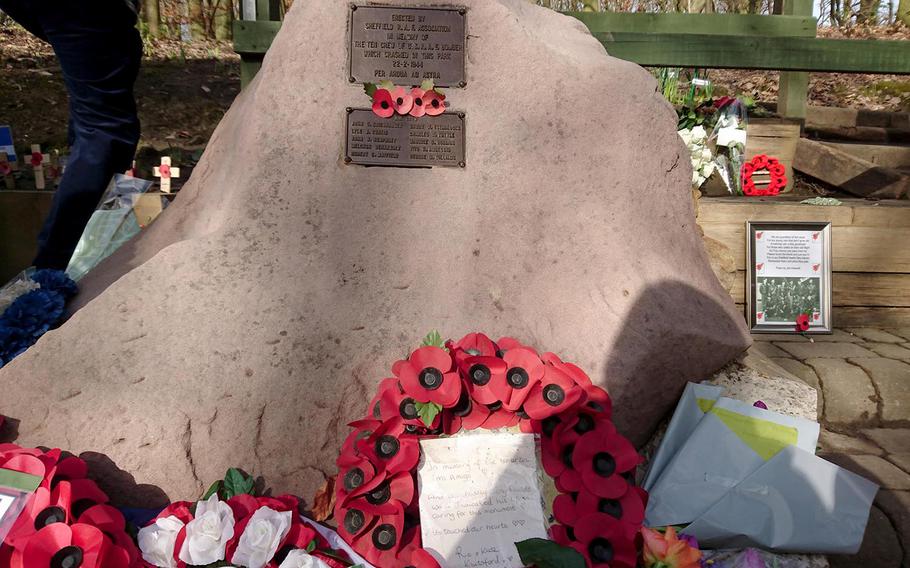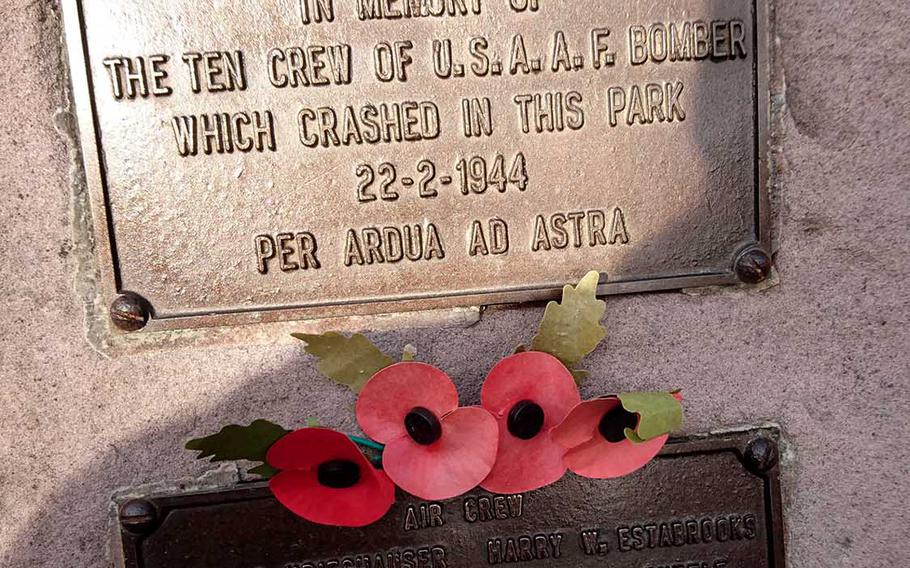 SHEFFIELD, England — Tony Foulds wiped a tear from his eye after waving to each of the 10 British and American military aircraft as they passed over a war memorial he's tended in Sheffield's Endcliffe Park for years.
Foulds had long sought the flyover, the first to commemorate the crash of a B-17G Flying Fortress nicknamed "Mi Amigo" that he'd witnessed 75 years ago as a child during World War II. The event drew crowds of onlookers who applauded and cheered the local man ahead of the overflight.
Foulds was among the guests on a BBC morning program that had set up a stage to broadcast from the site what the British call a "flypast." The U.S. Air Forces in Europe Band, dressed in WWII-period "pinks and greens" uniforms, was also on hand. U.S. Air Force Col. Lee Wingfield, who appeared on the BBC program, said every day is a chance to honor those who have come before, but this event was unique.
"When we have an opportunity to do something on the day, you know, a commemorative date like this, it's absolutely amazing opportunity," said Wingfield, an air attache at the U.S. Embassy in London.
Now an 82-year-old retired engineer, Foulds had been among a group of schoolchildren who had gathered for a fight at the park on Feb. 22, 1944, just before the bomber spiralled down into a nearby wooded knoll, killing all 10 crew members.
Nearly eight at the time, Foulds watched and waved as American pilot Lt. John G. Kriegshauser waved his arms, trying to clear the children from the patch of green, he has said. After circling three times, Kriegshauser is said to have tried to rev his last remaining engine to gain altitude before crashing into the woods, though there are conflicting accounts.
It wasn't until years later that Foulds realized why the American had been waving and that he'd chosen to sacrifice his own crew's life rather than risk the children's.
"They could have saved themselves," Foulds told The Associated Press earlier this month. "I've put myself in their place many a time and thought if I was wanting to land and there were children on, I would think to myself, 'Well, I'll land and hope I don't hit them.'"
Foulds has long felt guilty over the incident. When he was 17, he came across the crash crater in the woods and committed himself to ensuring the Mi Amigo crew would never be forgotten, the AP reported.
"I can't see anyone else ever doing what these lads did — giving their own lives for a foreigner," Foulds said. "I killed these lads."
In the years since a memorial was built and 10 American Oaks planted at the site in 1969, Foulds has visited the rough stone monument hundreds of times a year to chat with the fallen aircrew and share news of his life, he's said.
In recent years, he's been tending to the site to spruce it up and keep it clean and has sought to bring greater attention to the crew's sacrifice, promising them a flyby, saccording to media reports.
After several failed efforts, it wasn't until a coincidental meeting with the anchor of BBC's morning television newscast at the memorial, and a campaign on Twitter that ensued, that his wish was finally granted in time for the 75th anniversary of the crash.
Since his story first hit British airwaves, it's spread throughout the world, bringing greater attention to the story of Mi Amigo and its crew. On Twitter, the hashtag #RememberTheTen has taken root.
"Well, it started off as more-or-less nothing," Foulds told the BBC before the flyover. "And to see how many people have actually looked and took note, it's for these — for these lads."
On its final mission in 1944, the B-17 had been among 60 bombers on a daylight raid on an airfield in occupied Denmark meant to divert Nazi fighter planes from another Allied attack on Germany. But heavy clouds obscured the Americans' targets, and after passing through heavy anti-aircraft fire, the bombers dumped their payloads over the North Sea and turned back for base in Northamptonshire, England.
As Mi Amigo limped home, it was attacked and severely damaged by German fighter planes. Unable to radio the bomber formation, it fell behind and appears to have veered off course, breaking through the clouds over Sheffield some 80 miles northwest of its base.
"When it came over, one engine working, spitting oil, you could actually see daylight through the tail. That's how bad it was," Foulds told the AP. "I only saw one person. No gunner. No co-pilot. No radio operator. I just saw the pilot."
The plane was one of 226 heavy bombers lost during the third week of February 1944 as part of an operation dubbed "Big Week," in which more than 2,000 crew were killed or captured, Air Force historians say.
For many, their fates may be unknown or long forgotten, but Foulds has kept alive the memory of Mi Amigo's 10-man crew not only by tending the public memorial, but by establishing a kind of shrine in his own home as well, he said in a video posted to YouTube earlier this month.
Killed on the plane with Kriegshauser were co-pilot 2nd Lt. Lyle Curtis of Idaho Falls, Idaho; navigator 2nd Lt. John W. Humphrey of Wyoming, Ill.; bombardier 2nd Lt. Melchor Hernandez of Los Angeles; radio operator Staff Sgt. Robert Mayfield of Raymond, Ill.; waist gunner Sgt. Vito Ambrosio of Brooklyn; flight engineer and top turret gunner Staff Sgt. Harry Estabrooks of Mound Valley, Kan.; waist gunner Sgt. George M. Williams of Faxon, Okla.; ball turret gunner Sgt. Charles Tuttle of Raceland, Ky. and rear gunner Sgt. Maurice Robbins of Manor, Texas. In January, a U.S. Air Force official visited the memorial and asked Foulds how he wanted the flyover to be done, Foulds said in a video posted on YouTube. The retiree said the formation should fly over the memorial and circle three times, just as Mi Amigo did.
On their way back to RAF Lakenheath, four F-15E Strike Eagles were expected to also fly over the Cambridge American Cemetery and Memorial near Madingley, England, where Mi Amigo crew members Robbins, Tuttle and Estabrooks are buried.
A wreath-laying ceremony, held annually at Endcliffe Park on the closest Sunday to the anniversary of the crash, is slated for this weekend, with a memorial service at nearby St. Augustine's Church at Brocco Bank to follow.
howard.william@stripes.com Twitter: @Howard_Stripes