Square dancers swing their partners at Misawa
by
T.D. Flack
March 14, 2010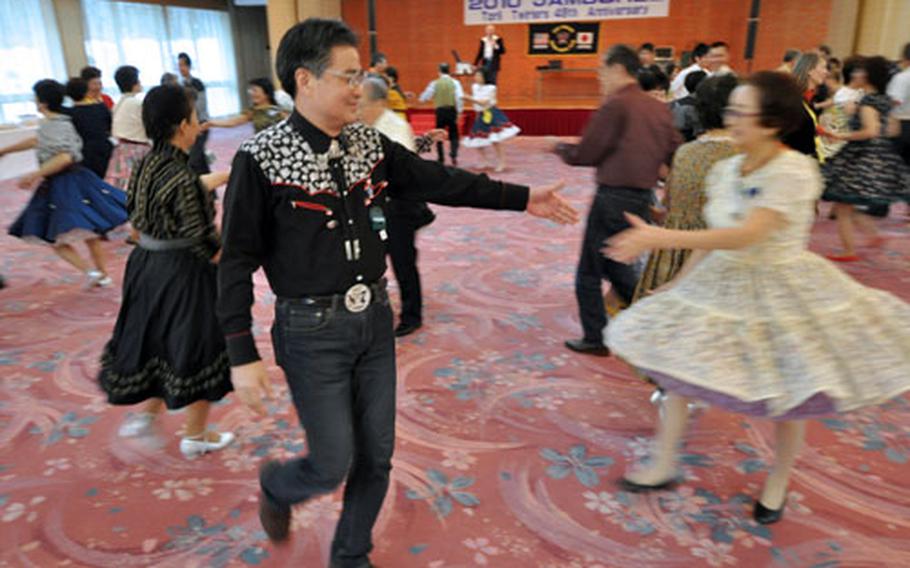 MISAWA AIR BASE, Japan — When Hiromichi Kaminishi retired from the Japan Air Self-Defense Forces in the early 90s, he began looking for something he could take up as a hobby.
He said he was happy to discover the Misawa Torii Twirlers, a group of Japanese and American square dancers who practice on Misawa Air Base each week.
"I felt like I had lost everything after retirement," said Kaminishi, 70, during a break in dancing Saturday at the 49th annual Misawa Torii Twirlers Jamboree. More than 100 square dancers from northern Japan — and a few from as far away as Tokyo — gathered at a local resort for two days of dancing.
But with square dancing, Kaminishi said he found a way to stay mentally and physically fit and a way to interact with the American community on the base.
Bud Warner, the club president, said that while the club has been in existence since 1961, membership and interest tends to go in waves. There are 18 current members, only four of them American, Warner said.
He said that the hobby — first introduced to the Japanese during post-war occupied Japan — remains popular across the island nation. There are dozens of clubs in northern Japan, he said.
Warner, a school teacher on the base, said that the language barrier isn't a problem, since the dance steps are standardized and dancers follow the instruction of a caller — the person who directs each group of eight dancers through the various steps.
For this weekend's event, the Misawa club brought internationally acclaimed caller Gary Shoemake from the United States.
Shoemake said he first visited Japan to call an event about 30 years ago. He's also traveled to Mexico, Canada, England, Scotland, Germany, New Zealand, Denmark and Central America.
Shoemake said he's impressed with the Japanese dancers and their dedication to perfecting the art.
He said that the U.S. military has helped spread the dance style.
"The service people have taken it all over the world," he said.
Shoemake also said that those who haven't seen square dancing would be surprised by how modern it is now.
"We use all kinds of music … even pseudo-rap," he said.
On Saturday, Shoemake put that style to work, leading the groups through a quick-paced session with rap-music style delivery to the tune of "Funky Town."
Warner said the club is always looking for new members. They practice every Thursday at 7 p.m. in the Sollars Elementary School cafeteria. Contact Warner at warnerh@compuserve.com or Kaminishi at hirokaminishi@hotmail.com for more information.