Servicemembers are warned to lay off vaping amid reports of lung illnesses linked to e-cigarettes
by
Chad Garland
September 16, 2019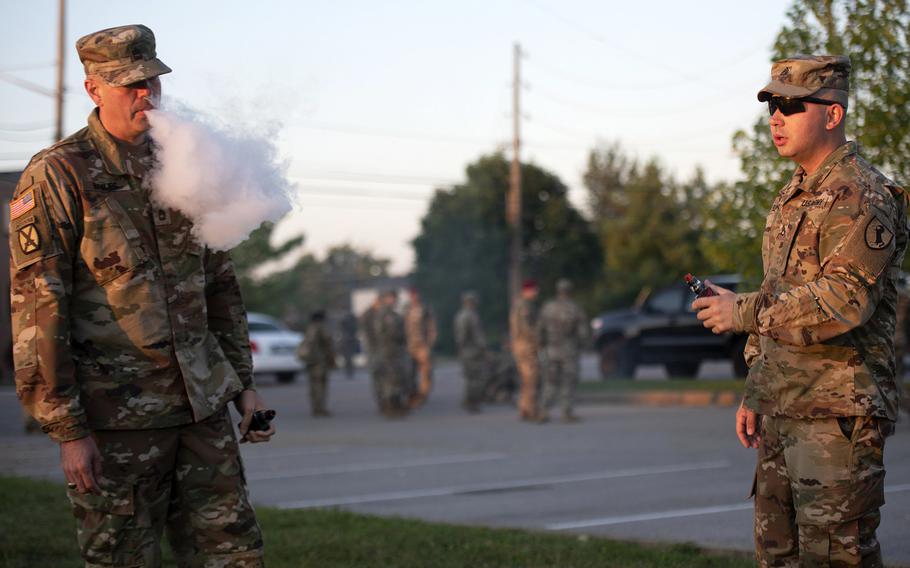 Servicemembers are being told to avoid vaping after the Centers for Disease Control and Prevention said the habit may be linked to hundreds of cases of severe lung disease, and at least six deaths, in dozens of states.
The Army Public Health Center issued an alert last week warning soldiers and family members to avoid all electronic cigarette and vaping products, "particularly those sold off the street or modified to add any substances not intended by the manufacturer."
Troops and their loved ones may want to discontinue using products including e-cigarettes, e-hookahs, vape pens and electronic nicotine delivery systems until the CDC completes its investigation, the Defense Health Agency said in a post on Thursday.
Lung disease had, as of last week, been linked to vaping in 36 states and the U.S. Virgin Islands, the CDC said.
All patients who developed lung illnesses reported using e-cigarette products from a few days to several weeks before they became ill, the CDC said. Many reported using them with liquids containing cannabis byproducts that troops are prohibited from ingesting or inhaling.
Symptoms include cough, shortness of breath or chest pain; nausea, vomiting and diarrhea; or fatigue, fever or weight loss. They generally do not improve with antibiotic treatment alone, said Dr. Amy Millikan Bell, an Army Public Health Center adviser.
Those who vape should monitor their breathing and digestive symptoms, and seek prompt medical attention if they experience any of the listed symptoms or other abnormalities, Millikan Bell said.
Even without the risk of lung disease, vaping may be harmful to soldiers' health, Army public health officials said. It has been associated with anxiety, increased blood pressure and seizures, one Army public health official said.
"Vaping of e-cigarettes should be highly discouraged at this time," said Dr. Marc Williams, a toxicologist and vaping expert with the Army Public Health Center's toxicology directorate.
garland.chad@stripes.com Twitter: @chadgarland