S. Korean president looks forward to 'heart-to-heart talks' during summit with Kim Jong Un
by
Kim Gamel
September 17, 2018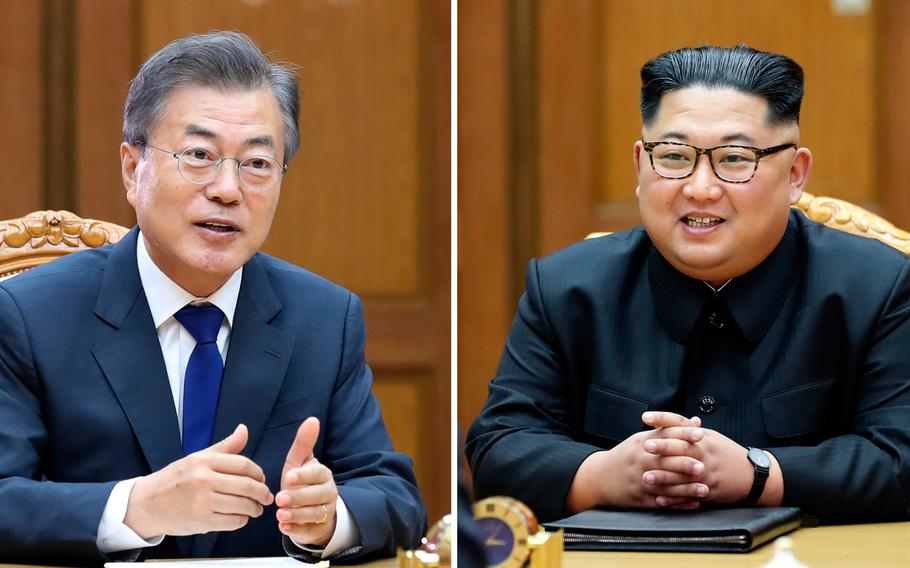 SEOUL, South Korea – South Korean President Moon Jae-in said Monday he expects to have "heart-to-heart talks" during his summit with North Korean leader Kim Jong Un in hopes of restarting nuclear talks between Pyongyang and Washington and forging a lasting peace on the divided peninsula.
Moon, who flies to Pyongyang on Tuesday for his third round of meetings with Kim in less than five months, has staked his legacy on improving relations with the North but faces a stiff challenge in trying to persuade the communist state to give up its nuclear weapons.
His office played down expectations for a breakthrough, but Moon appeared optimistic.
"I aim to have lots of heart-to-heart talks with Chairman Kim Jong Un," Moon was quoted as saying during a meeting with senior advisers on the eve of the summit. "What I want to achieve is peace – irreversible, permanent peace that is not disrupted by international politics."
Efforts to revive stalled U.S.-North Korean talks on the nuclear issue have risen to the top of the agenda between the two Korean leaders amid fears that continued deadlock may lead to new tensions between the longtime adversaries.
Washington reportedly wants the North to disclose the extent of its nuclear weapons program and insists it will maintain punishing economic sanctions and other pressure until a deal is reached. Pyongyang says it already has taken important steps and should be rewarded along the way with eased sanctions and a formal declaration ending the 1950-53 war.
Reports citing U.S. intelligence officials and satellite images, meanwhile, have shown continued nuclear activity by the North, raising questions about Kim's sincerity in vowing to give up his arsenal.
Trump canceled a planned trip to North Korea by Secretary of State Mike Pompeo over the summer, citing insufficient progress in the months that followed his own historic June 12 summit with Kim, which was held in Singapore.
Moon said he will try "to find a middle ground" by focusing on easing military tensions and promoting nuclear dialogue between the United States and North Korea.
Earlier Monday, his office acknowledged the difficulties. The presidential chief of staff said Moon planned to meet at least twice with Kim during his three-day trip to the North Korean capital.
"Denuclearization is a pressing issue," Im Jong-seok told reporters in Seoul. "There are many expectations for great progress on the issue at the summit, but the prospects are very limited and it's hard to have an optimistic view."
Moon, a 65-year-old former human rights lawyer, and Kim, believed to be 35, first met on April 27 in the truce village of Panmunjom, which straddles the heavily fortified border that has divided the peninsula since the 1950-53 Korean War ended in an armistice instead of a peace treaty.
He briefly stepped into North Korea during that symbolism-laden meeting, but he will be making his first real trip to the communist state when he flies directly to Pyongyang on Tuesday.
The Korean leaders also met in late May in Panmunjom.
South Korean business leaders including Samsung heir Lee Jae-yong will accompany Moon, underscoring hopes by the two Koreas to resume economic cooperation projects that are currently stalled because of the U.S.-led sanctions.
Moon and Kim are expected to meet after the president's arrival on Tuesday and again on Wednesday, according to the chief of staff. Im said South Korea's first lady Kim Jung-sook will visit a children's hospital and a music school.
Both Koreas are eager for an end-of-war declaration, which would be a step toward a peace treaty, That has raised concern that the North is trying to drive a wedge in the longtime U.S.-South Korean alliance, which includes the presence of some 28,500 American troops on the peninsula.
South Korean envoys who met with Kim last month said the North Korean leader wasn't pushing for a U.S. withdrawal.
North Korea has suspended nuclear and missile tests, which were the focal point of tensions that prompted fears of a nuclear war last year. The last one was the firing of an intercontinental ballistic missile in late November. It also moved to destroy its main nuclear testing site and to dismantle a key missile launch site.
But experts have said the moves are likely reversible without international inspections and verification.
Trump, meanwhile, promised Kim unspecified security guarantees and announced that he was suspending joint war games with the South following the Singapore summit.
gamel.kim@stripes.comTwitter: @kimgamel