Reinstated Air Force pilot unlikely to get promoted any time soon
by
Nancy Montgomery
March 7, 2013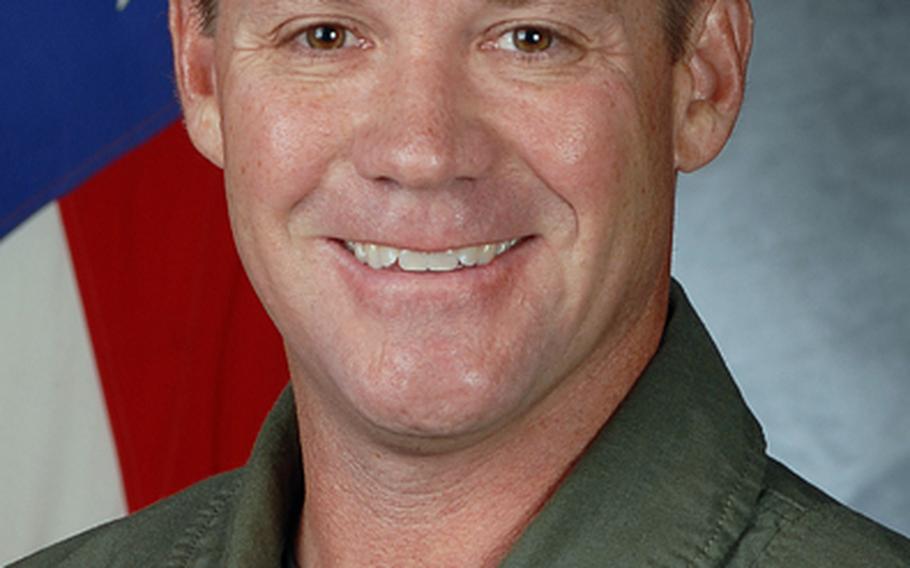 The fighter pilot freed from jail and reinstated into the Air Force last month after a lieutenant general set aside his sexual-assault conviction was taken off a promotion list, the Air Force said, making it unlikely he will move up in rank any time soon.
Lt. Col James Wilkerson, whose case has sparked calls from Congressional lawmakers and sexual assault victims' advocates for changes to the military justice system, had been selected for promotion to colonel before he was accused of groping a sleeping houseguest. He was convicted in November at a jury trial of aggravated sexual assault.
In January, the Secretary of the Air Force removed the F-16 pilot's name from the promotion list. Wilkerson's removal was "based on evidence considered in his court-martial proceedings," according to a statement from the Air Force Personnel Center.
Despite Lt. Gen. Craig Franklin's action to set aside the jury verdict on Feb. 26 and reinstate Wilkerson to full-duty status, the Air Force secretary's decision would stand unless Wilkerson persuaded an Air Force board that his name should not have been removed, the statement said.
"If Lt Col Wilkerson believes an error caused his removal or that his removal constitutes an injustice, he may submit an application to the Air Force Board for Correction of Military Records (AFBCMR),"the statement said.
"The AFBCMR is the highest level of administrative review in the Air Force and will thoroughly review his application to determine if an error or injustice exists and if so, direct corrective actions required to provide full and effective relief."
Wilkerson, 44, was the 31st Fighter Wing inspector general at Aviano Air Base, Italy, an "Air Force superstar," according to a February 2012 performance evaluation. The next month he was accused by a civilian physician's assistant of groping her breasts and vagina as she lay sleeping in a guestroom after an impromptu party at the Wilkerson home.
At the end of a weeklong court-martial, a jury in November convicted Wilkerson of aggravated sexual assault and sentenced him to a year in jail, total pay forfeiture and dismissal.
Franklin, commander of the Third Air Force and the authority who convened Wilkerson's court-martial, set aside the verdict and sentence after a post-trial review that included scores of letters from Wilkerson supporters.
Although the jury of four colonels and a lieutenant colonel had found Wilkerson guilty beyond a reasonable doubt, Franklin was not convinced that the standard had been met, according to a Third Air Force statement.
The action to throw out the conviction, although highly unusual, was within the general's authority under the Uniform Code of Military Justice, and, according to legal experts, represented the final disposition in the case.
Franklin's decision outraged advocates for military sexual assault victims, who said it was "the poster child" for a system that discounts and punishes victims and excuses offenders. The advocates and some legislators have sought to remove commanders' discretion from sexual assault cases and have them handled more similarly to the civilian system with military and civilian experts in charge.
Three U.S. senators this week demanded investigations into the case, by Defense Secretary Chuck Hagel, Air Force Chief of Staff Gen. Mark A.Welsh III and Air Force Secretary Michael B. Donley.
Sen. Claire McCaskill, a Missouri Democrat, suggested in her letter that superiors should relieve Franklin of command because his decision had shown "ignorance, at best, and malfeasance, at worst."
Gen. Philip Breedlove, commander of U.S. Air Forces in Europe and Franklin's boss, said that he sympathized with the "burden" that the UCMJ placed on Franklin as a court-martial convening authority. "I've been there. I have been in his shoes," Breedlove said in an interview on Wednesday.
But he said he believed that the system had "served our military well through the years," that commanders rarely tossed out jury convictions and if they did, it was only after "great forethought."
"In this case, that was the decision that was taken," Breedlove said. "It actually, I think, speaks to that the system does work — that there is a time when a commander may see something that doesn't meet the requirements of the UCMJ as he sees it, and then he should take action. If we had 100 percent acceptance of every result, is there truly a review at that point?
"So very, very, very few are overturned like this and I think it is only done with great forethought. So I have the faith in that. And I have faith in this commander that he put a lot of work into that decision," Breedlove said.
Breedlove and Franklin, like Wilkerson, are among 1,286 active duty F-16 pilots in the Air Force. Both generals had previously served as commander of the 31st Fighter Wing.
Reporter Jennifer Svan contributed to this report.