Ranger School graduates include first woman in Air Force to earn tab, 7-foot former NBA player
---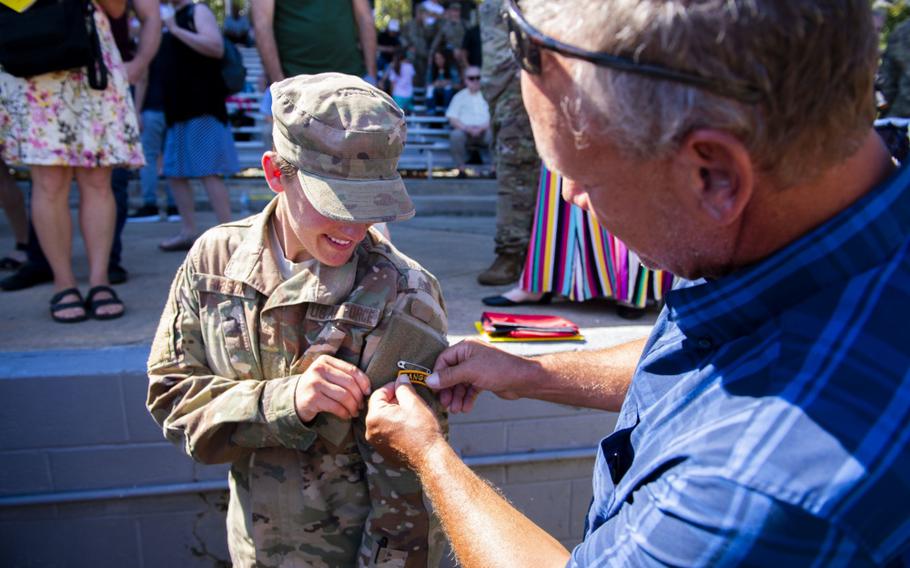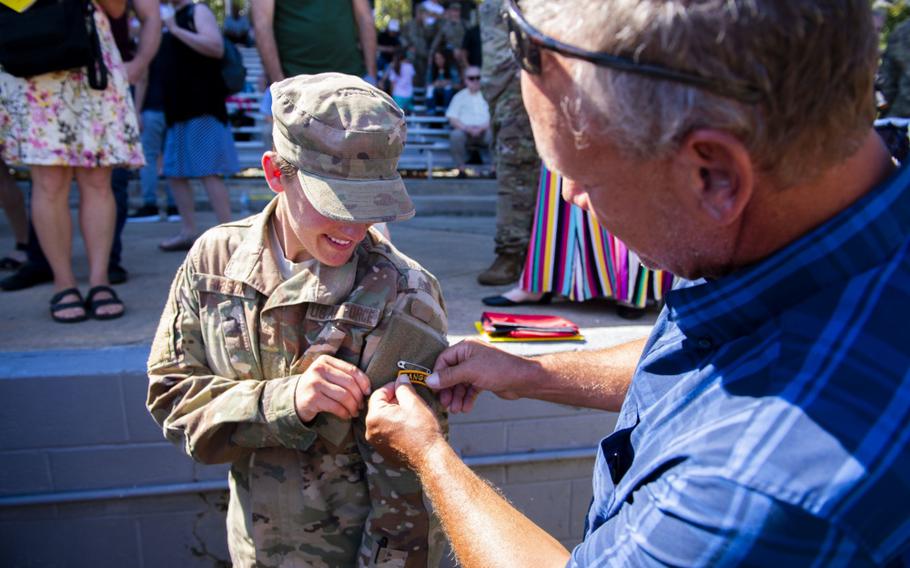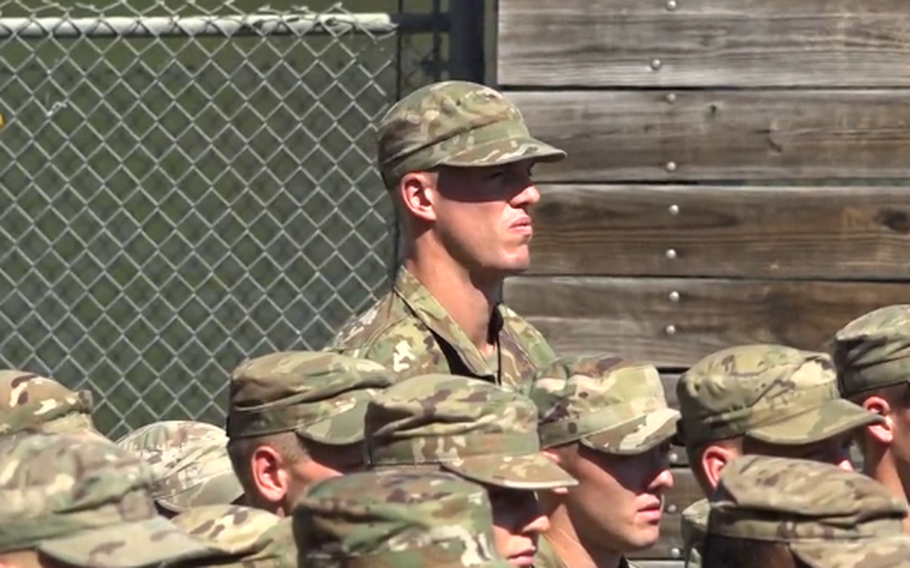 A 7-foot-tall former NBA player graduated from Ranger School this week alongside the first woman in the Air Force to complete the grueling Army small unit tactics and leadership course.
First Lt. Chelsey Hibsch, an Air Force security forces officer, graduated from the two-month course Friday in a ceremony at Fort Benning, Ga., overlooking Victory Pond. Second Lt. Marshall Plumlee, a member of Duke University's 2015 NCAA Championship basketball team and former New York Knicks player, was "baptized" later in that pond after having a Ranger tab pinned on.
"From the NBA to leading the way!" wrote Gen. David Hodne, head of the Army's Infantry School at Benning, in a tweet accompanying a photo of himself with Plumlee at the school's rappel tower. "Proud of today's Ranger School graduates including 2LT Marshall Plumlee."
After ROTC at Duke, Plumlee commissioned in the New York National Guard in 2017, while playing for the Knicks. He signed with the Milwaukee Bucks and played for them in the 2018 season. His two older brothers play in the NBA.
Plumlee's mother, who played college basketball at Purdue, pinned his tab on him. On Instagram, he thanked her as his biggest supporter in his transition "going from the NBA to the active duty Army and now Ranger School."
Playing professionally was his dream as a kid, he said in an October 2017 Army video, but so was joining the Army. His biggest role models were sevicemembers, he said.
In high school, Gen. Robert Brown became a mentor to him, a 2015 ROTC profile said.
Both have played basketball under legendary coach Mike Krzyzewski ⁠— Brown, at the U.S. Military Academy in West Point, N.Y., where "Coach K" had also played, and Plumlee, at Duke. Though the 2015 profile didn't give Brown's height, it said he was nearly as tall as Plumlee.
The junior officer is seen in footage from last week's ceremony towering over others in formation.
"I'll meet the occasional soldier who'll tell me they look up to me, either literally because I'm 7 feet tall, or figuratively because I played in the NBA," Plumlee said in 2017. "It's just so backwards for me, because I look up to them."
While smaller in stature, Hibsch will likely be looked up to as well for different reasons. She's the first woman out of about 300 airmen to complete the rigorous training since it opened to the Air Force in 1955.
More than two-dozen women have graduated from the school since it opened to them in 2015 as part of a push to get women into combat jobs.
On average, less than half of men who attempt the course complete it ⁠— many fail in the initial three days. Most aren't able to complete all three of the school's phases without recycling through either the initial Benning phase, another one in the mountains of northern Georgia or the final stage in the swamps of Florida, the Army has said.
To screen and select airmen for the course, the Air Force conducts a tough 19-day assessment. Hibsch, a former enlisted airman, completed it last fall in San Antonio, Texas, one of 10 to finish out of a starting group of 29.
The training helped her understand how she functions when "hungry, tired, wet, cold and worse, then you have to lead a team of individuals feeling the exact same way," she said.
She also went to a two-week program with the 25th Infantry Division in Hawaii to further prepare, an Air Force statement said.
"Ranger School is truly not for the faint of heart," said Lt. Col. Walter Sorensen, a Ranger-qualified instructor at the Texas course and the training chief at the Air Force Security Forces Center, where it was hosted. "It speaks well of all those who persevere to find that inner grit and motivation to push through."
garland.chad@stripes.com Twitter: @chadgarland
---
---
---
---