People looking to leave typhoon-stricken region face chaos at Tacloban airport
by
Seth Robson robson.seth@stripes.com
November 15, 2013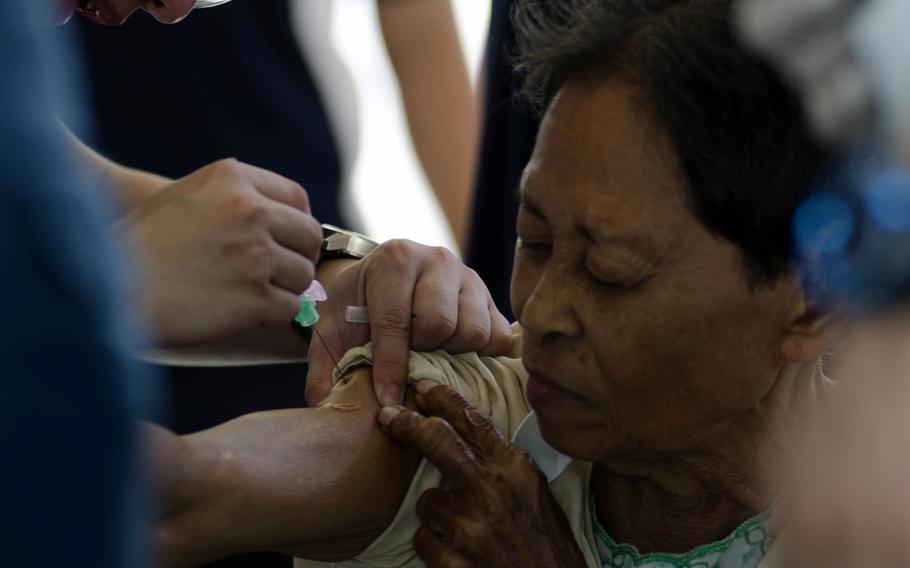 TACLOBAN, Philippines — It was a chaotic scene at the Tacloban airport on Friday as commercial airlines crowded ramps and runways, and people with cash were put on flights out of the ravaged city ahead of the sick, the injured, children and pregnant women.
A line of healthy-looking adults could be seen paying between 1800 and 2800 pesos ($40 to $65) to airline ground staff, then boarding small commercial jets as about 2,000 other typhoon victims — presumably without money to buy tickets — were held back by armed soldiers. The crowd, which included many frightened women and children, was mostly orderly, but at times the soldiers dragged queue jumpers back, and there were frantic scenes when families became separated amid the confusion.
And while the commercial passengers were heading out of the disaster zone in comfort, other evacuees were being packed into military transports and strapped to the floor, like cargo, during flight.
On Friday afternoon, more than half the ramp space at Tacloban's domestic airport was occupied by commercial jets, leaving only enough room for a single Philippine Air Force C-130 to drop off supplies and transport exhausted refugees to Manila.
Minerva Daria, 64, and her mother, Flora Taisa, 85, were among those waiting for a flight out on Friday.
Daria fanned her mother, who is recovering from a heart attack she suffered last month as they waited inside a makeshift medical clinic near the airport control tower. Nearby, an Australian doctor hacked into a man's infected leg and removed handfuls of pus as blood dripped onto the floor.
Daria and Taisa decided to flee Tacloban because they feared they might be robbed or raped by anti-government rebels or escaped prisoners, Daria said.
"There are no police checkpoints," she said. "At night, there are people trying to break into houses."
Foreign nationals received priority on military evacuation flights, which was good news for Australian Les Thomas, 68, who was nursing an infected foot that he got when debris struck him during the storm. Thomas, who got on a flight to Manila on Friday night, survived several days in Tacloban with the injury that he treated with iodine and antibiotics that a relative salvaged from a damaged pharmacy.
U.S. Marines, eyes blood red from lack of sleep, scowled as they surveyed the commercial jets blocking their own aircraft.
Overhead, a military C-130 transport plane was running low on fuel but couldn't land because a larger U.S. Air Force C-17 was parked on the flight line.
"They should stop," Philippine Navy Capt. Roy Trinidad, the Philippine military officer in charge of the airport, said of the commercial jet arrivals at Tacloban, adding that commercial flights shouldn't be run until the relief effort has reached a more-advanced stage.
Stars and Stripes was unable to reach for comment the operator of the commercial aircraft that were picking up passengers in Tacloban late Friday.
Trinidad said Philippine soldiers have a tough job controlling the crowd, but they are taking care to place sick and injured, pregnant mothers, small children and the aged ahead of stronger people on flights out of the region.
Earlier in the day, air traffic controllers U.S. Air Force Master Sgt. Clinton Dykes and U.S. Marine Gunnery Sgt. Louie Cruz issued instructions to incoming flights from the airport's control tower, one of the few buildings in Tacloban to survive the typhoon.
There's no shortage of military aircraft available to drop off supplies or pick up survivors, they said.
"We are controlling 250 ops (operations) per day," said Dykes, 31, of Wichita Falls, Texas, who deployed with a Contingency Response Group out of Guam.
U.S. C-130 Hercules transport planes, Marine Corps tilt-rotor MV-22 Ospreys and Navy SH-60 Seahawks, along with all manner of Philippine air force planes and helicopters, arrived in a constant stream, their propellers blowing a stiff breeze in the faces of typhoon victims clustered nearby.
Cruz, from Marine Air Control Squadron 4 out of Okinawa, Japan, said the volume of air traffic at Tacloban was overwhelming.
"We have three C-130s and two H-60s on the deck and four more C-130s and five H-60s are circling overhead," he said, as another aircraft taxied toward the crowd.
The lack of space at the airfield is a challenge for the controllers, since they can only fit three large military fixed-wing aircraft on the ramp, even at times when the commercial planes aren't hogging space.
"The crowd has been hard to control," Cruz said. "Every time a C-130 lands, they surge toward the ramp. It seems like everyone is trying to leave Tacloban."
Marine Brig. Gen. Paul Kennedy, commander of the U.S. military relief effort, said the arrival of the C-17, the first aircraft of its size to land at Tacloban during the operation, was significant, because it could carry 260 people.
"When we first came down here, there was no intention to backfill these aircraft with people (once they had dropped off humanitarian supplies). But who would send an empty aircraft back when there are people who want to evacuate?" he said.
robson.seth@stripes.com Twitter: @SethRobson1