Pentagon moving quickly on Allen-Kelley investigation; focus now on 60-70 emails
by
Chris Carroll
November 28, 2012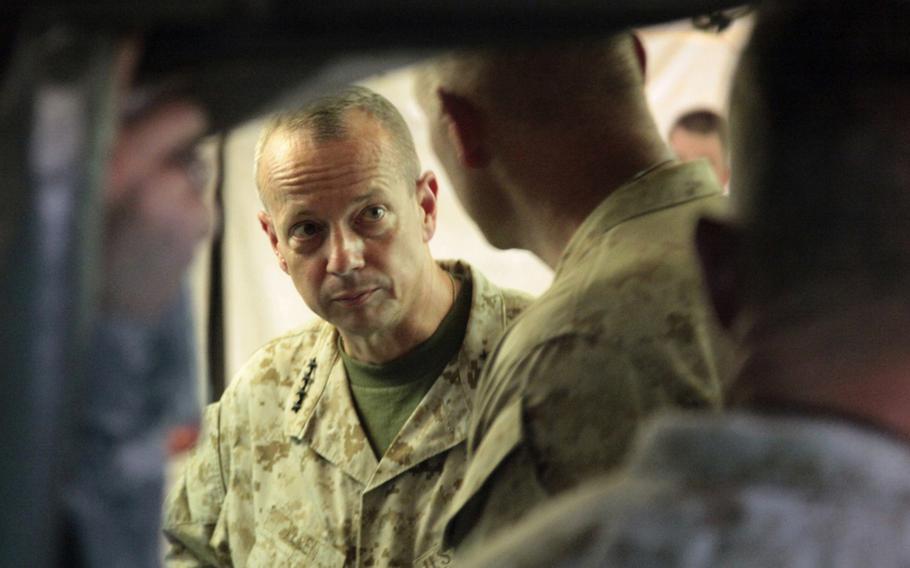 WASHINGTON – The Pentagon is moving quickly to complete an investigation of email exchanges between the top U.S. general in Afghanistan and a Tampa socialite that have held up Gen. John Allen's confirmation as head of U.S. European Command and NATO Supreme Allied Commander in Europe, the New York Times reported Wednesday.
An unusually large team of 15 investigators is working seven days a week to comb through communications between Allen and Jill Kelley, the paper reported, citing an unnamed defense official.
The group, which is a least five times as large as a typical investigative team, has found 60 to 70 emails that the official said "bear a fair amount of scrutiny," the Times reported.
Defense officials, speaking on the condition of anonymity, have used terms like "inappropriate" and "flirtatious" to describe the emails to Stars and Stripes reporters. Conflicting accounts from anonymous officials have appeared in other news outlets, describing the emails as innocuous or obscene.
Allen was to appear before the Senate earlier this month in a confirmation hearing for the European command positions, but the hearing was indefinitely delayed in the wake of the email scandal. Senate officials said a change of command in Europe would not take place in February as expected.
Marine Gen. Joseph Dunford, nominated to replace Allen in Afghanistan, is expected to be confirmed by the end of December and take command in Afghanistan in February.
Meanwhile, Kelley's lawyer, Washington defense attorney Abbe Lowell, on Tuesday released a trove of communications including emails and phone recordings that he said proves his client did not try to exploit her friendships with top defense officials.
Kelley, a married mother of three children, has been described as a volunteer "social liaison" at McDill Air Force Base, Fla., where U.S. Central Command headquarters is located.
In a letter to the U.S. attorney's office in Tampa, Lowell demanded to know why Kelley's name had been leaked to the news media and threatened possible legal action, the Washington Post reported.
"These leaks most certainly had to come, at least in part, from government sources," Lowell wrote in a letter provided to the Post. "The earliest and best example of the leaks would be the release to the media of the names of my clients. As you know, there are several rules and laws that seek to protect United States citizens against such leaks."
Defense Department officials say the FBI forwarded more than 20,000 pages of documents relating to the exchanges to the office of the DOD Inspector General, but have declined to say specifically how many emails between the two are contained within those pages.
The exchange with Allen came to light after Kelley complained of anonymous threatening emails that the FBI traced to Paula Broadwell, biographer of then-CIA director Gen. David Petraeus. The former top U.S. commander in Iraq and Afghanistan, also a friend of Kelley's, resigned from the CIA in early November after admitting to an affair with Broadwell.
Despite the large number of investigators involved, the Inspector General's office may not finish its investigation of the Allen-Kelley emails this year, although the process is expected to wrap up sooner than the seven months a typical investigation can take, the Times reported.
Investigators are looking at whether the emails violate any laws or DOD policies, defense officials say.
A spokeswoman for the DOD Inspector General confirmed on Wednesday the investigation is under the supervision of Col. Marguerite Garrison, a deputy inspector general who conducts investigations of senior officials, but said she could provide no further information about an ongoing investigation.
Email: Carrollc@stripes.osd.milTwitter: @Chris Carroll_