Panel urges shift away from Tricare, pension plans for military
---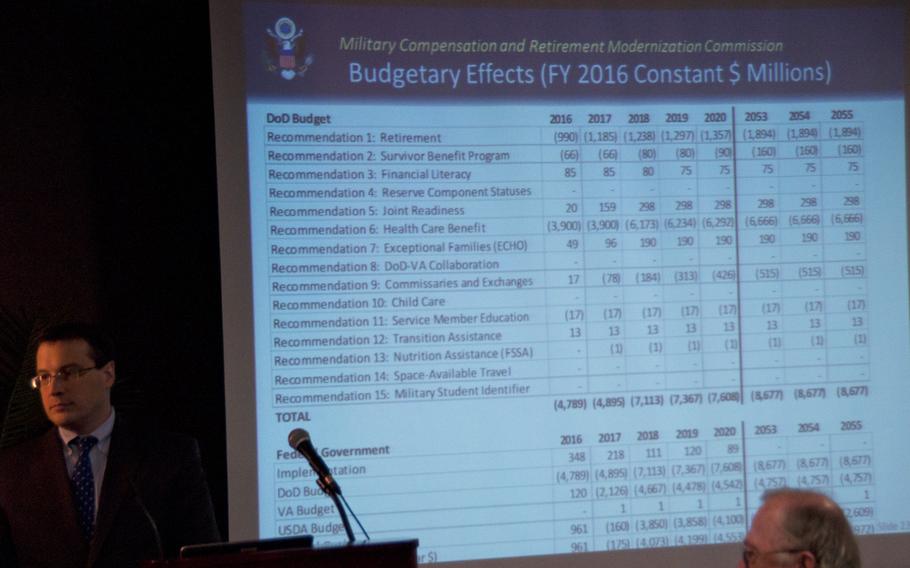 WASHINGTON — A panel created by Congress recommended sweeping changes Thursday to pensions and health care following its two-year review of the military's compensation and retirement systems.
The military should auto-enroll about 1 million troops in the Thrift Savings Plan and offer contributions to the accounts throughout their service as an alternative to the current retirement system, the Military Compensation and Retirement Modernization Commission said.
Tricare health insurance should be replaced with an array of private provider options to save money and improve access, it found.
The long-awaited recommendations came from surveys of 150,000 troops and visits to facilities around the world. The panel said they could eventually save billions of dollars per year as Congress looks at ways to modernize military compensation and rein in personnel costs.
"We've listened extensively to what the servicemembers have had to say to us," said Alphonso Maldon, chairman of he commission. "We've based to a great extent a lot of what we have done on what the servicemembers preferred."
The panel also recommended changes to the commissary and exchange system, more child care on bases, and ensuring servicemembers receive financial assistance to cover nutritional needs.
The retirement reform proposal would entice troops to opt out of the current pension system, which requires 20 years of service, after which regular payments start. Instead, all would be automatically given a Thrift Savings Plan account that would sock away 3 percent of pay along with a contribution from the military, according to the panel.
Those who do not want to participate would be given a chance to opt out every year or be re-enrolled. Troops who continue the contributions could choose to leave before the two-decade mark — or just a few years into service — and keep their accrued savings.
The plan would save money by paying less of the expensive, lifelong pensions to 20-year veterans. Instead, smaller contributions over servicemembers' careers would grow into larger amounts using the compounding interest of the TSP investments, the panel said.
Commissioners said about 75 percent of troops could get some retirement pay under the proposal. Currently 83 percent of servicemembers separate before the 20-year threshold without any pension.
The panel also proposed the military eliminate the Tricare health insurance program and replace it with more private options.
The military's insurance program has decreased in quality and become more expensive in recent years, the panel found. Many survey respondents complained about difficulties getting care and a lack of continuity in their health care.
A health insurance system similar to the Federal Employees Health Benefits Program could save money and provide up to 250 alternatives, with a minimum of 11 plans for rural areas and dozens for metropolitan areas, the panel reported.
The recommendations also included:
Commissaries and exchanges should be combined to save money. Both perform "similar missions for similar patrons with similar staff." Expand the availability of day care services on military bases so military parents can work. The panel found that adequate day care is key to readiness, but that 11,000 children were on waiting lists last year. Ensure servicemembers receive financial assistance to cover nutritional needs by providing them cost-effective supplemental benefits.The panel projected that all its 15 proposals could save nearly $5 billion next year and up to $10.4 billion per year by 2020. That savings was projected to increase in the decades after that.
The Pentagon says the current spending on personnel is unsustainable and Congress, which called for the panel recommendations, must now decide whether to act on the proposed overhauls.
Lawmakers made other smaller cuts to troop benefits in December but put off any major overhauls. Troop pay raises were capped lower than past years, housing allowances were reduced, and Tricare pharmacy copays were increased.
Congress and the Defense Department are again wrangling over the next budget, with the rising personnel costs and mandatory caps on defense spending front and center.
Still, it is unlikely that troops will see any major reforms to compensation and benefits this year, Ryan Crotty, a fellow and deputy director for defense budget analysis at the Center for Strategic and International Studies.
The White House and DOD are slated to release proposed budgets Monday, so the recommendations will be too late to be included, Crotty said. The Pentagon will probably request time to review the proposals and report back to Congress later.
"I expect there will not be any big proposals, knowing the fight is to come post budget," he said.
Meanwhile, many lawmakers have resisted DOD proposals to cut personnel costs, saying they fear it could hurt readiness. Republican majorities in the House and Senate have begun a push to instead repeal defense spending caps in the budget to free up more money for personnel, equipment and operations.
Crotty said any big reform proposals for troop pay and benefits may come in 2016.
tritten.travis@stripes.com Twitter: @Travis_Tritten
---
---
---
---