On Veterans Day, vets reflect on war and its consequences
by
Nikki Wentling
November 11, 2016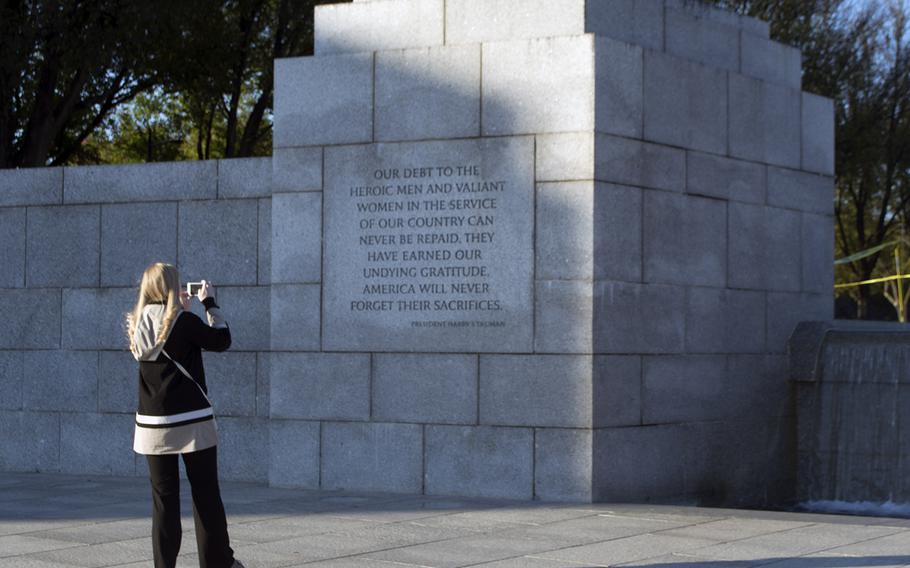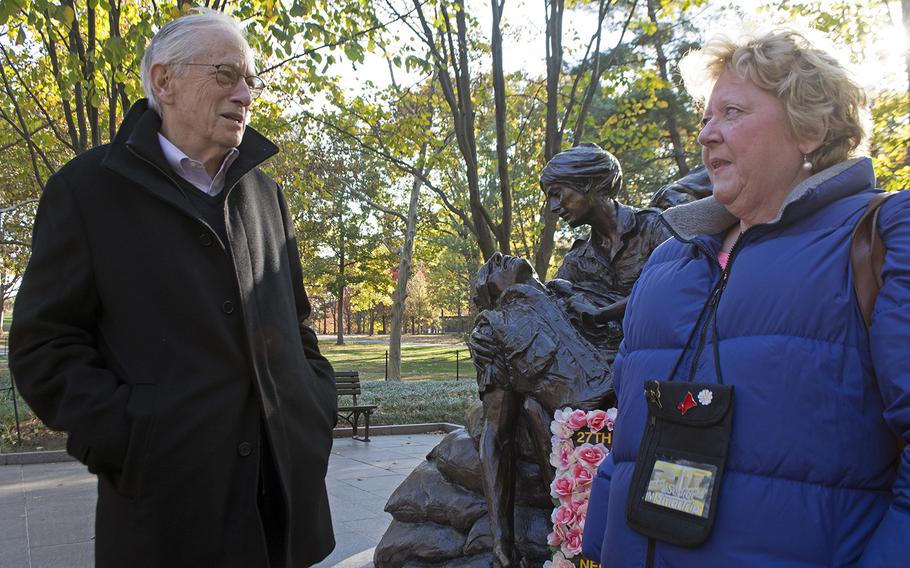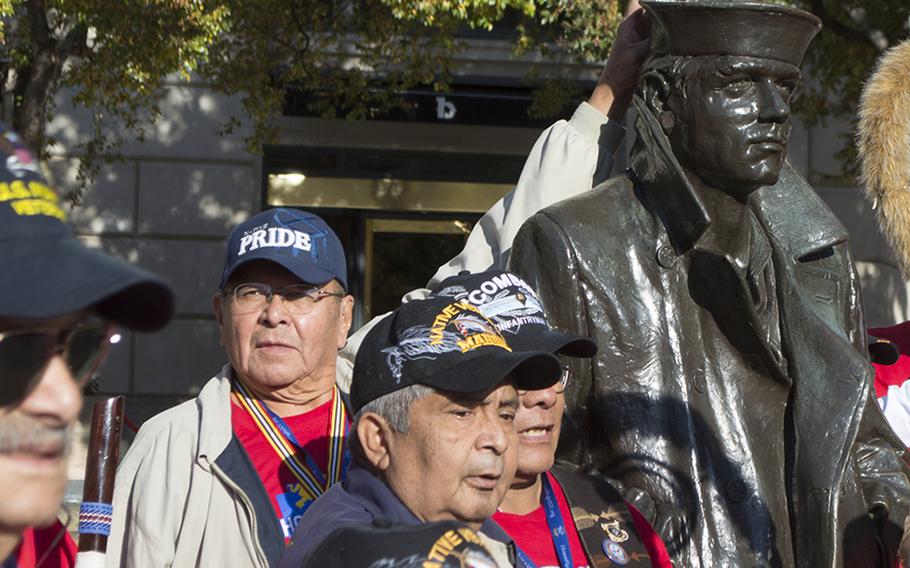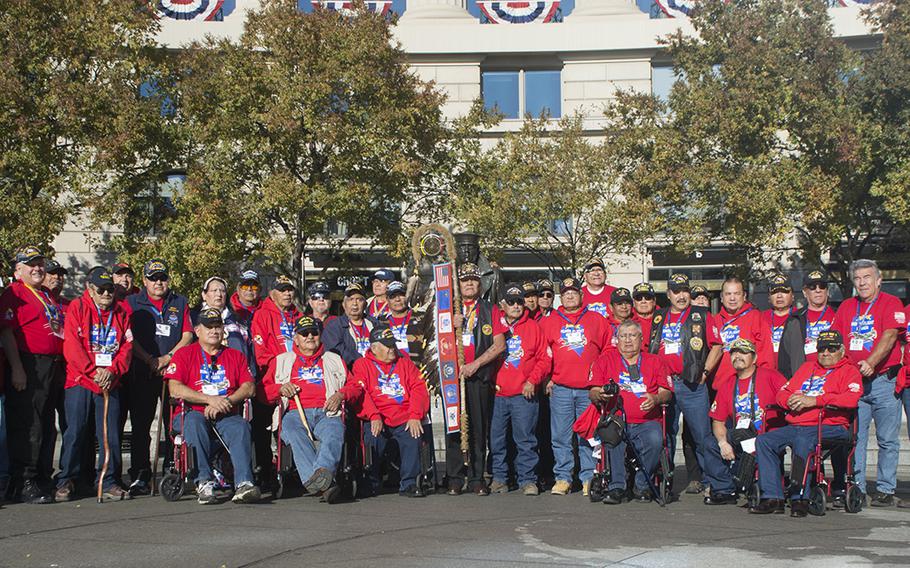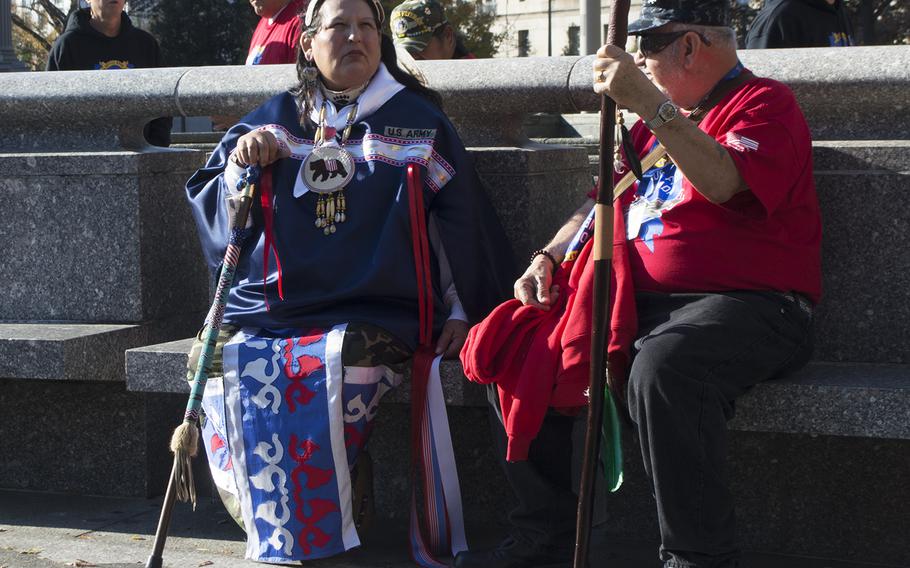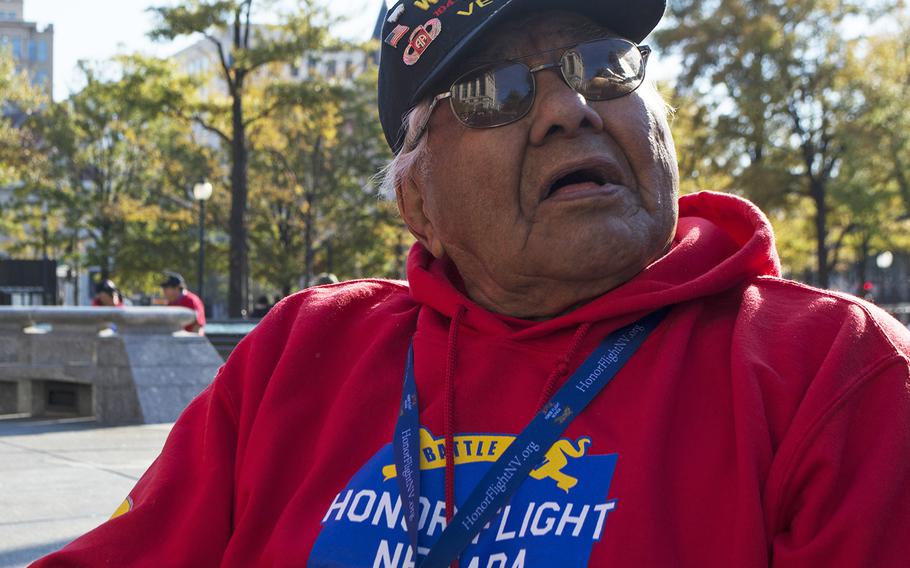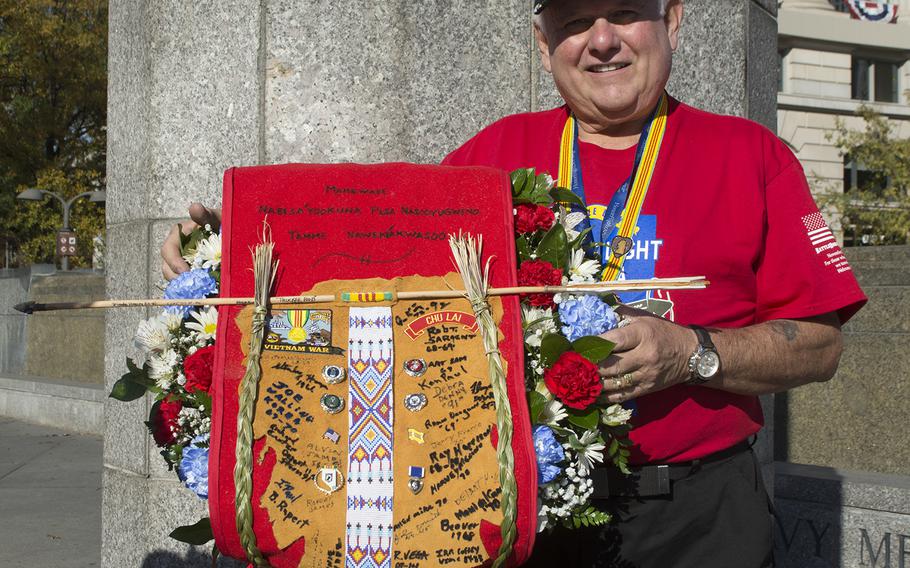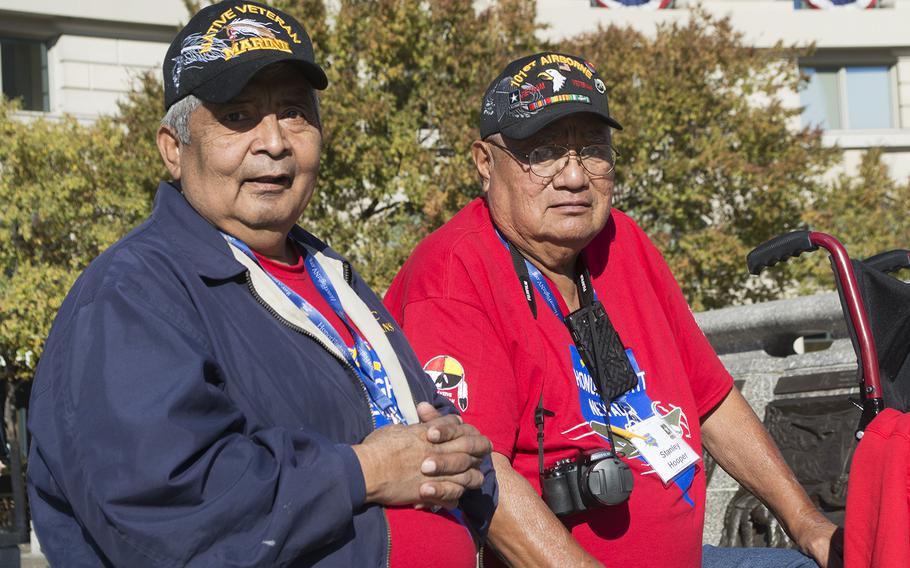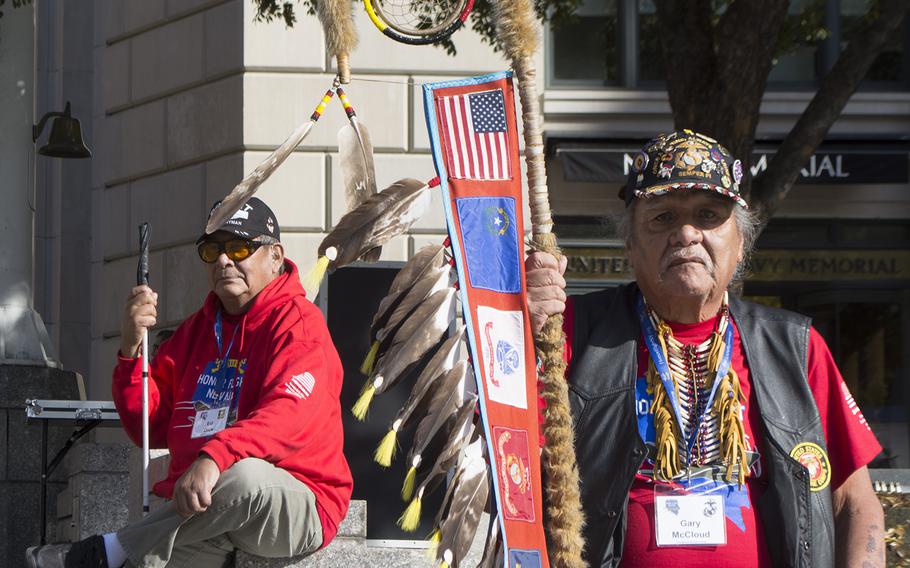 WASHINGTON — On Veterans Day, a day of public events and ceremonies across the country, the private moments meant the most.
Afghanistan War veteran Jess Karcher seeing his cousin's name on the Vietnam Veterans Memorial Wall for the first time. Or World War II veteran Fred Soloduk, 91, getting pushed in his wheelchair on the National Mall by his grandson.
Stars and Stripes went around Washington on Nov. 11 to see how veterans were spending the day.
'It was for them'
Before 8 a.m. Friday, the Soloduk family arrived at the National World War II Memorial, with Fred Soloduk being pushed in his wheelchair by his grandson, Steve, while Steve's father, Warren, ran ahead and snapped photos of them.
The family came early for a 9 a.m. ceremony. Afterward, they wanted to get something to eat and "enjoy the scenery," Fred Soloduk said.
They had come from Reston, Va., for the day, but the eldest Soloduk spent most of his life in Somerville, N.J., he said.
He's a U.S. Navy veteran and was overseas three years during WWII. His son, 58, retired from the U.S. Coast Guard.
The three generations make regular trips together to the WWII memorial.
Across the way, Afghanistan War veteran Jess Karcher, 36, was experiencing his first visit to the site.
He tagged along with three Vietnam War veterans who come up from Fort Lauderdale, Fla., every year for Veterans Day. The four met through Chapter 133 of the Disabled Veterans of America.
Some years, as many as 15 people from the chapter make the trip. But Vietnam War veterans Mike Varga, 67, Jim Zane, who turned 69 on Nov. 12, and Gregory Chiapponi, 67, are mainstays.
Karcher, a former Marine who served in Afghanistan in 2001-02, said it was his first time in Washington. He "couldn't think of a better time to do it," he said.
The four visited Arlington National Cemetery and the Marine Corps War Memorial on Nov. 10.
"It's an honor to come up here with Vietnam vets," Karcher said. "It's breathtaking. It makes you humble. Especially going to Arlington Cemetery and seeing all the graves. Just speechless. That's all I can say."
The group agreed that seeing people bring their children to the memorials and knowing that younger generations were learning about their service was especially heartening.
"They need to respect the whole situation and be thankful we were there and we did it," Varga said. "We didn't think at the time that it was for them, but it was."
Honoring women
Military nurse Loretta Aiken and Vietnam War veteran John Black swapped stories near the Vietnam Women's Memorial on Friday morning, both preparing to speak before a small crowd gathering there.
Every Veterans Day and Memorial Day, the foundation behind the memorial sets up a storytelling event to "help these bronze figures come to life," said Marsha Guenzler-Stevens. The memorial is dedicated to women who served in Vietnam, most of them as nurses.
Aiken, 68, has worked as a nurse at veterans and military hospitals for 47 years. She's a nurse educator at Walter Reed National Military Medical Center in Maryland.
"I love it, the best decision I ever made in my entire life was to work at the veterans hospital and then the military hospital," Aiken said. "Every day you make a difference in somebody's life. Just reaching out, touching somebody; just us talking, it makes a difference."
Black, 75, was an infantry officer in Vietnam for two tours. He was injured and evacuated in 1972, experiencing the care of military nurses firsthand.
Later, Black became a musician. He wrote a song about the nine women who were killed during the war, "The Women on the Wall."
'Touched my heart'
When Ralph Burns stepped into Baltimore-Washington International Airport on Nov. 10, he was met by several hundred people waiting to applaud him and the few dozen veterans he traveled with.
Burns, 72, said it reminded him of a moment decades ago, when he stepped off the plane, finally home from the Vietnam War.
"There was a large crowd waiting there, and then their signs came up and they threw things at us," Burns said.
The reception at the airport "just really touched my heart," he said, pointing toward his chest.
Burns and 42 other veterans and family members were part of the first all Native American Honor Flight, a nonprofit that brings veterans to visit the memorials in Washington.
The veterans are from three tribes — Paiute, Shoshone and Washoe — in the Great Basin region.
The group spent Nov. 11 at the U.S. Navy Memorial on Pennsylvania Avenue, and their plans included stops at the Korean War Memorial and the Vietnam Wall before ending the day at the National Museum of the American Indian.
The trip to Washington was the first for John Smith, 95. Smith served in the U.S. Army during World War II. He's also a tribal elder in Schurz, Nev., and usually spends Veterans Day leading the local parade.
Burns, part of the Pyramid Lake Paiute Tribe — located about 35 miles north of Reno, Nev. — said he thought the trip would be healing for him and other veterans.
In their culture, it's not a good thing to stand out, said Stacey Montooth, a community information officer within the Reno-Sparks Indian Colony. She described the group as reserved and humble.
Burns said he thought a lot of the veterans there tended to "bottle things up."
"People here are opening up now," he said. "They're healing in a way, by talking about it."
wentling.nikki@stripes.com Twitter: @nikkiwentling