Okinawa Marines order operational pause for Super Stallions after accident
by
Matthew M. Burke and Ken Kuniyoshi
October 12, 2017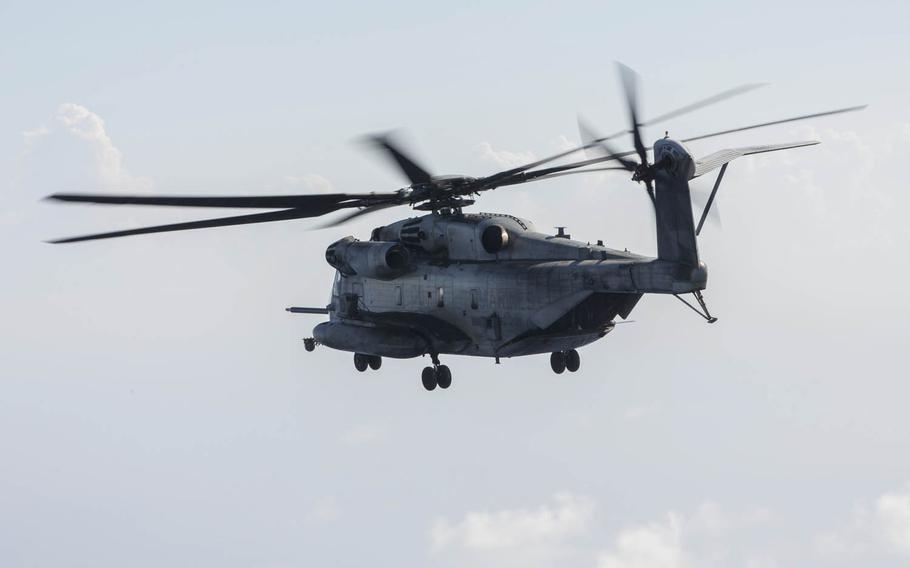 CAMP FOSTER, Okinawa – The Marine Corps has ordered a 96-hour operational pause for all Okinawa-based CH-53E Super Stallions after a fire forced one of the helicopters to make an emergency landing Wednesday in farmland outside the Northern Training Area.
No injuries were reported from the routine training incident, which Navy officials later declared a "Class A mishap." Class A mishaps involve repair costs for an aircraft or government property exceeding $2 million or the death or permanent disability of a servicemember. Japanese television stations showed thick black smoke billowing from the helicopter.
The cause of the blaze is under investigation, said a Marine Corps statement issued Wednesday.
Lt. Gen. Lawrence Nicholson, III Marine Expeditionary Force commander, ordered the pause Thursday "to ensure CH-53E readiness and the safe conduct of our aviation community," a separate Marine Corps statement said.
"This is a regrettable incident, and after the investigation is complete, those with property damage as a result of this incident will be appropriately compensated," Nicholson in the statement.
"I want to thank the local Japanese first responders who helped secure the scene quickly and safely, the members of 33rd Rescue Squadron who evacuated our crew members, and those moving the aircraft safely [Thursday]."
Seikyu Iju, chief of Higashi Village where the Super Stallion went down, said his village has lodged a protest with the Okinawa Defense Bureau.
"Helicopter crashes should never happen," he said.
Iju, who was at the site on Wednesday night, said at least a third of the helicopter was completely burnt.
U.S. military and Japanese police worked at the site into the next day, he said.
"There is fear amongst [the villagers] that [a U.S. aircraft] will crash on private property," Iju said. "When the U.S. military conducts training, they should give full attention to safety. Otherwise, we cannot live with peace of mind."
Local media reported Thursday that both Japan's Ministry of Foreign Affairs and Defense Ministry expressed regret over the incident. Joint Staff chief of staff Adm. Katsutoshi Kawano submitted a request to Navy Adm. Harry Harris Jr., head of the Pacific Command, to investigate the cause of the incident and to detail potential future preventative measures and safety management procedures. He also called on the U.S. to provide detailed information on the incident as it becomes available.
Japanese Defense Minister Itsunori Onodera said Thursday morning he planned to hold talks with U.S. Forces Japan officials regarding the incident, according to the Ryukyu Shimpo newspaper. Okinawa prefecture had already requested the suspension of Super Stallion flights pending an investigation.
"The fact that an incident by a U.S. military aircraft occurred causes great anxiety to the local people and is very regrettable," Deputy Chief Cabinet Secretary Kotaro Nogami told reporters in Tokyo on Thursday.
"It is expected that safety must be ensured to the maximum when U.S. military aircraft is used in this country."
Nogami said Prime Minister Shinzo Abe felt the incident was "very regrettable" and called for a crisis management team to be deployed from the Ministry of Defense and the Self-Defense Forces.
Protesters from various groups planned to converge on Camp Foster Thursday evening to protest the incident, a spokesman from the Okinawa Peace Activity Center said. The base is the headquarters of Marine Corps Base Camp Smedley D. Butler, which encompasses all Marine bases on Okinawa, and Marine Corps Installations Pacific. About 200 people were expected to turn out.
burke.matt@stripes.com kuniyoshi.ken@stripes.com