Okinawa governor to convene panel for exploring alternatives to Futenma relocation plan
by
Matthew M. Burke and Aya Ichihashi
March 29, 2019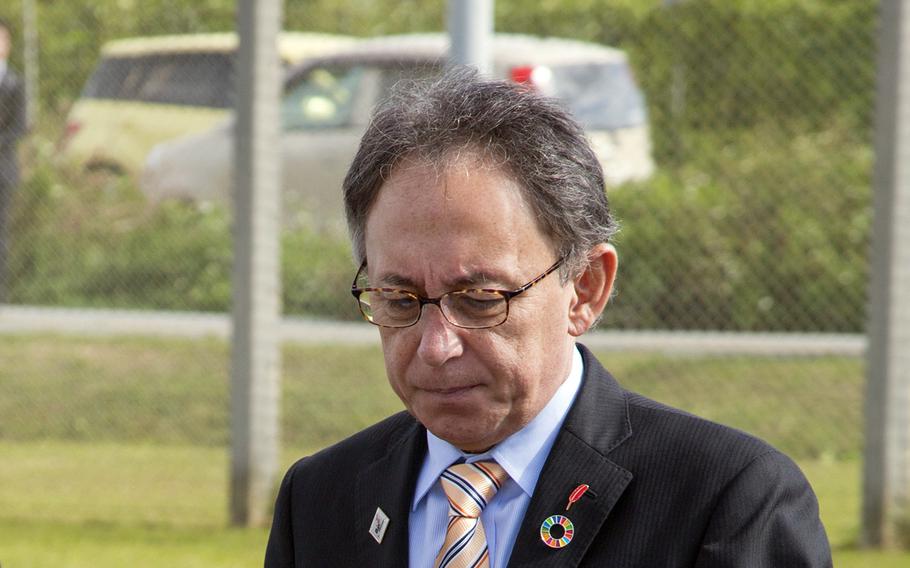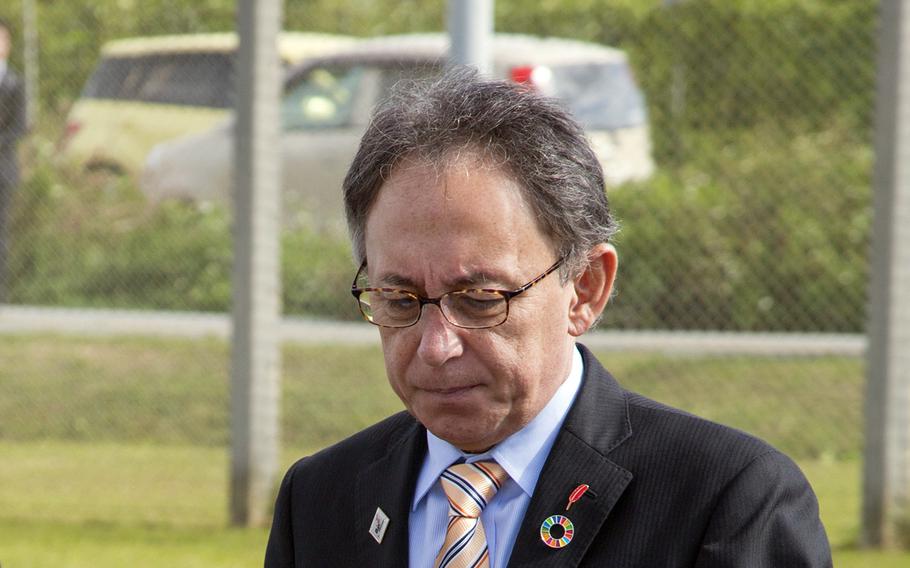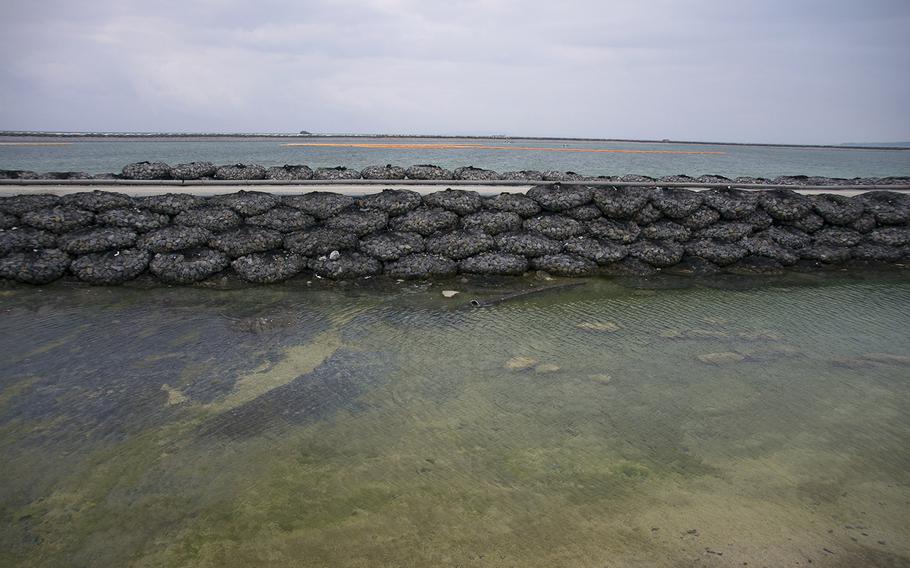 CAMP FOSTER, Okinawa — Okinawa Gov. Denny Tamaki will assemble his own panel of advisers to explore alternatives to relocating Marine Corps Air Station Futenma elsewhere on the island after locals overwhelmingly rejected the current plan in a February referendum.
Tamaki's office declined to provide details when reached this week by Stars and Stripes. However, the Asahi Shimbun reported that he hopes the panel will find an alternative that moves the air station outside the prefecture, a plan that would allow him to leverage Tokyo to acquiesce.
Construction is underway on a new runway at Camp Schwab, a Marine base in Henoko, which would allow the Marines to someday close Futenma and relocate two squadrons of MV-22 Ospreys and other aircraft to the northern coast.
However, III Marine Expeditionary Force commander Lt. Gen. Eric Smith told reporters Thursday that improving the soft seabed being reclaimed for the new runway will add another three or four years to the project. It's the latest in a series of delays, and no target date for completion is set. Japan and the United States had originally planned to finish the project by 2022 "or later," Smith said.
Following the February referendum, Tamaki appealed to Japanese Prime Minister Shinzo Abe, who has shown no willingness to halt construction or entertain alternatives.
"There will be a meeting held in April, but we are not aware what will be discussed," Okinawa prefectural spokesman Yukihiro Tashiro said Thursday.
Key topics under discussion by Tamaki's panel will include how U.S. Marines should be deployed in the prefecture and possible alternative sites for the Futenma replacement facility, Asahi reported, citing an unnamed prefectural government official.
Potential panelists or advisers include former Foreign Ministry Intelligence and Analysis Bureau official Ukeru Magosaki, assistant chief cabinet secretary Kyoji Yanagisawa and Mike Mochizuki, an associate professor of political science and international relations at George Washington University who has consulted with prefectural officials, Asahi reported.
Tamaki's decision doubles down on efforts begun by his predecessor, Takeshi Onaga, who in 2016 suggested uninhabited Mageshima Island — in Kagoshima prefecture between Okinawa and the main islands of Japan — as a potential replacement site, the Mainichi newspaper reported at the time.
The central government is in negotiations to purchase the island for carrier-landing practice by U.S. forces.
The relocation of Marine air operations from Futenma has been a headache for both the U.S. and Japanese governments.
The roots of the relocation plan can be traced back to 1995, when furor erupted over the kidnapping and rape of an Okinawan girl by two Marines and a Navy corpsman. Locals then demanded that Futenma, which sits in a heavily populated urban area in central Okinawa, be closed because it poses a safety risk.
They bristled at plans to build the runway at the isolated Schwab in northern Okinawa, which was agreed upon during bilateral negotiations in 2006.
The issue ignited a small but vigorous protest movement — backed by popular support — that has been working to block the project and move Marine air operations totally off the island ever since.
Marine officials have said Marine aircraft need to be where the Marines are, and the U.S. and Japan have maintained that Henoko is the only solution to the Futenma safety quandary.
The reclamation work was approved by Okinawa Gov. Hirokazu Nakaima in 2013 and construction began in August 2014. Nakaima was defeated by the vehemently anti-base Onaga a few months later.
The project was delayed while Onaga launched several failed attempts to halt it, first through permit revocations and later through lawsuits and administrative procedures. Onaga died of cancer in August, and his handpicked successor, Tamaki, handedly won the seat in September.
Tamaki — the son of a local woman and a U.S. Marine — picked up where Onaga left off. He attempted to administratively halt the project and filed suit against the central government at Fukuoka High Court Naha Branch on March 22.
His efforts gained steam on Feb. 24 after 72 percent of voters said no to the relocation to Henoko, though just over half of Okinawa's 1.15 million registered voters turned out. Tamaki called for three-way talks with Tokyo and Washington, but his overtures have largely fallen on deaf ears.
Work started March 25 on the project's second phase, which would ultimately see approximately one quarter of the 0.6-square-mile reclamation project completed when it is finished. The first phase is still underway.
Local Okinawan leaders have vowed to fight any attempts by Tokyo to make changes to the plans because of the seabed conditions.
burke.matt@stripes.comichihashi.aya@stripes.com