North Korean assassins target activists in South
By
chang.yookyong@pstripes.osd.mil Yoo Kyong Chang rowlanda@pstripes.osd.mil Ashley Rowland
August 26, 2012
---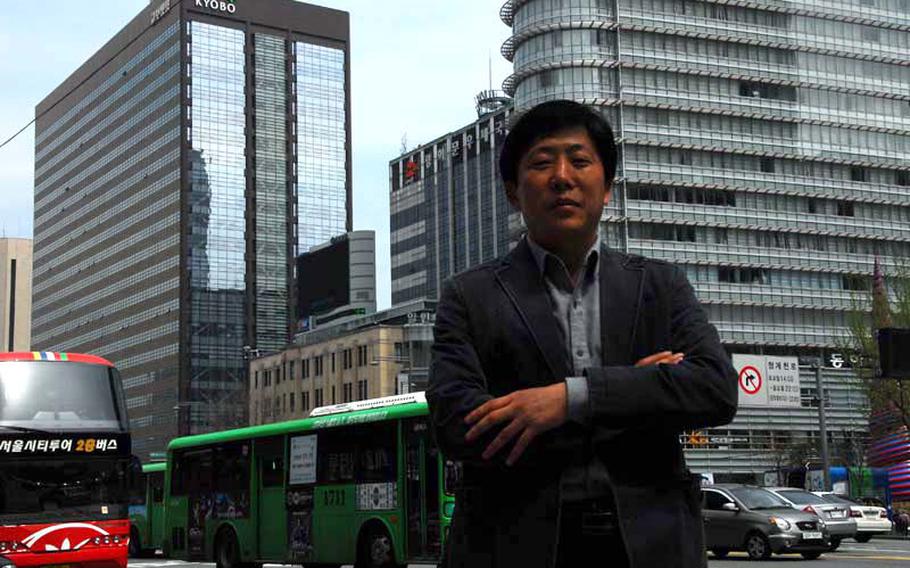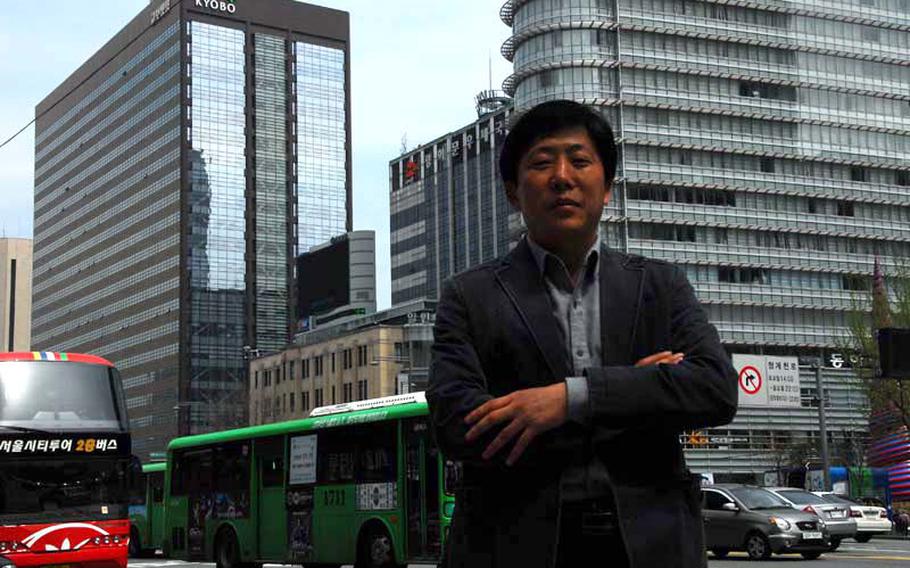 SEOUL, South Korea — A former North Korean military officer defects and starts a new life in the South, where he joins pro-democracy groups trying to bring down his homeland's iron-fisted government.
More than a decade later, short on money and worried about the family he left behind, he accepts an offer from the North to kill three prominent anti-North protesters. His main target: a well-known activist and fellow defector who has angered the North for years.
He plots to use a poisoned needle, but the fellow defector he enlists to help him is an informant for South Korean intelligence and betrays him.
A far-fetched spy novel plot?
No, this is a real-life case of double-agents and intrigue.
The former officer, identified by court records only by his last name of An, was convicted in April of violating South Korea's National Security Law by trying to murder activist Park Sang Hak. Prosecutors are trying to have An's four-year sentence extended. A decision is expected in the coming months.
The attempted killing was cited by U.S. Forces Korea Commander Gen. James Thurman in March during testimony to Congress as an example of the North's desire to infiltrate the South and of the threats posed by undercover agents.
"North Korea continues to improve the capabilities of the world's largest special operations force, which includes 60,000 soldiers trained in a variety of infiltration methods such as overland, undersea and airborne entry" into South Korea, Thurman said, according to a transcript of his testimony. "Well-trained, well-resourced and extremely loyal to the Kim regime, these forces could cause significant disruptions to [South Korean] governance, utilities distribution, infrastructure operations and mobilization."
South Korea's Ministry of Justice and Supreme Prosecutors' Office declined to comment on An's case or on North Korea's intelligence activities. National Police Agency officials said 10 suspected agents have been caught since 2005; however, there are no solid estimates of how many more might be out there.
An, who rose to captain during a 22-year military career, fled North Korea in August 1995 and arrived in the South two months later after transiting China.
From 1999 to 2002, according to sentencing documents, he worked as an executive secretary for a North Korean defectors' group in the South. In 2009-10, he served as trading director of an inter-Korean economic cooperation group.
An traveled to Mongolia in March 2010 to meet with North Korean contacts about possible trade deals between the two Koreas. Over the course of several meetings that year, An was introduced to embassy officials. In December, they made him an under-the-table offer: Kill his former boss, the president of the group that helps defectors, in exchange for support for his business and a promise that his family in North Korea — forcibly moved to a control zone after An's defection — would be given a better life. They gave him a poisoned needle to use to do the job.
When An returned to South Korea, he contacted the National Intelligence Service and told them about the offer, suggesting he stay in touch with his North Korean contacts in hopes of gleaning information.
The NIS said no, warned that he was at risk of being kidnapped and said meetings with the North Koreans would be considered illegal.
Court documents offer few details about why or how An maintained contact with the North Koreans but say he was dissatisfied with the NIS and believed he was losing business opportunities with the North.
He also appeared to be concerned about his relatives. The North Koreans showed An pictures of his father's grave in the North, and, in a country where citizens are not allowed to relocate without government approval, promised to move his relatives to the capital of Pyongyang, home to the country's elite.
In 2011, the North Koreans asked An to kill three other anti-North activists. One was activist Park Sang Hak, who led a relatively privileged existence as the son of a North Korean spy before defecting with his family in 1999.
Park, 44, heads Fighters for Free North Korea, a pro-democracy group that sends balloons laden with propaganda denouncing the Kim regime across the DMZ: leaflets, DVDs and U.S. $1 bills to help North Koreans buy rice on the black market.
The airlifts have so incensed the North that it has threatened to fire on Park's launches, conducted once a month or so from one of the small towns on the southern side of the demarcation line. The launches often draw protests from South Koreans who view Park as an agitator unnecessarily ratcheting up tensions between the two Koreas.
An began plotting to kill Park in the summer of 2011, and North Korea sent him the equivalent of nearly $11,000 last August. He arranged to meet Park at a Seoul restaurant on Sept. 3, 2001, claiming to be a liaison to a group of Korean nationals who lived in Japan and wanted to help fund Park's leaflet drops.
Helping An was another defector named Lee. Sentencing documents say little about how he became involved in the assassination plot.
An planned to kill Park by slipping poison into his drinking glass. He carried two poison-laden guns, a poisoned needle and a tin of poison powder. For backup, he gave Lee another needle and some of the powder.
But Lee, according to court sentencing documents, had reported the plot to the NIS. Investigators stormed the restaurant as An waited for Park, who had been warned not to show up.
An later said he never planned to carry out the assassinations and only pretended to follow orders to protect his relatives in the North.
Park may have avoided the plot, but it has affected his life. The number of donors to his organization has dropped, with one former sponsor suggesting he should stop sending leaflet balloons for a while.
During a recent meeting with reporters, Park arrived at a coffee house with two plainclothes police officers, part of a four-man team that guards him constantly. He no longer takes appointments at his office because of threats from the North, and said that since the assassination plot, he has limited his public appearances and curtailed his contact with other defectors.
He said he feels a duty to continue the leaflet drops, even if only a handful of them ever fall into the hands of North Korean citizens.
"The more North Korea threatens me, the more we must send," he said.
---
---
---
---