North Korea: Missile launches were rehearsal for nuke attack
by
Kim Gamel
July 20, 2016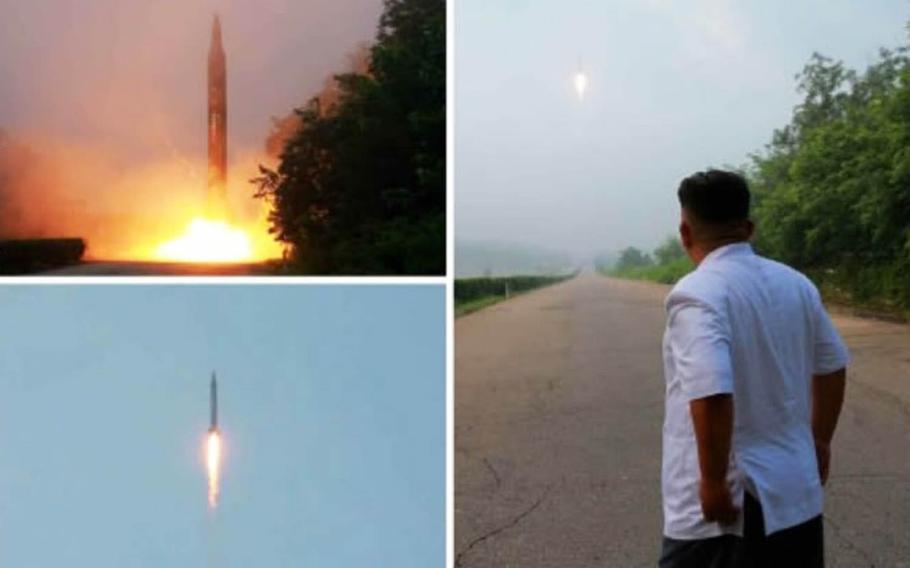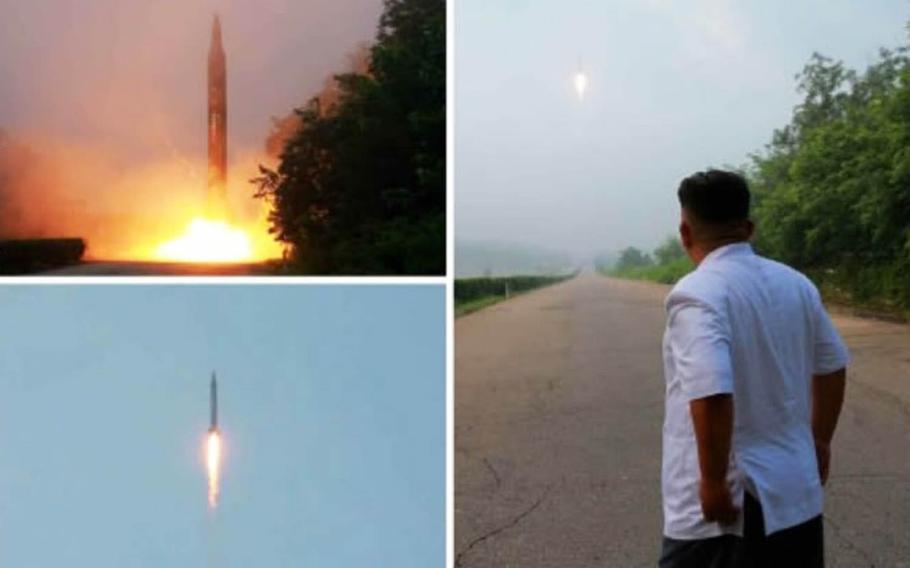 SEOUL, South Korea — North Korea says a ballistic missile test was a rehearsal for attacks against South Korean ports and airports that have U.S. nuclear warheads as it defiantly rejects efforts to contain its atomic weapons program.
North Korea fired three missiles — two Scuds and a Rodong — on Tuesday, officials said. Two of the missiles flew about 310 to 372 miles across the country before landing off the east coast in the Sea of Japan, South Korea's military said, adding the distance flown by the third was still being analyzed.
North Korean leader Kim Jong Un supervised the launches and gave the order to begin, according to the state-run Korean Central News Agency. He later "expressed great satisfaction over the successful drill," it said.
"The drill was conducted by limiting the firing range under the simulated conditions of making preemptive strikes at ports and airfields in the operational theater in South Korea where the U.S. imperialists' nuclear war hardware is to be hurled," KCNA said Wednesday.
"And it once again examined the operational features of the detonating devices of nuclear warheads mounted on the ballistic rockets at the designated altitude over the target area," it added.
The official ruling Workers' Party newspaper Rodong Sinmun carried photographs of a ballistic missile launch along with Kim apparently observing it — a strategic map of the peninsula titled "the strategic forces' firepower strike plan" sprawled in front of him.
Neither report mentioned the date of the drill.
Tuesday's salvo was widely believed to be North Korea's answer to the July 8 agreement by the U.S. and South Korea to deploy a Terminal High-Altitude Area Defense system, known as THAAD, on the divided peninsula to counter the growing missile threat from the North.
The two countries began talks about deploying the THAAD after the North conducted its fourth underground nuclear test, followed by a long-range rocket launch. Seoul had resisted the idea due to objections by its key trading partner, China, but relented as Pyongyang persisted with a series of missile tests, including two fired from a submarine.
Military officials said the missiles fired Tuesday had sufficient range to reach any part of South Korea, including the Seongju region southeast of Seoul where the anti-missile battery is to be stationed. Top South Korean military commanders warned that more military provocations from the North, including another nuclear test or more missile launches, were likely ahead of joint exercises with the U.S. set for August.
"Should North Korea engage in provocations, (South Korea's military) should not hesitate and must show determination to stamp out those that undertake an attack," the head of the Joint Chiefs of Staff Gen. Lee Sun-jin said at an emergency meeting on Wednesday.
The U.S., South Korea and Japan, which have moved to strengthen their trilateral relationship in recent months, strongly denounced the missile launches, saying they violate U.N. Security Council resolutions banning the North from using ballistic-missile technology.
North Korea also said Wednesday that U.S. forces in South Korea would be its first target.
"The U.S. should go back home, abandoning its wicked intention for permanent stay in South Korea," a North Korean army spokesman was quoted as saying by KCNA in a separate report.
A fresh round of toughened U.N. sanctions has failed to stop the North's ambition to develop the technology needed for a nuclear-tipped missile that could reach the U.S. mainland.
While North Korea has shown signs of technical progress, experts believe it has much more to do before it has missiles capable of delivering nuclear warheads that far.
The two Koreas remain technically at war since their 1950-53 conflict ended with an armistice instead of a peace treaty. The U.S. maintains about 28,500 servicemembers in the South.
North Korea often issues angry rhetoric over perceived insults by the U.S. and South Korea. It has repeatedly threatened to turn Seoul and U.S. bases in the Pacific into a "sea of fire" and produced videos showing Washington, D.C., in flames.
State-run media on Tuesday accused U.S. Ambassador to South Korea Mark Lippert of bullying the North by flying in an F-16 fighter jet on July 12.
A spokesman for the North's Foreign Ministry called Lippert "a deranged man" and said the flight "goes to clearly prove that all the U.S. diplomats are real war servants," according to KCNA.
It claimed the flight was "timed to coincide with the U.S. official decision to deploy THAAD in South Korea."
An embassy official said Lippert went on a familiarization flight to gain a better understanding of military capabilities, but it was unrelated to current events and had been planned for some time.
gamel.kim@stripes.com Twitter: @kimgamel
---
---
---