North Korea lashes out at Trump's threat of military force
by
Kim Gamel
December 4, 2019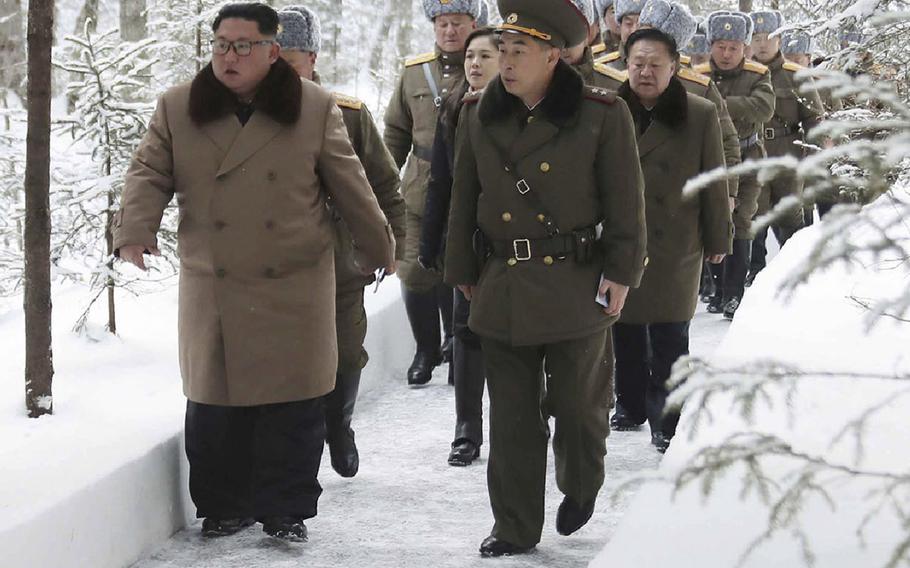 SEOUL, South Korea — North Korea lashed out Wednesday at President Donald Trump's threat to use military force if necessary to achieve denuclearization, warning that "the use of armed forces is not the privilege of the U.S. only."
Trump called on North Korean leader Kim Jong Un on Tuesday to live up to promises to rid his country of nuclear weapons.
"Now, we have the most powerful military we ever had, and we are by far the most powerful country in the world, and hopefully we don't have to use it," Trump told reporters at the NATO summit in London. "But if we do, we'll use it."
Those remarks drew a sharp response from Pak Jong Chon, the chief of the general staff of North Korea's army, who said he and Kim Jong Un were "displeased" to hear Trump's comments.
North Korea and the United States "are still technically at war and the state of truce can turn into an all-out armed conflict any moment even by any accidental case," he said in a statement published by the state-run Korean Central News Agency.
Both sides have ratcheted up their rhetoric as nuclear talks remain stalled ahead of an end-of-year deadline imposed by North Korea for Washington to offer concessions such as sanctions relief and security guarantees.
Trump has frequently touted his friendship with the North Korean leader as progress, despite a resurgence of weapons tests by the communist state in recent months.
On Tuesday, however, the president reverted to using his nickname "rocket man" for the North Korean leader, while insisting they maintain a "very good relationship."
Kim "likes sending rockets up, doesn't he? That's why I call him 'rocket man,'" Trump said.
Trump spoke hours after the North said it was preparing a "Christmas gift" for the United States if Washington fails to offer a more flexible stance in talks, which stalled after a second summit in Vietnam in February. The North demanded extensive sanctions relief but the Trump administration said it must first give up more of its nuclear weapons program.
In London, Trump called on Kim to stick to his promise to denuclearize.
Many analysts have expressed concern that the two sides may return to traded threats and long-range missile tests that pushed the Korean Peninsula to the brink of another war in 2017.
The comments came hours after the North released photos of leader Kim visiting a sacred mountain on horseback for the second time in two months.
In past years such visits have been harbingers of major policy shifts.
Pyongyang also announced that it will convene a rare meeting of senior ruling Working Party officials later this month, signaling a major announcement may be in the works as the deadline to resume talks nears.
North Korea has conducted several weapons tests since May, but it has stopped short of lifting its self-imposed moratorium on intercontinental ballistic missile or nuclear tests.
Some 28,500 American troops are based in South Korea.
gamel.kim@stripes.com Twitter: @kimgamel