Neighbors urge North Korea to cancel planned rocket launch
by
Paul Alexander
February 3, 2016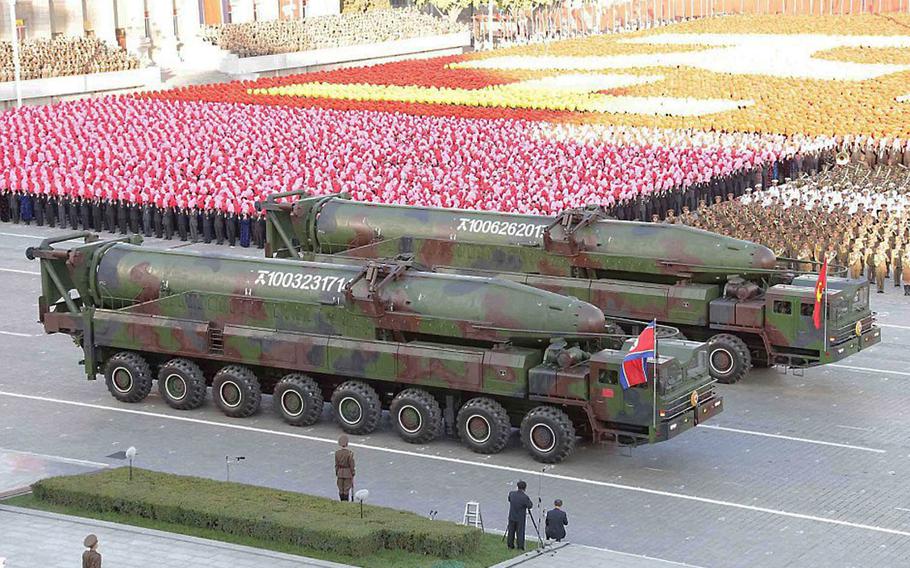 Neighboring countries are urging North Korea to cancel a planned rocket launch, which is widely seen as a test of improvements to its ballistic missile technology with a goal of being able to reach the United States with nuclear weapons.
Pyongyang has advised two U.N. agencies that the launch will occur sometime between Monday and Feb. 25.
China, the North's closest ally, dispatched its top nuclear envoy Tuesday to Pyongyang for talks. Under pressure to exert more influence on the provocative country, Beijing urged Pyongyang to exercise "restraint" but also said it is "unable to stop" the launch.
Japan and South Korea called meetings of their national security councils in reaction to the North's announcement.
Japanese Chief Cabinet Secretary Yoshihide Suga told a news conference that Tokyo was demanding through various channels, including the North Korean Embassy in Beijing, that North Korea refrain from "conducting additional acts of provocation."
Japanese Defense Minister Gen Nakatani ordered Self-Defense Forces to prepare for any emergencies and ordered them to shoot down missiles that might land in Japan or its waters, according to a ministry statement. Three Aegis-equipped escort ships were ordered to deploy to the Sea of Japan and East China Sea, and some Pac-3 Patriot missiles will be moved to Okinawa.
South Korean Defense Minister Han Min-koo said his country will work with the U.S. to "strengthen capabilities to counter North Korea's nuclear and missile threats."
In nationally televised remarks, Cho Tae-yong, deputy chief of the South Korean presidential office of national security, said North Korea would "pay a harsh price" if it conducts the launch. He did not say what that price might be.
North Korea last launched a three-stage rocket in December 2012 that it said put a communications satellite in orbit before splashing down near the Philippines. Since then, it has reportedly made changes that experts say could improve the rocket's accuracy and ability to withstand re-entry into the atmosphere; a version of the rocket was shown off during a recent military parade in Pyongyang.
While this month's test would give North Korea — and the world — a chance to assess the status of the country's rocket system, it also would test the ability of Japan, South Korea and the United States to track the rocket under a new trilateral defense system, said Ken Jimbo, an associate professor at Japan's Keio University who specializes in Asia-Pacific security issues.
"This is the first time to see how the trilateral defense framework works," Jimbo said.
"A success of an intercept this time is very important because it shows that the defense cooperation of the three countries, Japan, the United States and South Korea, can stalemate the North's nuclear development," he said.
Analysts see the rocket and nuclear tests as an effort by North Korean leader Kim Jong Un to rally public support and consolidate power, which he reportedly has been unable to do four years after he took over following the death of his father. North Korea wants to be accepted as a nuclear power, something the United States has vowed to never do.
"They know that nuclear development is the only way for them to be acknowledged by the international community. Without it, it is a mere poverty-stricken tyranny," said Kazuhiro Araki, professor at the Institute of World Studies of Japan's Takushoku University.
Araki said he feels that the North, which has long employed brinkmanship to gain aid and other concessions, is now stuck with that strategy.
"In order to keep the attention of the international community, they have no choice but to continue to play this game," Araki said. "As long as the current regime continues, it will continue the same thing."
The problem is how to persuade the North to give up its nuclear ambitions, given that sanctions have so far proven ineffective.
The U.N. Security Council earlier imposed sanctions over the North's ballistic missile program and is considering tougher measures in the wake of its fourth underground nuclear test on Jan. 6.
"Economic sanctions including blocking cash flow to the nation, have a certain effect. It is like filling the outer moat," Araki said. "While it is necessary, sanctions alone are not sufficient. (North Korean leaders') bigger pressure is coming from their leader. If they fail to meet the expectation of the leader, their lives are at risk."
Some analysts have expressed hope that the U.S. nuclear deal with Iran could provide a model for the North to back off from its nuclear and missile programs. Iran and North Korea have reportedly shared nuclear and missile technology.
Stars and Stripes staffers Hana Kusumoto and Chiyomi Sumida contributed to this report.
---
---
---