N. Korea: Sub-launched missile expands nuclear strike capability
---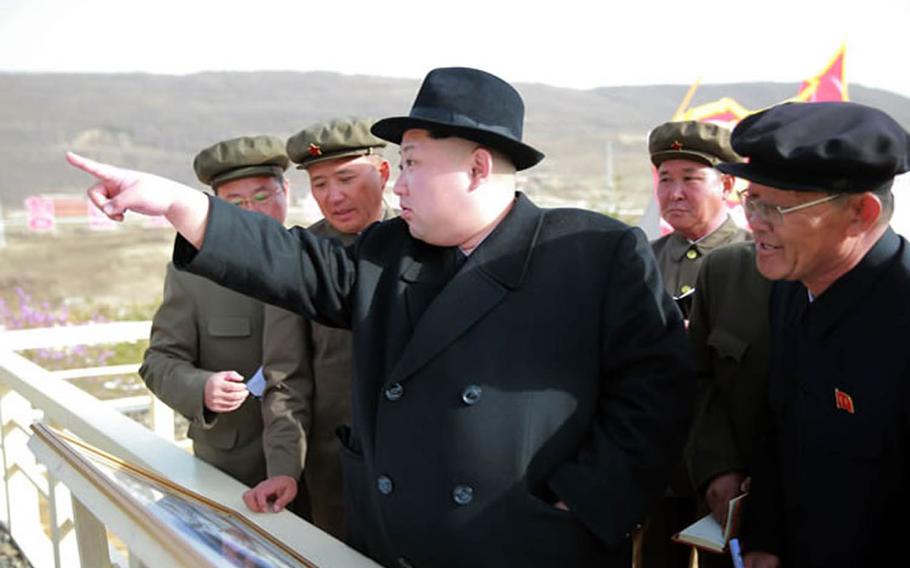 SEOUL, South Korea — North Korea claimed Sunday that it successfully fired a ballistic missile from a submarine, calling it another step in its ability to stage a nuclear strike.
State television broadcast photos of North Korean leader Kim Jong Un watching and smiling as the projectile shot up from the sea trailed by billowing smoke and flames. The announcer excitedly said Kim "could not conceal his joy in seeing the ballistic missile flying high."
It would be the North's first known successful SLBM launch, a worrying development because the ability to fire missiles from underwater vessels makes them harder to detect and shoot down.
The report did not give a date for the test, but U.S. and South Korean officials said they detected a launch off North Korea's eastern coast on Saturday. South Korea's Joint Chiefs of Staff said the missile only traveled 20 miles — far short of the roughly 190 miles that would be considered a successful test.
North Korea also said last year that it had launched an SLBM, but U.S. officials it was apparently faked.
The U.S. Strategic Command said it detected a North Korean missile launch Saturday but stressed it "did not pose a threat to North America."
South Korea's military has been on high alert amid fears the North will carry out a fifth nuclear test despite U.N. sanctions aimed at punishing it for the last one nearly four months ago. The U.S., South Korea and Japan recently promised to strengthen sanctions, already called the toughest in 20 years, if the North staged further provocations.
State Department spokesman John Kirby said such a launch is "a clear violation" of U.N. Security Council resolutions.
"We call on North Korea to refrain from actions that further destabilize the region," he added in a statement.
Kirby later said that in response, the U.S. is limiting the travel of North Korean Foreign Minister Ri Su Yong while he is in New York for a U.N. meeting on sustainable development, according to The Associated Press.
The South Korean government strongly condemned the latest missile launch, calling it an "open provocation that requires an appropriate response," according to the Yonhap news agency. It said the government was in talks with other countries about bring the matter before the U.N. Security Council.
Many analysts believe Kim is likely to stage a nuclear test — and perhaps other provocations — as he tries to shore up his power ahead of a ruling Workers' Party congress next month, the first in more than 30 years.
North Korea's official Korean Central News Agency said Kim observed the launch and declared afterward that the North "had access to one more means for powerful nuclear attack."
KCNA said the test "fully confirmed and reinforced the reliability of the Korean-style underwater launching system and perfectly met all technical requirements." It added that North Korea's military can "now stab a dagger in the backs of the South Korean puppet forces and the U.S. imperialists anytime it pleases."
A test launch would demonstrate confidence in firing from a submarine; U.S. officials said photos that the North released last year of a purported submarine launch actually showed missiles that been fired from an underwater platform. This time, the North released a video with a series of still images showing a missile emerging from a submarine launch tube.
North Korea's foreign minister, meanwhile, told AP in an interview on Saturday that his country is ready to stop its nuclear tests if the United States suspends annual military exercises with South Korea. He also said the North won't be intimidated by international sanctions.
Pyongyang considers the exercises to be a rehearsal for an invasion and has floated similar proposals in the past. Washington insists the North give up its nuclear weapons program before any negotiations.
In response to Ri's remarks, State Department official Katina Adams defended the annual exercises as demonstrating the U.S. commitment to South Korea, according to AP.
Tensions have risen as the North has staged a series of missile launches and warlike threats beginning with its fourth nuclear test since 2006 on Jan. 6. That was followed by a long-range rocket launch, prompting the latest U.N. sanctions.
Since then, the North has claimed to have made several key advances in creating a system capable of reaching the continental U.S. with a nuclear missile, including a nuclear weapon small enough to fit it a missile warhead and a re-entry vehicle that would protect the bomb from the stresses of re-entering the atmosphere from space.
It also said it has tested a solid-fuel rocket engine that would allow it to launch on mobile platforms with less preparation time that required for liquid fuels. It said Saturday's test used solid fuel.
Stars and Stripes reporter Yoo Kyong Chang contributed to this story.
gamel.kim@stripes.comTwitter: @kimgamel
---
---
---
---