Military installs two high-powered radiation detectors in Japan
by
reedc@pstripes.osd.mil Charlie Reed
August 20, 2011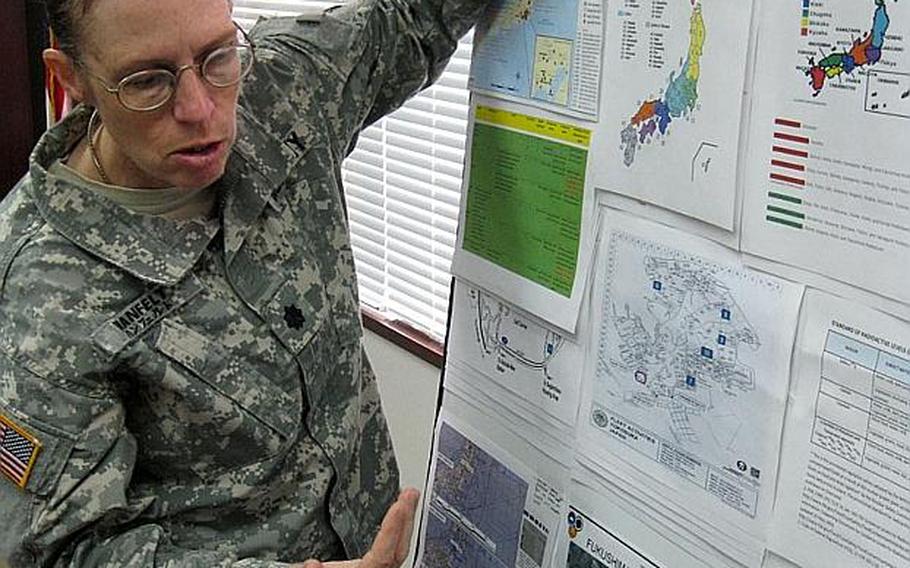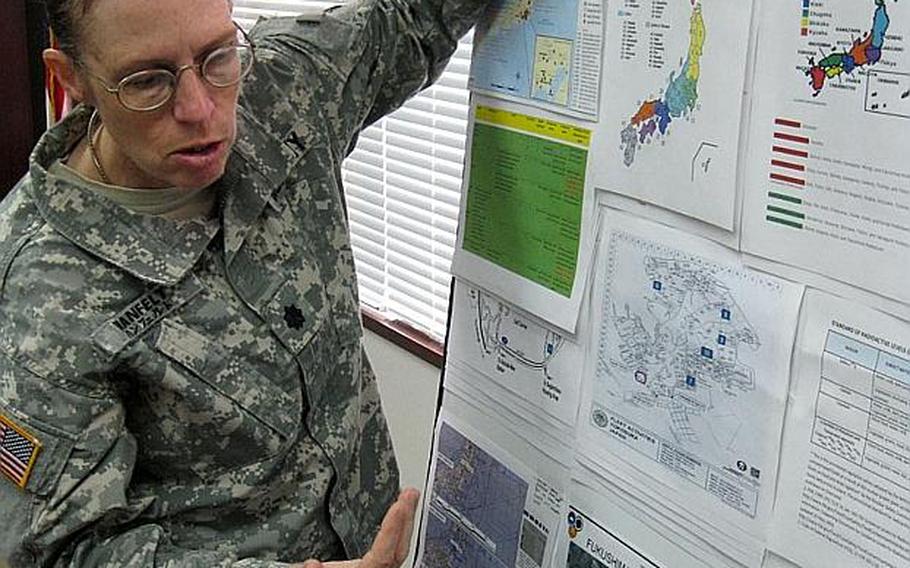 CAMP ZAMA, Japan — The U.S. military can now do in-depth radiation testing and analysis in Japan, though officials say the new capability is only precautionary.
Two high-powered detectors recently installed at the Army public health laboratory at Camp Zama can provide advanced radiation analysis and eliminate the need to send samples to the U.S., officials said.
The new gear enhances the military's ongoing radiation monitoring program in the aftermath of the nuclear meltdown at the Fukushima Dai-Ichi power plant, sparked by the massive earthquake and tsunami on March 11.
All four services in Japan have equipment such as handheld meters to gauge radiation on and around people and objects — basic but critical information in a nuclear crisis.
Much of that equipment was already on hand before the Fukushima incident and was used as part of standard monitoring for radiation and other environmental contaminants.
However, the high-purity germanium detector and the sodium iodide crystal detector now at Camp Zama measure internal radiation on a molecular level, providing more detailed information for determining the extent of possible exposure, officials said. The two detectors cost about $1 million total.
Stateside military radiation teams temporarily provided the same kind of equipment and analysis while deployed throughout Japan during the height of the crisis in March and April. During that time, Camp Zama simultaneously conducted similar testing using a Food and Drug Administration lab in California, a process that required physically sending radiation samples from Japan to the U.S.
"But we needed the (permanent) capability in Japan, should there be another release from any of the reactors, to be able to ramp up analysis quickly," said Col. Michael Brumage, commander of the Army's Public Health Command-Region Pacific at Zama.
Army scientists at Camp Zama also have established testing methods for the new equipment that mimic those of the FDA lab. "It's the gold standard for this kind of testing," said Maj. Jama Vanhorne-Sealy, a health physicist who oversaw the implementation of the new equipment and procedures at the lab.
It now serves as the military's central radiation testing facility in Japan, working closely with Navy and Air Force radiological units at Yokosuka Naval Base on the mainland and Kadena Air Base on Okinawa, Brumage said.
Keeping closer track of radiation levels in food, water, air and soil in and around U.S. bases will be an enduring mission for U.S. forces in Japan, officials said.
That includes the "Tomodachi Registry" project, which aims to calculate individual radiation dose assessments for the 61,000 U.S. military personnel in Japan during the crisis and include them in those troops' medical records. Rear Adm. Michael H. Mittelman, the top surgeon for U.S. Pacific Command, announced the registry project last month while in Japan trying to allay lingering radiation fears in the military community.
"Now we live in an environment where this (nuclear meltdown) has occurred," said Maj. Neal Fisher, spokesman for U.S. Forces Japan. "We will probably always monitor (radiation) for the health and safety of all our forces and the people of Japan."
Radiation detected in and around U.S. military bases in Japan has never exceeded safe levels and continues to pose no threat to U.S. military personnel and family members stationed in the country, according to military officials.
But fears of exposure prompted the military to authorize the voluntary evacuation of 10,000 family members from Japan, distribute hundreds of thousands of potassium iodide pills to U.S. personnel and their families and prohibit travel within 50 miles of the crippled nuclear energy plant.
If the military had had the capabilities now available at Camp Zama at the time of the crisis, it likely would not have changed that course of action because "we didn't know what was going to happen," Fisher said. "It was all precautionary."
Meanwhile, the equipment is being calibrated and used as part of ongoing radiological testing at Camp Zama, where the Army's regional veterinary command manages the food safety program for all four services in Japan.
That mission includes ensuring food brought into Japan through the Defense Commissary Agency and the Army and Air Force Exchange Service as well as from Japanese vendors is free of radiation and other contamination.
Of the 60 Japanese food plants that supply the U.S. military community, 26 were quickly banned early on in the crisis, some because of their proximity to the Fukushima nuclear station and others because of damage they sustained in the 9.0 earthquake or subsequent tsunami, said Lt. Col. Margery Hanfelt.
Although the process of recertifying them is not simple, the new radiation testing lab will help expedite the process, she said, adding that the military's food supply is not dependent on local vendors in Japan.
The new lab not only symbolizes the military's watchful eye in tracking nuclear fallout in Japan, Brumage said, but also signals a new era in the military's radiological response efforts.
"Up until now much of the military's policies have focused on nuclear warfare and radiological risks associated with the battlefield versus low-level releases from a civilian nuclear power plant," he said. "So we're doing something new here."
---
---
---