Military flights carry storm evacuees to Manila
by
Ashley Rowland
November 24, 2013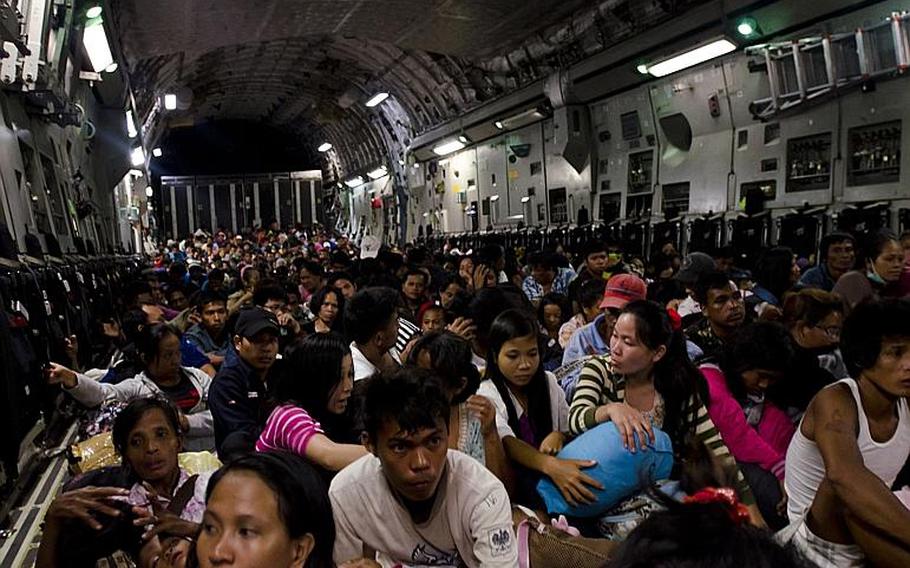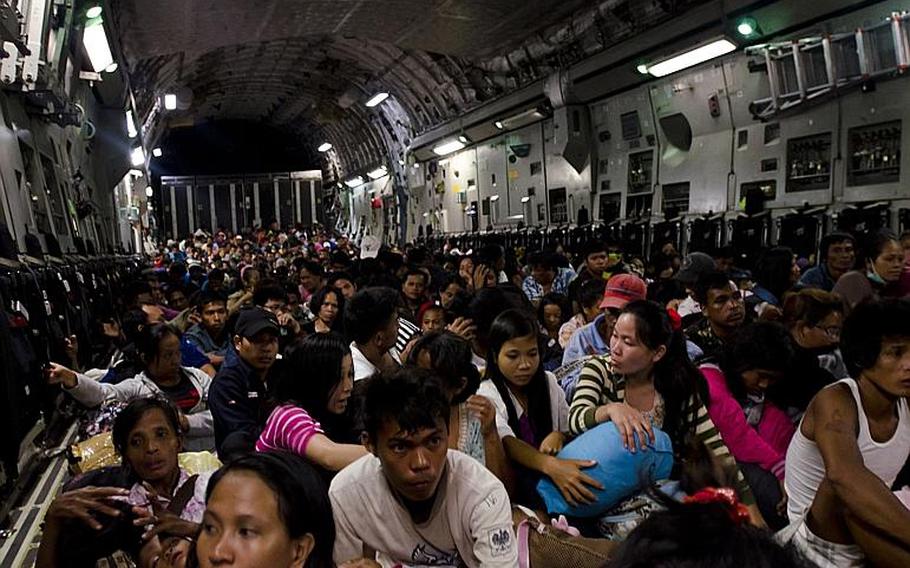 TACLOBAN, The Philippines — As the plane taxied down the runway, young mothers clutched their babies and several people clasped their heads in prayer. One elderly woman made the sign of the cross.
"My first flight," said a Filipino man with the weathered skin and muscular build of a fisherman, with a smile both nervous and excited.
As the plane banked steeply into the air, the 479 people sitting on the cavernous C-17's floor fell backward onto one another like dominos, many laughing in relief and surprise.
The flight from Tacloban to Manila lasted only 45 minutes. But it marked the end of a hellish two weeks struggling in the wasteland left by Typhoon Haiyan, which killed thousands and left countless others homeless and dependent on aid groups for food and water.
Since the Nov. 8 storm, the U.S. military has flown almost 20,000 evacuees out of devastated Tacloban and the surrounding areas, according to the U.S. Marine Corps. All but 841 were Philippine citizens.
"I've done every type of mission in the C-17 and this is by far the most rewarding — seeing the smiles on the faces of people we're carrying and knowing we're getting them out of there," said Maj. Josh Ehmen, an instruction pilot on a flight last Friday out of Tacloban. "It's awesome."
Other aircraft, including C-130s and Ospreys, also have participated in the evacuation effort.
Before this late-night flight, the C-17 crew had flown from Kadena Air Base on Okinawa to Manila, where they picked up pallets of relief supplies from U.S. Agency for International Development. They then flew to Tacloban, and were returning to Kadena after dropping off their human cargo in Manila.
Pilot Capt. Dan Holder said the 15- to 16-hour day was worth it.
"We all wanted to come and help," he said.
C-17s typically carry pallets and equipment. They're designed to carry 102 airborne soldiers for jumps or about 150 military passengers, depending on configuration. That limit has been waived during Operation Damayan due to the overwhelming number of evacuees. More than 600 people have been packed into some flights.
This flight carried a mix of young and old, from mothers who appeared to be teens nursing babies to a handful of elderly passengers in wheelchairs.
Some 150 passengers were medical evacuees who were healthy enough to fly but could not be treated at Tacloban's crowded hospital.
Asked why she was leaving the city, a mother with two young children said simply, "We have no house." Her husband described the storm surge of water that took their home as a "tsunami."
"I thought we were going to die at that time," he said.
The demand for flights out of Tacloban was so great in the days after the typhoon that chaos ensued at the airport, with thousands of desperate people rushing at aircraft in hopes of fleeing. The city still has no electricity or running water.
Now, the military is generally able to fly evacuees out on the day they arrive.
But the scene at the airport is still a portrait of human misery, with thousands of people waiting for flights each day in a debris-strewn parking lot behind the wreckage of the terminal. Behind them are fields of rubble and broken trees where bodies are still being found.
On Friday, people stood blank-faced in the parking lot for hours, pressed against a fence guarded by armed Filipino troops. Others huddled under tarps or umbrellas to escape the combination of frequent rainstorms and searing heat.
When it was finally time to go, they formed orderly lines on the tarmac, many carrying backpacks and cardboard boxes packed with salvaged belongings. The sick and elderly boarded first,. Troops helped carry babies and bags and passed out Jolly Ranchers to children.
When the plane landed at Villamor Air Base around midnight, a crew member gave a hearty "Welcome to Manila!" over the loudspeaker. Passengers cheered and clapped; many gave a thumbs-up sign.
After landing, most would spend at least several hours at Villamor, being fed by aid groups and given donated clothing. Then they would be driven to family members' homes in Manila or transported to relatives further away. Those without families would be sent to government-run social welfare centers.
As the evacuees walked off the plane, nearly all of their feet caked with dried mud, there some smiles and tears. Most, though, simply looked tired.