Man at center of Navy bribery scandal won contracts despite criminal past
by
Matthew M. Burke
Stars and Stripes
November 13, 2013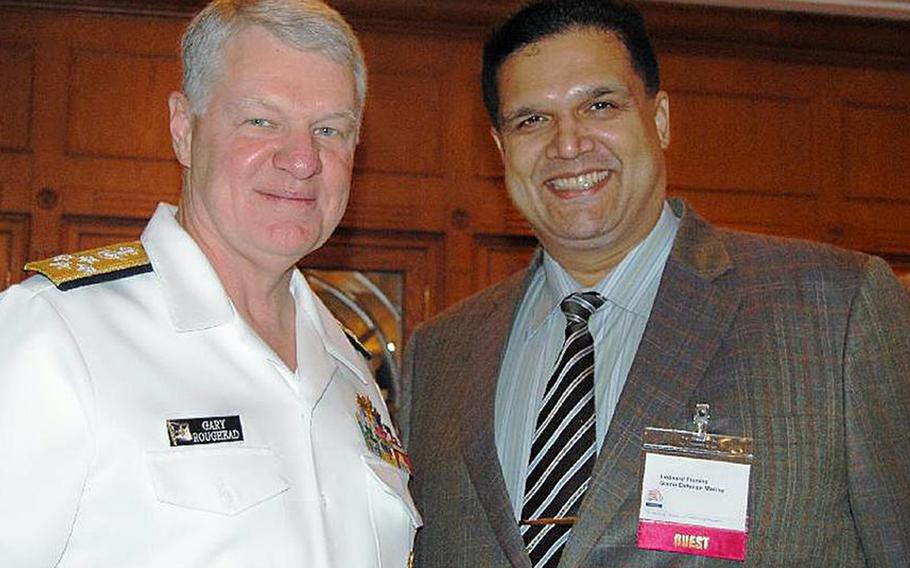 SASEBO NAVAL BASE, Japan — The man allegedly behind the ever-expanding Navy bribery scandal involving prostitutes and luxury travel is a convict in his home country, but that did not disqualify him from bidding on and winning U.S. Navy contracts, Navy officials told Stars and Stripes this week.
The CEO of Singapore-based Glenn Defense Marine Asia, Leonard Glenn Francis — otherwise known as "Fat Leonard" — pleaded guilty to three firearms charges in Penang, Malaysia, in April 1986 when he was in his 20s, according to the New Straits Times newspaper, which covered the court proceedings. Francis was charged with illegally possessing two .38-caliber Smith & Wesson revolvers, 14 rounds of .38-caliber bullets and a bullet-proof vest. He was also charged with three counts of robbery.
It remains unclear why someone with a history of weapons convictions and robbery charges would be entrusted with providing millions of dollars in services for the U.S. Navy or given access to high ranking Navy officials. Naval Criminal Investigative Service officials confirmed the authenticity of the reports this week but said that being a convicted felon doesn't bar you from bidding on U.S. Navy contracts. It is not against the law.
The U.S. Navy and its background checking agency, the Acquisition Integrity Office, declined comment.
After Francis pleaded guilty in 1986, Sessions Court president Madam Ho Mooi Ching fined and released him on bond despite the seriousness of his crimes, the paper reported.
Francis was arrested again as he left the court, this time on the robbery charges, the paper reported. He pleaded not guilty to conspiring with others to rob several individuals of more than $500,000. Again, he was released on bond.
Three years later, a different judge struck down the ruling for the weapons charges as being "inadequate" and not in the public's interest, the New Straits Times reported. Francis was then sentenced to receive three years in jail and six strokes of the rotan.
There were no media reports detailing whether the lashing was carried out, if he served jail time or the outcome in the robbery cases. Francis could not be reached for comment.
Francis is at the center of the growing Navy fraud and bribery scandal where classified information and contracts were meted out for cash, prostitutes, luxury travel and even Lady Gaga concert tickets, according to prosecutors.
High-ranking Navy officials would allegedly steer Navy assets to international ports with lax oversight, where GDMA would overcharge the Navy for millions of dollars in services. At the same time, GDMA allegedly submitted false bids from competitors for non-fixed price items like fuel and trash collection so they could drive up their price. They also allegedly submitted fraudulent invoices for tariffs from non-existent port authorities.
Francis, GDMA's general manager for global government contracts Alex Wisidagama, Navy captain select Michael Vannak Khem Misiewicz, Navy Cmdr. Jose Luis Sanchez, as well as NCIS supervisory agent John Bertrand Beliveau II have been arrested in the case.
Misiewicz, Beliveau and Francis have pleaded not guilty to the charges. Sanchez and Wisidagama have yet to appear in court to face the charges.
Navy Capt. Daniel Dusek was relieved of his command aboard the Sasebo-based amphibious assault ship USS Bonhomme Richard on Oct. 2 when Navy officials learned he was under investigation in the case. He has not been charged with a crime.