Long-term success of Iraq security forces remains to be seen, commander says
by
Chris Carroll
December 7, 2011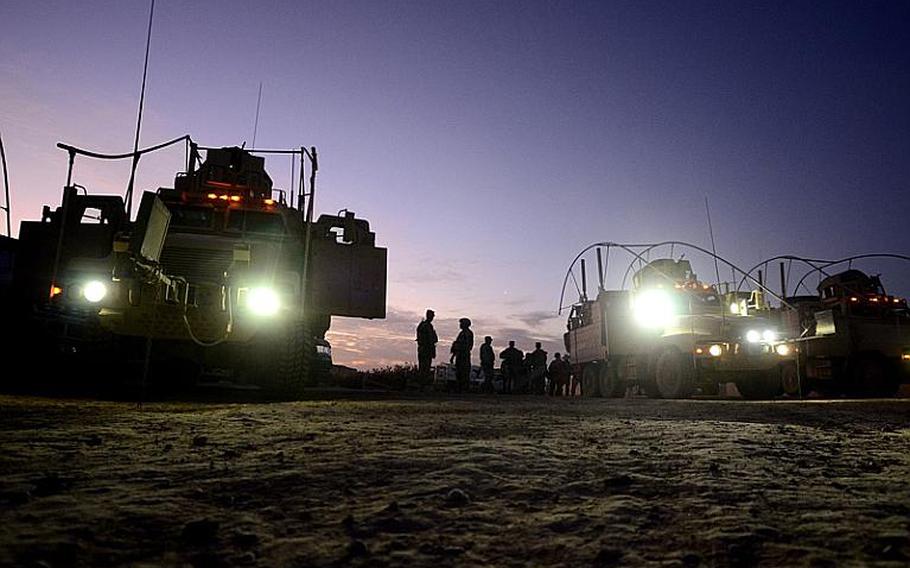 WASHINGTON – A top U.S. commander in Iraq said the world will soon learn whether the country's military and police forces are ready to preserve the security gains that nearly 4,500 U.S. troops gave their lives to secure, while tens of thousands more were wounded.
With the number of U.S. soldiers stationed in the country down to just 8,000 – less than 5 percent of peak troop levels – violence is at its lowest since 2003, said Army Lt. Gen. Frank Helmick, deputy operations commander of U.S. Forces-Iraq.
That's a hopeful sign that Iraq's 700,000 security personnel will be able to prevent a descent into renewed conflict once U.S. troops are gone by the Dec. 31 deadline, he said, speaking Wednesday to the Pentagon press corps via satellite from Iraq.
The precarious security situation was highlighted Wednesday by insurgent attacks targeting security personnel that Iraqi officials said had killed at least 5 people.
"My gut tells me they will be capable to do this – they are doing it today," Helmick said. "Yet to be determined, longer term."
The United States has essentially built the Iraqi military from the ground up and is providing it with high-quality weapons and equipment, he said, including M-1 tanks and artillery. A squadron of F-16 fighters that Iraq is buying from the United States will help deal with external threats and airspace sovereignty -- unresolved problems for Iraq, Helmick said.
"We have done everything we can in the time that we have been here for the Iraqi security forces to make sure they have a credible security force to provide for the internal security of their country," he said.
The United States also stands ready to work military-to-military with Iraq to help improve security, Helmick said. Leaders from both countries said at recent meetings in Baghdad that U.S. troops would probably train Iraq forces in the future, though no agreement on U.S troop presence has been announced.
Helmick said the ongoing withdrawal is a logistics operation of historic proportions. Since the first steps of drawdown 18 months ago, he said, drivers have racked up more than 16 million miles moving a mountain of equipment in preparation for the pullout.
Only about 1,000 truckloads of equipment remain to be removed from five bases, and one soldier on Tuesday told Stars and Stripes that commanders at his base had ordered basic equipment like phones to be collected in preparation to move out.
Helmick said the majority of troops still in Iraq would be out by Christmas. USFI stopped releasing specific timelines or base closure details after insurgents took advantage of the information to target convoys with IED attacks, officials have said.
Twitter: @ChrisCarroll_
---
---
---
---