Last US troops pull out of typhoon disaster zone in Philippines
by
Ashley Rowland rowland.ashley@stripes.com
November 29, 2013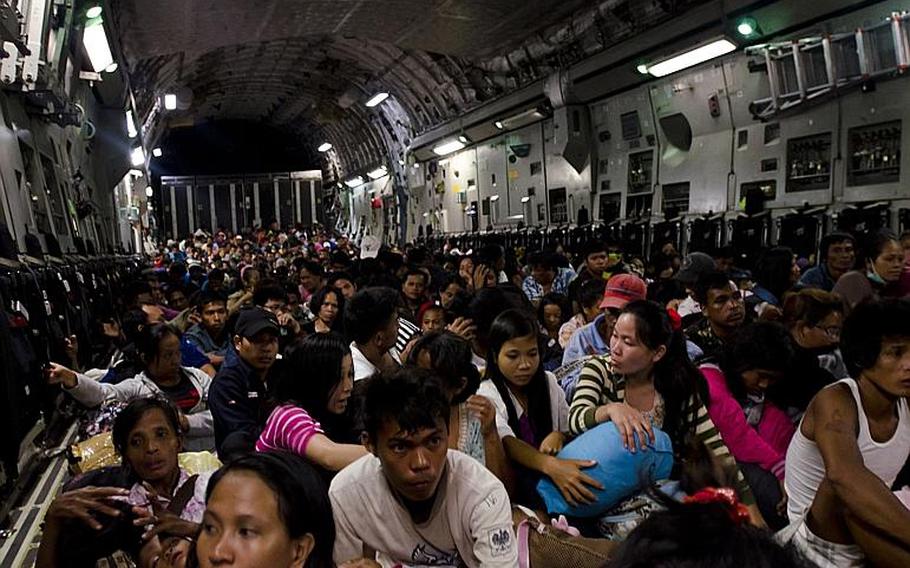 MANILA, Philippines — The last U.S. troops pulled out of storm-ravaged Tacloban on Wednesday, marking the end of the American military presence in areas demolished by Typhoon Haiyan.
About 3,000 U.S. servicemembers are still involved in Operation Damayan in some capacity, though most are in Manila or aboard ships and far from the area directly affected by the Nov. 8 super-typhoon that killed thousands and left many more homeless or without adequate shelter.
That number is down sharply from a peak of 13,400 at a point when two naval task forces — led by the USS George Washington carrier and the amphibious ships USS Ashland and USS Germantown — overlapped.
"I've served in the Army for 27 years, and I've done operations around the world and I don't think that we could have done it differently or better," said Brig. Gen. Kurt J. Ryan, deputy commander for transition for Joint Task Force 505, the military's response to Haiyan, and commander of the 593D Sustainment Command at Joint Base Lewis-McChord in Washington.
No date has been set for the pullout of the remaining U.S. forces, he said. They include 1,100 troops on the ground and about 1,900 on ships.
The military has run airfields, purified water, distributed relief supplies and evacuated about 20,000 Haiyan survivors. In the past week, the Philippine military has assumed responsibility for naval and air operations supporting relief efforts that include forces from 15 nations.
Ryan said Wednesday significant U.S. military capabilities remain in the Philippines and the eventual withdrawal of all forces will be "deliberate and orderly."
Asked whether the military presence was downsizing more quickly than initially expected after the storm, he said, "I don't know if we knew what to expect. The initial shock (following the storm) quickly passed, and the Filipinos turned to action."
The U.S. retains a tiny footprint at Manila's Villamor Air Base, but most servicemembers are at Clark Air Base, which is serving as a staging area for troops and equipment heading home, or afloat, he said.