Juicy bars: Air Force puts squeeze on businesses linked to human trafficking
by
Jon Rabiroff rabiroff.jon@stripes.com
September 1, 2013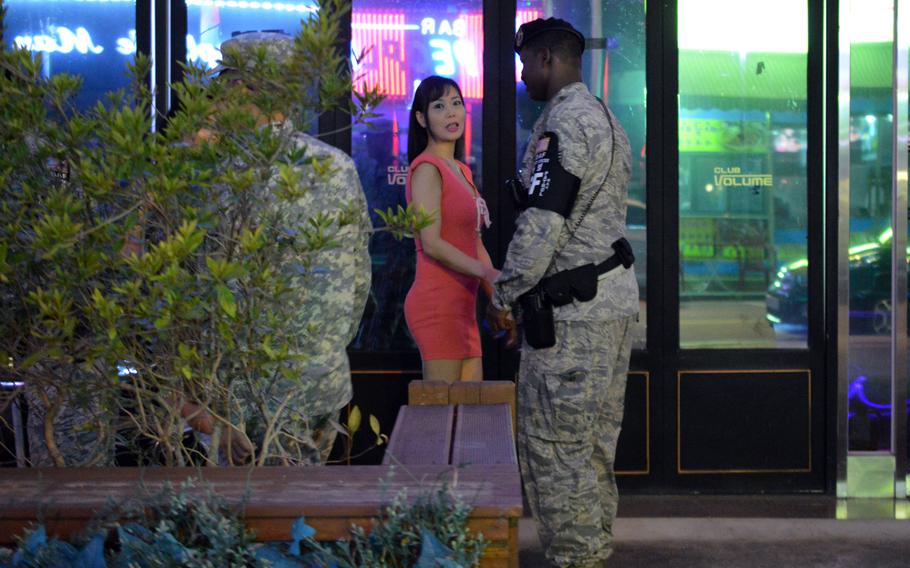 OSAN AIR BASE, South Korea — Juicy bars might soon be a thing of the past in the area just outside the gates here.
U.S. Air Force officials have in recent months been systematically putting the notorious bars in the Songtan Entertainment District off-limits and giving their owners a choice: Get rid of your juicy girls or American servicemen will not be allowed to patronize your establishments.
As a result, the number of juicy bars — where scantily clad women flirt with servicemen to get them to buy high-priced juice drinks for the hostesses in exchange for their company — has dropped from 44 to 10 over the past year outside Osan Air Base.
The vast majority of juicy girls employed at base-area bars in South Korea are Filipino, though there is a small percentage of Koreans and those of other nationalities working as the controversial hostesses who are brought here illegally and often linked to prostitution.
"I am very hopeful we will be reaching zero soon," 51st Fighter Wing Mission Support Group commander Col. Michael Strunk said. "I'm hoping within a couple of months."
The effort by Osan Air Base officials to put juicy bars off-limits or to force them to jettison their flirtatious hostesses -– even those not deemed to be in the business of prostitution -- marks a dramatic change from the way the U.S. military in South Korea has dealt with such establishments.
U.S. Forces Korea has for years employed an oft-stated "zero tolerance policy" toward prostitution and human trafficking, and has said unequivocally that "buying overpriced drinks in a juicy bar supports the human trafficking industry, a form of modern-day slavery."
Yet, USFK continues to allow servicemembers to patronize the juicy bars that cluster by the dozens outside a number of its bases, with the exception of those caught in the act of promoting prostitution or human trafficking.
Seventh Air Force commander Lt. Gen. Jan-Marc Jouas said, "The Department of Defense, the U.S. Forces Korea (and the) Air Force (are) pretty explicit in the fact that we have zero tolerance toward trafficking in persons. What is new is that we are putting that into action and placing (off-limits) these establishments that, in our view … are trafficking in persons.
"The presence of juicy girls that are contracted, whose passports are held by the bar owners, who are moved from city to city and bar to bar – it's indentured servitude and it's inconsistent with who we are as a service, and the standards we're trying to establish on base and within the sphere of influence we have outside the gate," he said.
Jouas said Kunsan Air Base officials are in the process of starting a similar effort in nearby America Town – another entertainment district home to juicy bars - and he has talked to USFK officials, including commander Gen. James Thurman, "and they're reviewing what we're doing here."
Philippine Embassy labor attaché Felicitas Bay – whose office has struggled in its efforts to stem the tide of Filipinas being brought illegally into South Korea to work as juicy girls – hailed the efforts of Osan officials and the impact they might have outside other U.S. military installations here.
"I salute the firm resolve and conviction of the Osan Air Base leadership in their efforts in the campaign against human trafficking," she said.
"It is my view that the USFK leadership is steadfast in its advocacy on human trafficking and prostitution," Bay continued. "It is my opinion that, in due time, the Osan Air Base efforts will have a domino effect in other base areas."
RELUCTANT ACCEPTANCE
USFK officials have long taken a position of reluctant acceptance toward the 150 or so base-area juicy bars in South Korea -- putting those caught promoting prostitution or human trafficking off-limits, but stopping short of a blanket ban of establishments where hostesses kiss, touch and otherwise flirt with servicemen as long as they keep the expensive juice drinks flowing.
While it is impossible to determine exactly what percentage of juicy bars promote prostitution, it is common knowledge that some juicy girls who fall short of sale quotas are often forced by club owners to prostitute themselves to make up the revenue difference – a practice known as "bar fining."
In addition, some juicy girls arrange to meet customers outside of work, where they strike sex-for-cash deals or pose as girlfriends and ask for money to send home or pay off debts.
Nevertheless, in 2010, then USFK commander Gen. Walter Sharp said it would be unfair to punish the owners of all juicy bars for the sins of a minority of proprietors.
"The bottom line is that juicy bars … have women that are there to talk to soldiers and sailors and airmen and Marines," he said. "You can't presume that things go beyond that, which is what you would have to do if you want to put them (all) off-limits."
At Osan Air Base, Jouas said officials' attitude toward the Songtan juicy bars intensified late last year when 10 to 20 airmen were implicated in paying to take juicy girls away from their bars, presumably for sex.
While not all the cases were proven, officials said, some of the airmen were disciplined.
Jouas said most juicy girls are brought into South Korea illegally on visas saying they are here to work as entertainers. Instead, they are "put to work in bars to sell drinks at an exorbitant price, but what they're really selling is their company and that oftentimes leads to prostitution.
"Frankly that was unacceptable, and it's been going on a long time," he said.
Referring to juicy bars, Jouas said, "There's nothing good about them. I think they further an attitude toward women that's unacceptable. There are a lot of our servicemembers that don't want to go into those bars because they're pretty creepy."
Robert Woltman, a 51st Security Forces Squadron investigator, said, "They're selling women for companionship. They are selling time with females, which is leading to sexual assaults down the road. That environment is moving on base."
A draft report by an 8th Army sexual assault task force – obtained by Stars and Stripes earlier this year – suggested something similar.
"Contradicting messages portrayed in the facilities patronized off-post, which send a message in support of sexual activity and contrary to the values of proper conduct," the report said. "This may lead the malleable to engage in conduct that they know is not acceptable."
Strunk said, "We see the Songtan Entertainment District as a direct reflection of the base. It's almost an extension of the base. We want to clean up our environment just outside the gate."
Osan officials "gradually have worked to tighten the rules, getting toward our end state of resolving the issues we have down there with the girls … being used as objects, for sale or for rent essentially, and the environment of prostitution and human trafficking – trying to eliminate that," he said.
While Osan officials have always put off-limits juicy bars caught promoting prostitution, Strunk said, they started barring servicemembers from patronizing those bars found to be employing juicy girls of any nationality or foreigners in country on E-6 entertainer visas who are working as hostesses or bartenders.
"What they're being brought in for and what they're doing once they get here is in violation of the E-6 visa," he said.
While the process is complicated, legitimate singers, dancers and musicians leaving the Philippines for South Korea with entertainer visas should not be allowed out of the Philippines without a certificate from Bay's office affirming they are headed for a legitimate job at a reputable establishment, or into Korea with an E-6 visa if they are being put to work as a bar hostess.
Songtan juicy bars that are put off-limits are taken off that list only when their owners agree to no longer employ women in country on E-6 visas, "to no longer essentially sell the time of women there for companionship" and to allow patrols to check the identification of any bar employees suspected of being here illegally, Strunk said.
Jouas said the clampdown on the base-area juicy bars is an extension of efforts to clean up the Songtan Entertainment District.
"We in the past have eliminated the brothels that were common outside the gate," he said. "We eliminated the massage parlors that were common outside the gate. This is another step along that evolutionary trend, if you will, to have the same standards outside the gate that we have on base."
Angry about the efforts aimed at them, Songtan juicy bar owners staged three weeks of protests in June just outside the base, to no avail. They eventually abandoned the demonstrations after Osan officials put all of Songtan's 500 businesses off-limits for large parts of each day because of fears the protests might lead to confrontations with servicemembers.
Jouas stressed that Osan officials are not "going after the Koreans. If they want to continue to be promoters and bring in juicy girls, then they can continue to. We're not interfering with that. What we're saying is that American servicemembers or airmen are not going to enter that establishment."
Officials with the association that represents base-area juicy bar owners in South Korea have said in recent years that most of the member establishments are run properly, but their reputations have been stained by a small minority of owners who do promote prostitution and Filipino juicy girls who cozy up to U.S. servicemembers and bilk them for money.
Osan Air Base officials said those establishments that opted to get out of the juicy bar business have remade themselves into dance clubs and sports bars. Some are thriving, but some have closed as the 140 bars in Songtan battle for the patronage of area servicemen.
Osan Air Base officials said they know that even if the number of juicy bars outside the gates is reduced to zero, keeping things that way will require constant monitoring, and similar establishments are bound to pop up just outside the Songtan Entertainment District.
"We're not going to end the world's oldest profession," Jouas said. "If someone is looking for that, will they be able to find it? Probably. But within our sphere of influence, we're doing what we can to drop it down."