Japanese WWII flag, taken as a war trophy, returns in friendship
by
Seth Robson
December 11, 2013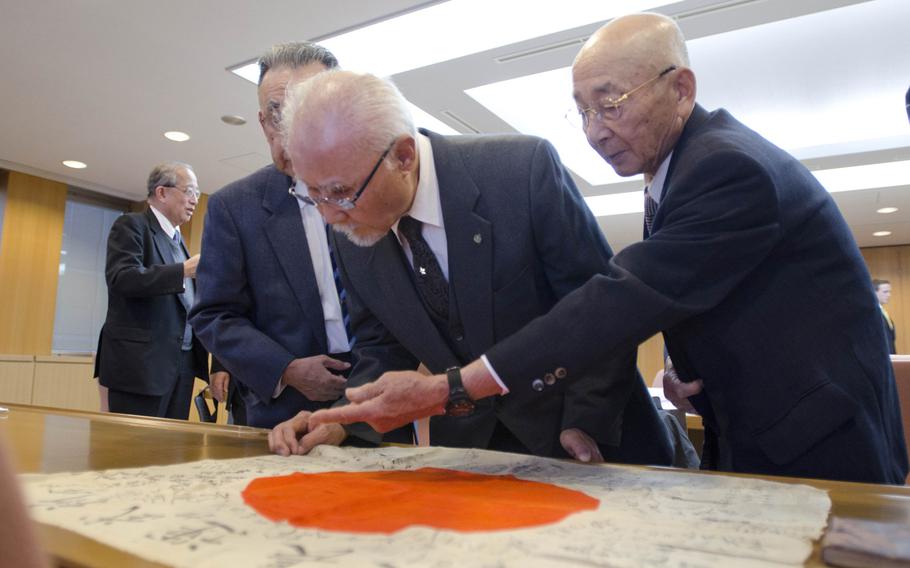 SHIZUOKA, Japan — A Rising Sun flag — taken from a dead Japanese soldier on Tinian island in 1944 — sat in a box at Kenneth Udstad's home for 68 years.
On Friday, the Marine Corps veteran from Aurora, Ill., completed a pilgrimage to return it to Japan, along with several other objects taken from Pacific battlefields.
The still-sprightly 92-year-old, who served with the 4th Marine Division during World War II, said he decided to give back the red and white banner after hearing about another veteran who returned a war trophy.
"I thought it was a real nifty idea," Udstad said. "I knew it would do the family (of the flag's original owner) a world of good compared to what it was doing for me."
Helped by members of his Mormon church, Udstad discovered that Japanese characters on the flag referred to the village of Tago in Shizuoka Prefecture. Officials there are still searching for the family of the fallen soldier, but were eager to receive the flag on their behalf.
A mob of Japanese reporters and officials were waiting for Udstad — who got a free ride to Japan courtesy of American Airlines — when he arrived at the Shizuoka Prefectural Office to hand back the flag along with a notebook, hat, official papers and family photographs taken from Japanese troops on the island of Saipan.
"If you want to know where I found the flag … this is where (the soldier) was carrying it," Udstad said, opening his jacket to reveal the banner wrapped around his waist.
During the invasion of Tinian, the then-Marine corporal rode ashore in a medium tank. During a week of bloody fighting to take the island, the Marines killed more than 8,000 Japanese soldiers but lost more than 300 of their own and suffered 1,500 wounded in action.
Udstad said he resupplied tanks with fuel and ammunition.
"I was in close and how I got out of it I don't know," he said. "I could hear the Japanese talking at night and getting high on sake and opium before banzai (charging) in the morning."
Japanese forces constantly infiltrated U.S. lines, he said.
"They would get into any place that they could slip into at night, and we would have to clear these places out every morning," he said.
Udstad said he was clearing a dugout full of Japanese soldiers who had been killed by a grenade when he saw the flag poking out of one man's tunic and decided to claim it as a souvenir, he said.
The flag and other items that Udstad returned to Japan will be placed in the Gokoku-Jinja — a local war memorial in Shizuoka — and stored until their owners' families are found.
One of those who greeted Udstad was Kazuhiko Togo, a former diplomat and grandson of Shigenori Togo, Japan's foreign minister at the start and end of the war, who died in prison as a convicted war criminal.
Togo said the return of the flag was symbolic of the trust and friendship that Japan and the U.S. have built over the past 68 years.
"We have tried to create an entirely new world of friendship and trust and peace between Japan and the U.S.," he told Udstad. "Your decision to come to Japan is a symbolic action to connect the past to the present."
Another who watched the return of the flag, Shizuoka Veterans Association chairman Shinya Suzuki, helped stage troops to repel a U.S. invasion of the mainland as a lieutenant in the Imperial Army.
"If the war had gone on longer I might have met you in battle," he told Udstad. "We were enemies, but today we are friends."