In State of the Union, Trump to push for new military spending
by
Claudia Grisales
January 29, 2018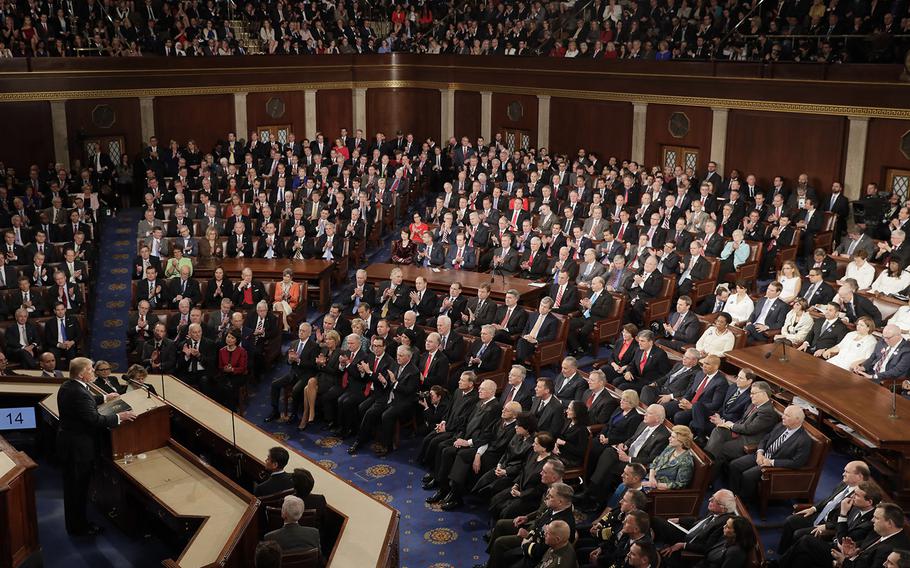 WASHINGTON — In his first formal State of the Union speech, President Donald Trump will push lawmakers to look at new levels of military spending in light of growing threats around the globe.
The wide-ranging speech, under a theme of "building a safe, proud and strong America," to both chambers of Congress on Tuesday evening, will focus on the administration's accomplishments in its first year and set an agenda for the coming year.
"I expect him to call for a significant increase in military spending," Molly Reynolds, a governance studies fellow at the Brookings Institution, said Monday during a preview of the speech at the liberal-leaning Washington think tank.
Trump's speech is expected to highlight a prosperous economy and low unemployment in his first year as president, while also pushing for new spending for infrastructure and national defense.
In a move that could bolster new military spending requests, Trump is expected to provide an update on the fight against terrorism and other global threats, including North Korea.
Marc Short, White House director of legislative affairs, said Trump will push Democrats to move on military spending, which he claims is being held hostage for other issues such as immigration.
"He'll also talk about America's strength – the fact that we are continuing to wipe out [Islamic State] but that we have growing threats," Short told "Fox News Sunday." "We have dramatic threats on the global scene, yet where we are in Congress is we still can't even pass a spending bill that funds our military … [H]e will ask that it's time that we rebuild our military to keep America strong."
The effort comes as new reporting reveals the Trump White House will push for a much larger 2019 defense budget, even as a plan to approve Defense Department funding this year remains trapped in Capitol Hill gridlock.
On Friday, the Washington Post reported the Trump White House next month will ask for $716 billion in defense funding for 2019, a 7 percent increase over this year's plan. The $700 billion 2018 National Defense Authorization Act, which surpasses statutory budget caps, has yet to gain full-year funding approval.
The 2019 plan aims to modernize the military's weapon systems as it continues to engage in America's longest war in Afghanistan and prepares for new conflicts with major powers, The Post reported. The larger spending push signals Defense Secretary Jim Mattis' growing influence within the Trump administration.
"Defense hawks will rejoice," said Lauren Fish, a defense strategies research associate for the Washington think tank Center for a New American Security. "Timing now is the key factor."
The military, like the rest of the federal government, is operating on its fourth temporary funding bill, known as a continuing resolution, or CR, in lieu of a full-year budget for the 2018 fiscal year, which began Oct. 1. That plan now faces a Feb. 8 deadline, and more stopgap bills could be on the horizon as lawmakers struggle to reach a deal on overall funding, budget caps, immigration and a debt ceiling deadline.
"I hear positive things about coming to a deal, but any number of factors can muck it up," Fish said. "If politics takes priority again as we approach the Feb. 8 CR deadline and parties stake out extreme views, keeping the government open could be a challenge again, which increases theatrics and hampers negotiations."
Lawmakers failed to reach a deal for the last continuing resolution deadline Jan. 19, forcing a three-day government shutdown. The challenges are a result of a lack of discipline on Capitol Hill, as Republican lawmakers were more focused on other political priorities, such as tax reform, said Ryan Alexander, president of the Washington-based Taxpayers for Common Sense, a nonpartisan budget watchdog group.
That "needs to be judged as a terrible failure," Alexander said. "They had plenty of time to make that deal" on defense spending.
In an election year, Alexander expects Republicans to show more discipline. Her group recently raised concerns of "fiscally reckless" defense spending, which extends to the 2019 proposal as well.
"How are we going to pay for all of this?" she asked. "Those decisions still need to be informed by the research available."
The Pentagon spending plan is a tough argument for taxpayers as Congress has already passed costly initiatives, such as the recent tax overhaul that is projected to cost $1.5 trillion, Alexander said. This, as a two-year defense budget deal for 2018 and 2019 could surpass $1.4 trillion.
Both annual defense spending plans face budget caps: The $700 billion plan faces a $549 billion limit for 2018, which rises to $562 billion for 2019. Both efforts will require special legislative action to surpass caps.
Congress needs to exercise much more rigorous oversight to weigh whether new spending is needed, and re-evaluate programs such as whether it's time to close military bases and re-examine wasteful spending on new weapons, Alexander said.
"We are concerned where it will be spent," Alexander said of the defense spending proposals. "I would like to see robust hearings and oversight."
grisales.claudia@stripes.com Twitter: @cgrisales