In Africa, military faces limited options when it comes to speedy care of injured
by
John Vandiver
September 12, 2019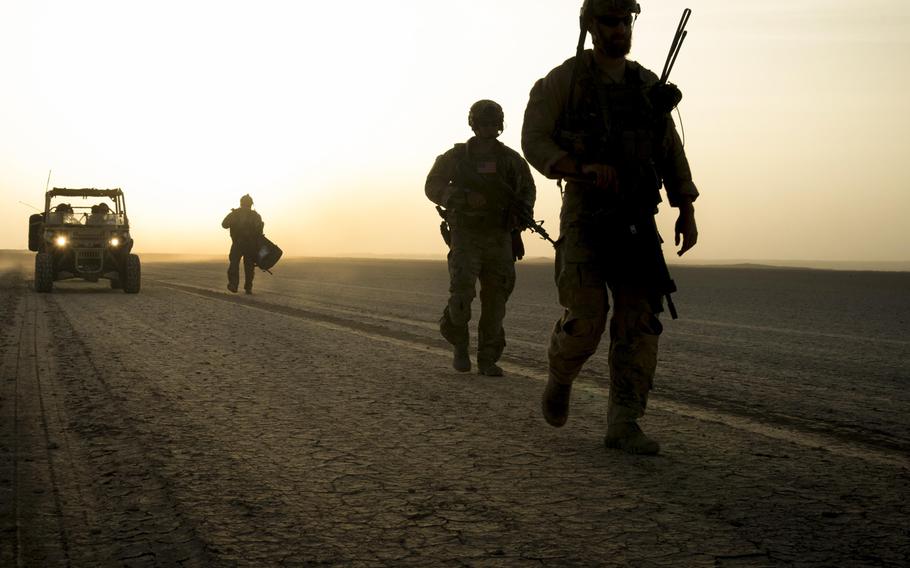 STUTTGART, Germany — Cutting alert times for rescue aircraft and mobile surgical teams could boost survival rates for U.S. military personnel deployed to remote locations in Africa, where low-quality hospitals and long travel times pose a risk for troops, a new study said.
The study, by Rand Corp., a nonprofit think tank that contracts with the Defense Department, looked at the challenges facing U.S. Africa Command when it comes to providing trauma care. It recommended reducing aircraft alert times from three hours to one or less, and making it possible for surgical teams to travel to patients.
Currently, AFRICOM's evacuation plan calls for every servicemember to receive emergency surgery no later than six hours after injury. That timeline is reduced during higher risk missions, said AFRICOM spokeswoman Samantha Reho.
In the wars in Iraq and Afghanistan, the standard was for casualties to reach a trauma center within 60 minutes or less — the so-called "golden hour." That has been credited with savings scores of lives at the height of the conflicts.
In Africa, however, such a standard is virtually impossible to achieve.
Even if all the assets deployed to Iraq and Afghanistan were simultaneously deployed to Africa, "AFRICOM would still not be able to achieve rapid rescue times," the study said.
The difficulties are compounded by a lack of quality hospitals in African countries. In rating health care capabilities, Rand concluded there were no "good" or "excellent" options anywhere in Africa.
And while there were 32 host-nation hospitals in 15 different countries capable of surgical care, risks of trauma patients receiving blood infected with HIV, Hepatitis C or other potentially deadly viruses was 4.6 percent — or roughly one out of every 22 trauma patients treated, Rand found.
Blood safety hazards make it unacceptable to incorporate host-nation hospitals as part of strategy for force planning purposes, it said.
"But there is still the possibility of utilizing host-nation hospitals when no other trauma care option is available. In such in extremis situations, the risk of contaminated blood may be less than the risk of delaying medical care," the report said.
For years, getting medical care to troops in isolated locations has been a top concern for AFRICOM. Even before the deadly 2017 ambush in Niger in which four soldiers died, military leaders were warning of constraints in personnel rescue and evacuations that could put U.S. forces in jeopardy.
AFRICOM said its current posture for evacuations is based on several studies that examined the timelines and resource requirements imposed by Africa's vast size, limited basing and relatively small number of deployed personnel.
All personnel deploying to the continent receive battlefield treatment training to mitigate risks, AFRICOM said.
vandiver.john@stripes.com Twitter: @john_vandiver