Hagel: US pivot to Asia doesn't mean abandoning Middle East
by
Chris Carroll
December 6, 2013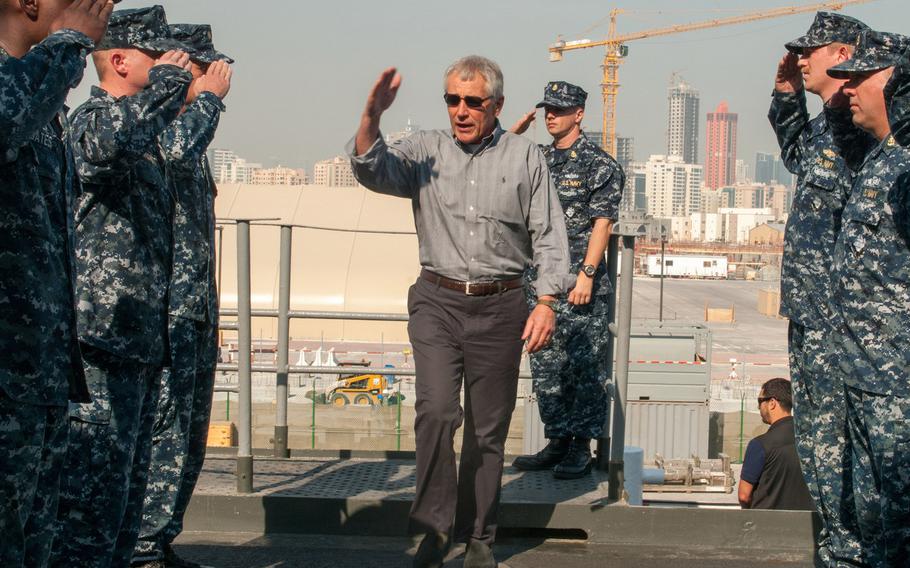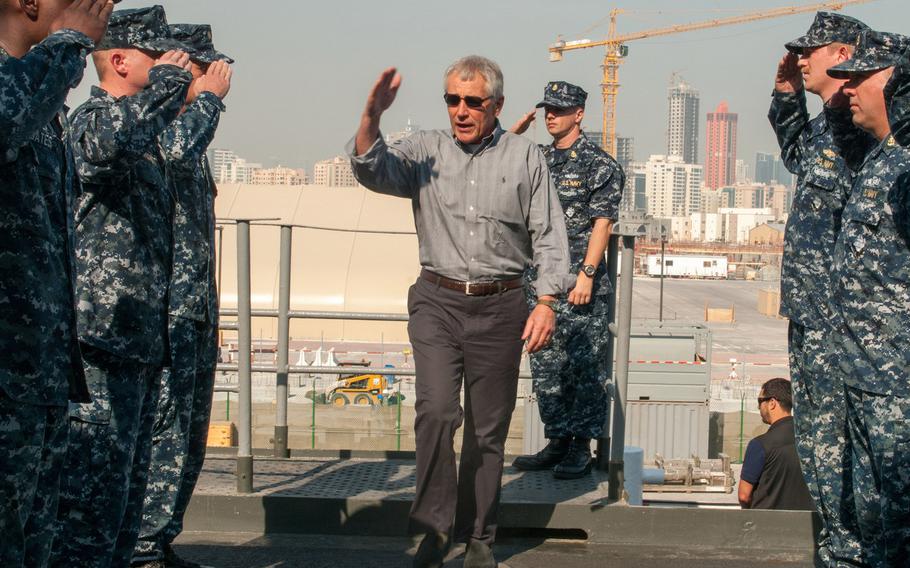 MANAMA, Bahrain — Defense Secretary Chuck Hagel stood Friday on the deck of the USS Ponce, sent last year into the Persian Gulf when tensions with Iran were escalating, and told U.S. troops that a recent nuclear deal with Tehran doesn't change the U.S. military's mission in the region.
Hagel, in Bahrain for an annual meeting of Gulf-area defense chiefs, said he would assure the conference in a speech Saturday that the much-ballyhooed U.S. rebalance to Asia doesn't mean the Middle East is receding in importance.
"I will assure our partners we're not going anywhere," he said, speaking to about 200 troops from various services based in Bahrain. "This should not be misunderstood to be that we are retreating from any part of the world."
The deal between Iran and six world powers, including the United States, freezes key aspects of Iran's nuclear program for six months while a more comprehensive deal is sought that would terminate Tehran's progress toward nuclear weapons. But key regional allies, including Israel and various Arab monarchies, worry the U.S. engagement with Iran will strengthen Tehran's hand throughout the Middle East.
Hagel's appearance on the Ponce seemed tailored to dispel those fears. The 42-year-old ship was hastily retrofitted for a counter-mine mission and deployed to the Persian Gulf in 2012 to help in case Iran followed through with threats to mine the Strait of Hormuz.
The ship has since been classified as the Navy's first "afloat forward staging base," capable of carrying out a wide range of missions in the region. Those include coordinating anti-mine operations, embarking special operations forces, launching small reconnaissance drones and even refueling multiple helicopters at once, Navy officials said Friday.
The ship is also scheduled to be fitted next year with a new Navy laser weapon that can destroy small attacking craft or knock out surveillance drones.
"It's as flexible and as agile as any platform we have," Hagel said. "It represents very much the future of our naval operations."
Following his remarks, Hagel fielded questions on topics ranging from Iran to the possibility of a single combat uniform for all the services.
In response to a sailor's question about the deal with Iran, he indicated the United States was hopeful but wary.
"Whether we can get to where we hoped we could get to in six months I don't know, we'll see," he said. "But in the interim, be assured that the United States of America will not change any of its force posture, or any of its force protection, or any of its relationships with our partners here in the Gulf."
To a sailor who questioned him about the future of military pay and retirement benefits, Hagel acknowledged that with wars ending and defense budgets falling, something would have to give. He and other defense leaders have repeatedly urged Congress to rein in the growth of military pay and raise certain fees for retiree health care, but he told troops in Bahrain that shielding the force from devastating budget effects was his top priority.
Hagel said he had recently ordered 20 percent cuts in his own office, and the military services were planning similar headquarters cuts.
"That's the beginning, that's the opening of where we're going to go," he said. "We will protect our people, but the reality is we're going to have to do something different."
To a soldier who asked him if the services would all be forced to wear the same combat uniform, Hagel acknowledged distinctions are necessary for esprit de corps. Jokingly calling the assembled troops "significant fashion plates," he also indicated uniform variation had gotten a bit out of hand.
"I think that each service deserves their own special recognition, their own way," he said. "I do, however, as secretary of defense draw the line, I don't think we need a lot of variations of every fashion."
carroll.chris@stripes.com Twitter: @ChrisCarroll_