Green Beret killed in free-fall incident was a veteran of more than 17 years, eight deployments
by
Chad Garland
January 15, 2020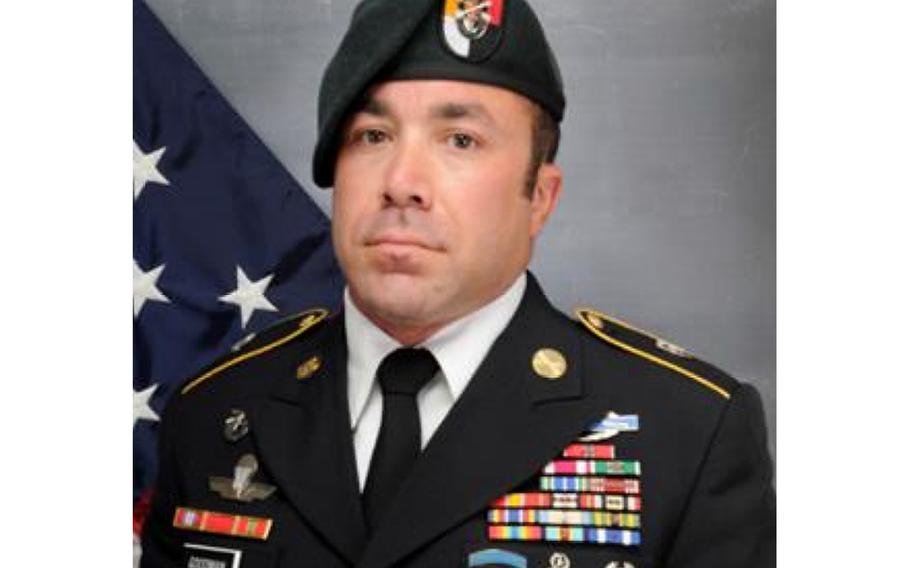 Military officials are investigating a free-fall training incident that left an experienced parachute jumper dead Tuesday.
Army Green Beret Master Sgt. Nathan Goodman died in the incident, which occurred during routine training near Eloy, Ariz., U.S. Army Special Operations Command spokesman Lt. Col. Loren Bymer said in a statement.
A member of the Fort Bragg, N.C.-based 3rd Special Forces Group (Airborne), Goodman had deployed four times to Afghanistan, once to Iraq, twice to Africa and once to Kyrgyzstan since enlisting in the Army in July 2002, Bymer's statement said.
The 36-year-old was "an exceptional leader in the Special Operations community," said Col. Nathan Prussian, 3rd Group commander, as quoted in the statement.
In 2013, the married father of two had broken his back on the exact same date, his wife said in a Facebook post Tuesday night, without elaborating on the earlier incident.
"This day is cursed to me," Kelly Goodman wrote, recalling last time that she had waited patiently by the phone for a call from him, a call that this time "uncomprehendingly" never came. "I cannot even make sense of it."
Nathan Goodman's awards and decorations include the Bronze Star with two oak leaf clusters, Meritorious Service medal, Army Commendation medal with three oak leaf clusters and Army Achievement medal.
"Nate was an incredible guy, friend to everyone, dedicated husband and father, and epitome of a Green Beret," said former 3rd Group company commander Alan Van Saun in a Twitter post. "He took his job very seriously, but was calm and cool all the same. I feel privileged to have served alongside Nate."
He had graduated from basic, jumpmaster and advanced tactical infiltration military free-fall courses, among many other schools.
Located between Phoenix and Tucson, Eloy is frequently used as a military jump site and is about 155 miles east of the Military Freefall School at the Army's Yuma Proving Grounds, which is part of the John F. Kennedy Special Warfare Center and School.
Members of all services go for training at the free-fall school to improve various jump skills, including in high altitude-low opening and high altitude-high opening parachuting, the school's website states. It's not clear what type of training was underway during the fatal incident Tuesday.
"No additional information can be provided as this incident is under investigation," Bymer said.
At least four service members died in parachuting incidents last year, including a Ranger who died during a routine training jump at an undisclosed location in Arizona in March. In January 2018, another Ranger died in a jump incident in Eloy.
Kelly Goodman's Facebook posts seems to suggest her husband's death may have involved may have been a mishap with a high altitude-low opening jump — a jump she said he'd done hundreds of times.
"He is such a skilled jumper," she wrote. "There's no reason this should have happened! I'm just out of words."
Born in Pasadena, Calif., Nathan Goodman grew up near Chicago, Ill., before joining the Army more than 17 years ago. He completed initial training at Fort Benning, Ga., before being posted to Schofield Barracks, Hawaii.
In 2005, he transferred to the Army National and attended Special Forces Assessment and Selection, graduating in October 2007 as an engineer sergeant and serving with 19th Special Forces Group (Airborne) until he returned to active duty with 2nd Battalion, 3rd Group in 2010.
He did a stint with 1st Special Warfare Training Group (Airborne) from 2016 to 2018 as a senior instructor, then chief instructor, before returning to 3rd Group and later becoming an operations team sergeant of a Special Forces Operational Detachment-Alpha.
"Our heartfelt condolences go out to his Family during this difficult time and our priority now rests with taking care of them and our Soldiers," Prussian, 3rd Group commander said.
His wife was praying "his soul is resting in Heaven," she said. In the last year of his life, he had "found the Lord, he has gone to church & opened up to God, has prayed, has made a relationship," Kelly Goodman wrote. "That is my one & only comfort in all of this."
garland.chad@stripes.com Twitter: @chadgarland