gallery
Fueled by espresso, US and Italian paratroopers take on mock enemy and bad coffee in exercise
---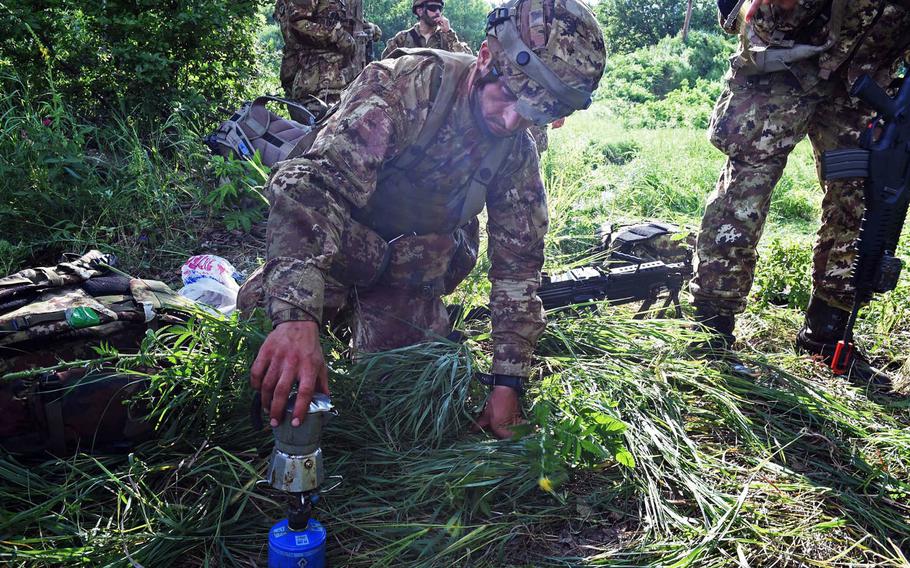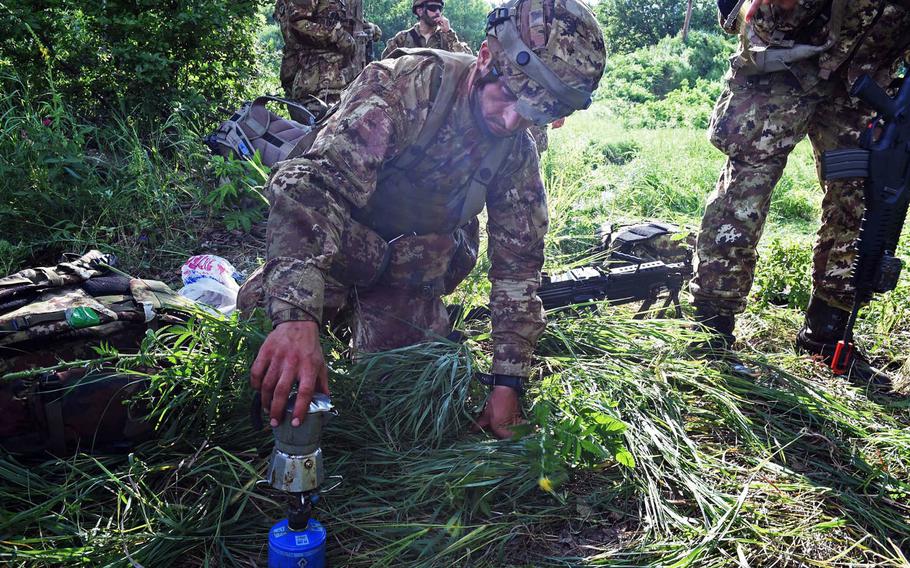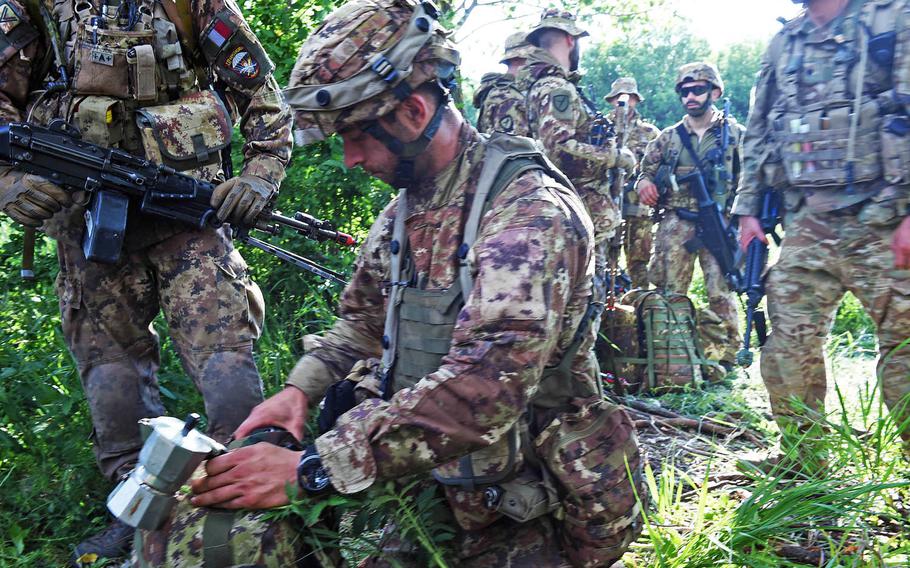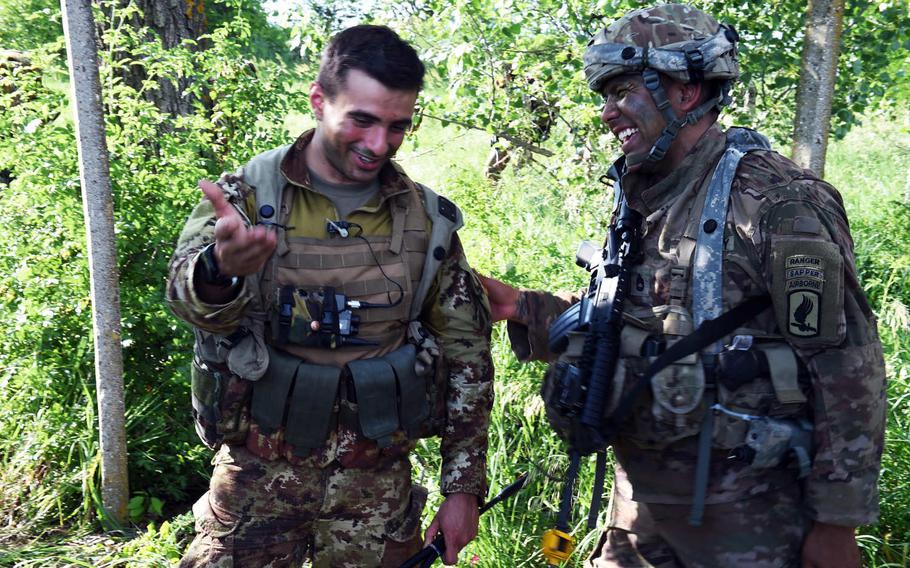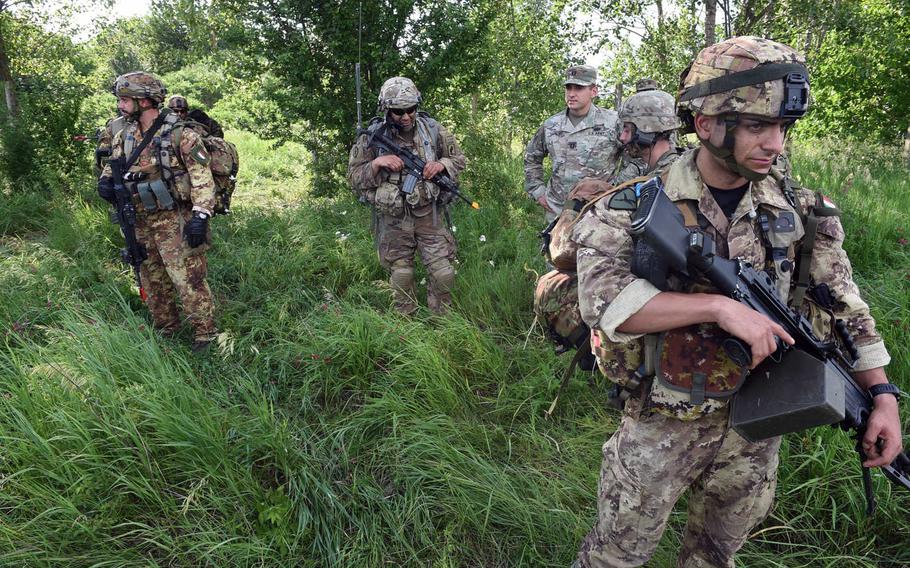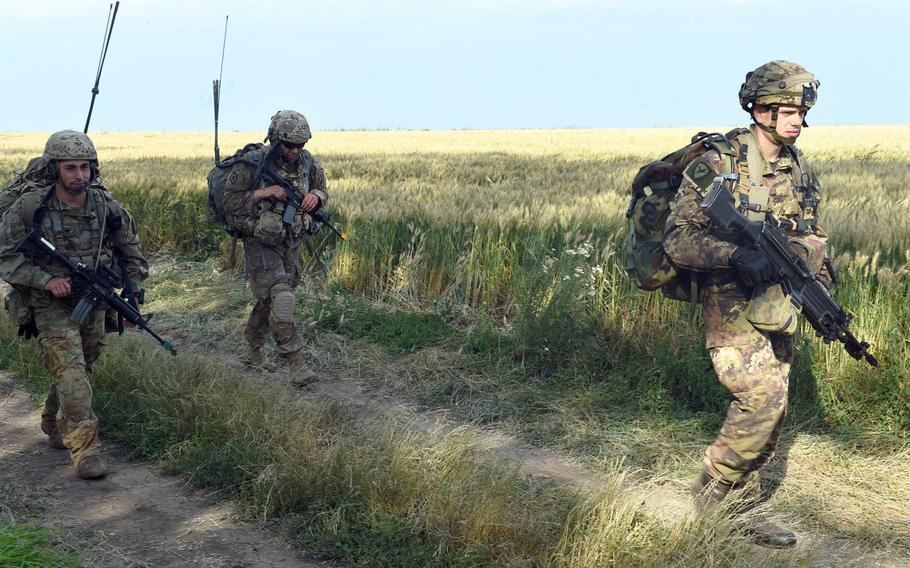 BOCOCU, Romania – A lot goes into preparing soldiers for battle. They need to make sure they have enough ammunition and check if they're missing anything they might need. And sometimes, they need to whip up a batch of smooth, dark espresso coffee.
Since Sgt. 1st Class Felix Sanchez-Carrera, a paratrooper with the 173rd Infantry Brigade Combat Team (Airborne), was dropped into farm fields in Romania last week with the Folgore, the Italian Army's paratrooper brigade, he's been battling a mock enemy alongside Italian allies.
But in between fighting, without leaving the steaming hot combat zone, he's been living "la dolce vita," thanks to a piece of equipment the Italians took into battle: a portable espresso machine.
"They love espresso," Sanchez-Carrera said. "They have their portable little machines, and they're making it out here in our defensive positions. And it's really good stuff, top notch. I feel bad for all the guys drinking terrible field coffee."
The Folgore is a mix of infantrymen and engineers. "They're all airborne, just like us," said Sanchez-Carrera, who is one of a handful of U.S. soldiers attached to the Italian unit during Exercise Swift Response, a U.S.-led mission involving more than 7,000 soldiers from eight NATO allies.
He was selected to work as liaison to the Italians because he can speak a little Italian.
"I'm of Mexican descent, so I can speak Spanish," which made picking up some basic Italian a little easier, he explained. "I can order a pizza pretty good in Italian, but I'm getting better the more I'm around these guys."
No one should assume the Folgore are anything less than battle-ready just because they like a good cup of coffee, Sanchez-Carrera said.
"They're professional warriors and they know their stuff," he said. "I feel lucky to be out here with them."
This past weekend, Sanchez-Carrera and the Italians fought a night battle to seize an airfield from a mock enemy played by U.S. forces.
The Italians used a flanking maneuver during the battle, in which one platoon provides cover fire while the other platoon goes into position, explained Capt. Valentino Luciano, the company commander of the Folgore.
The Italians learned the maneuver from U.S. soldiers, Luciano said. "It proved to be a good tactic for the situation."
In the days since, they've fortified the airfield and defended the position against counterattacks.
This week, the Folgore and Sanchez-Carrera are leaving their espresso-fortified foxholes to prepare for an air assault. They'll "get dropped into the action, move to contact, look for the enemy and take them out," Sanchez-Carrera said.
Exercise Swift Response is a U.S. Army Europe-directed exercise led by the U.S. Global Response Force. It's designed to demonstrate U.S. European Command's ability to deploy high-readiness forces to an emergency, while allowing airborne allies to train together.
It's one of several exercises taking place this summer in the Balkans and Black Sea region in southeastern Europe, where tensions have risen in recent years following the annexation of Crimea by Russia in 2014 and the ongoing conflict that ensued in eastern Ukraine.
egnash.martin@stripes.com Twitter: @Marty_Stripes
---
---
---
---