From the S&S archives: Jungle airline slow but steady
Stars and Stripes
August 1, 1962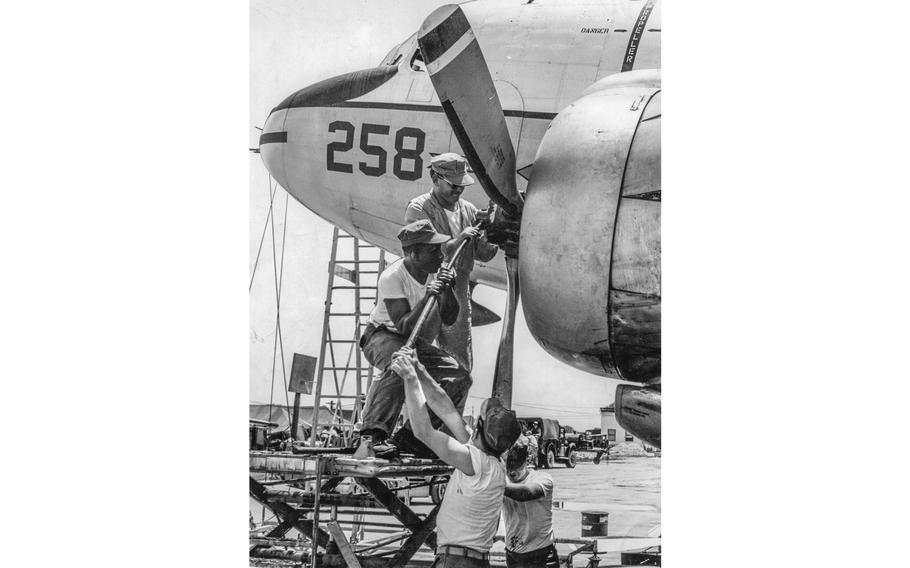 SOC TRANG, South Vietnam — "Supersonic Sam's Unscheduled Airline," operating from a small jungle airstrip here, is headed by a U.S. Marine sergeant who acts as president, general manager and its senior (and only) pilot.
Boss of the "airline" is Master Sgt. Sammy Dobbins, 39, a chunky, good-natured enlisted pilot from Santa Ana, Calif.
Sammy's enterprising airline consists of one battered and overworked, but smooth-flying Marine R5D transport plane and his four enlisted crewmembers.
The "supersonic" tag stems from the constant harassment slower-flying cargo pilots get from their jet pilot friends.
Dobbins and his crew are attached to Marine Medium Helicopter Sq. 362 here.
Dobbins, a veteran of more than 19 years' service, is the only enlisted U.S. pilot in the Republic of Vietnam and one of the last of a fast-fading breed in the Marine Corps.
Besides flying transport planes, Dobbins is also qualified in jet fighters — although he seldom gets the chance to fly any.
Supersonic Sam's enlisted crew consists of S/Sgt. Richard D. Wyman of Detroit, crew chief; Sgt. Leon Gibbs, Ardmore, Pa., first mechanic; Lance Cpl. Guy W. Ealey, Santa Ana, navigator-radioman; and Lance Cpl. Leonard G. Tippens, Fort Worth, Tex., second mechanic.