From the S&S archives: Ford, Tanaka stress economic cooperation
by
Hal Drake
November 22, 1974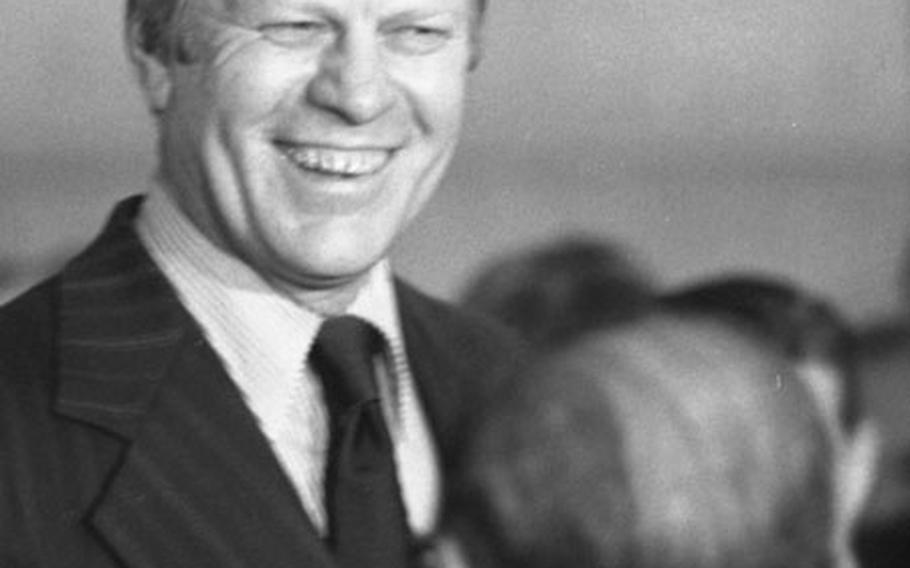 TOKYO — President Ford, ending for all official purposes a historic state visit to Japan, flew to Osaka Thursday after he and Prime Minister Kakuei Tanaka pledged strong efforts toward heading off international economic crisis by establishing an "open and harmonious" system of global cooperation.
In a joint communique issued late Wednesday, the two leaders said they regarded this as "indispensable" in efforts for international peace and prosperity. The communique, made public after two days of summit conferences that also included Secretary of State Henry A. Kissinger and Japanese Foreign Minister Toshio Kimura, stressed that Japan and the U.S. would link efforts with other countries to stabilize trade and restore international monetary order.
But it placed the strongest emphasis on cooperating with other "have" nations to help "have not" nations.
"Both countries agree that further international cooperative efforts are necessary," the communique read, "to forestall an economic and financial crisis and to lead to a new era of creativity and common progress.
"Recognizing the urgency of the world food problem and the need for an international framework to ensure stable food supplies, the United States and Japan will participate constructively in multilateral efforts ... to strengthen assistance to developing countries in the field of agriculture, to improve the supply situation of agricultural products, and to assure an adequate level of food reserves."
Expanding on this, Kissinger told a press conference that Japan is technologically equipped to help underdeveloped countries as they improve their agricultural resources. He said that the more food produced there, the more food supplies will become available in the U.S. — and that America, in making food exports, will "give special attention to the needs of Japan."
Kissinger painted a dark picture of the world food situation, saying that the present 25 million ton food shortage in underdeveloped countries might increase to 85 million tons over the next decade.
Ford and Tanaka said the two countries, on their own and with the help of others, will continue to help poorer ones through both economic assistance and fair trade.
Also, the communique said, Japan and America will continue cooperative efforts in "science, technology and environmental protection."
Along with that, the communique said both countries realize a need for international efforts to reduce armaments, particutarly nuclear weapons, and to promote the use of nuclear energy for peaceful purposes.
But Kissinger said the Japanese did not explain why the National Diet has not ratified the Nuclear Non-Proliferation Treaty, and that the U.S. still favors its ratification.
The communique said both countries, realizing their interdependence and need for "coordinated responses" in some situations, will try "to encourage a further relaxation of tensions in the world through dialogue and exchanges with countries of different social systems."
Kissinger said the Japanese discussed their relations with mainland China, "and we did the same with respect to U.S.-Chinese relationships."
Kissinger said the U.S. again made clear its position on international "consumer solidarity" to reduce oil prices — a reduction of imports Japan is leery of because she must import. most of her fuel sources. However, Kissinger said, there were "very fruitful and constructive" exchanges on the matter.
On his last work day here, Ford wrapped up the summit meetings, met the press at the Imperial Hotel, shook hands with Diet legislators at a reception and ate a sumptuous banquet with the emperor and empress and Tanaka at the State Guesthouse — the scene of farewell ceremonies early Thursday as Ford planted a specially-imported dogwood sapling as a marker of his visit. He also bade farewell to the Prime Minister and the Emperor there before being taken by helicopter to Tokyo Internationtal Airport, where he took off in Air Force One about 10 a.m.
Ford has one more day in Japan, but will be little more than the most prominent American tourist in Kyoto, the ancient capital of Japan that makes most of its capital from tourists. He planned to visit the Old Imperial Palace, Nijo Castle, the Golden Pavilion and other sights before continuing on to Seoul and then to Vladivostok for conferences with Soviet Party Chief Leonid Brezhnev.
Asked if Ford planned to remonstrate with ROK President Park Chung Hee about political repression there, Kissinger said he did not want to predict what the two Presidents might talk about. He said he (Kissinger) would not announce any U.S. troop withdrawals and that there were no present plans to reduce American strength there.
On Wednesday, Ford also went to the Budokan (Hall of Martial Arts) for an afternoon athletic display by Olympic judo champions, gymnasts who won medals at Munich, kendo swordsmen and women who are experts with the Naginata (halberd).
Some 9,000 people, many of them Americans from outlying military bases, watched the sports-loving President clearly enjoy himself.
Ford appeared to be particularly interested in the violent intricacies of kendo, in which fencers use a bamboo stick that simulates the two-handed samurai sword. He spoke excitedly to those around him and raised his hands as though holding one of the sticks.
After the one-hour exhibition, Ford trooped the line of athletes and drew laughter as he grasped for the wrong hand of an aged kendo master. He was particularly careful to shake the hands of children who participated, including pint-sized swordsmen who appeared to be no older than seven or eight.