From resupply to evacs, Afghan air support assumes growing role
---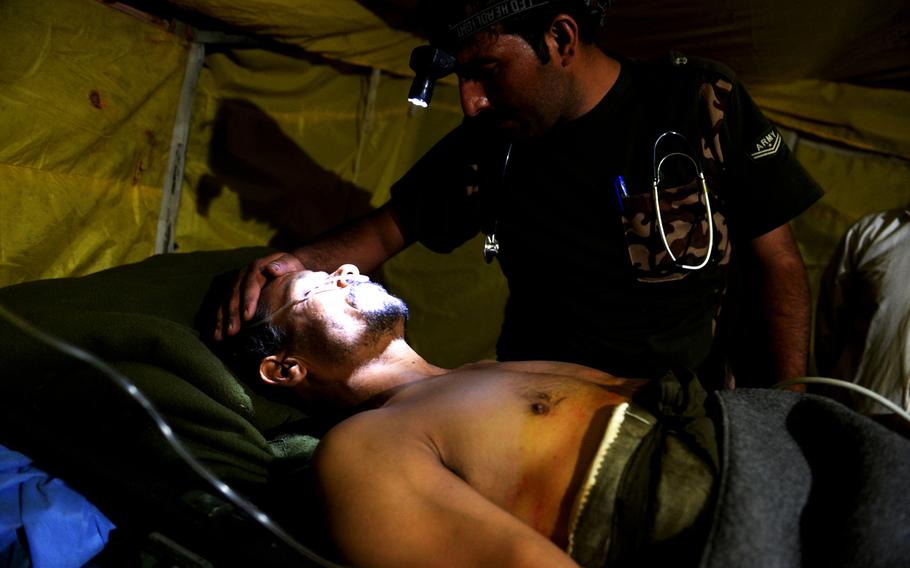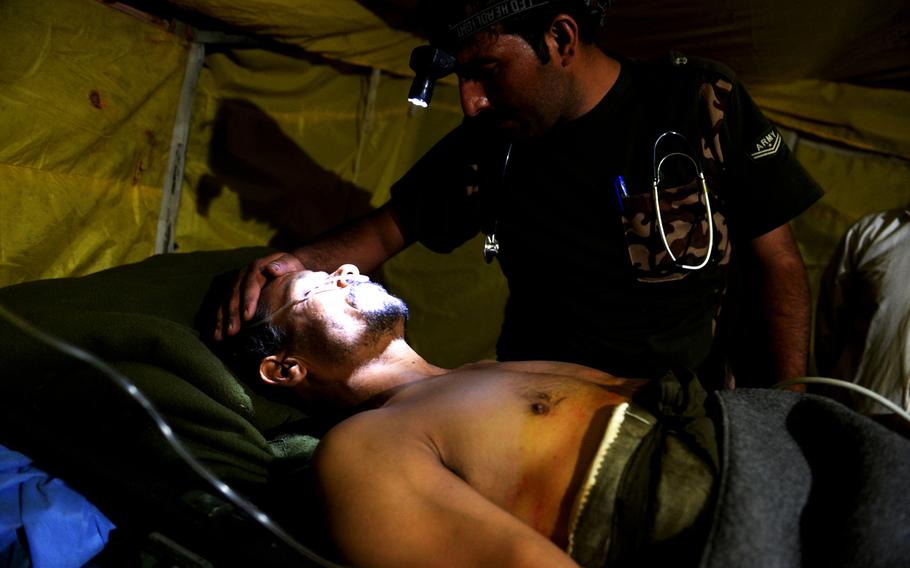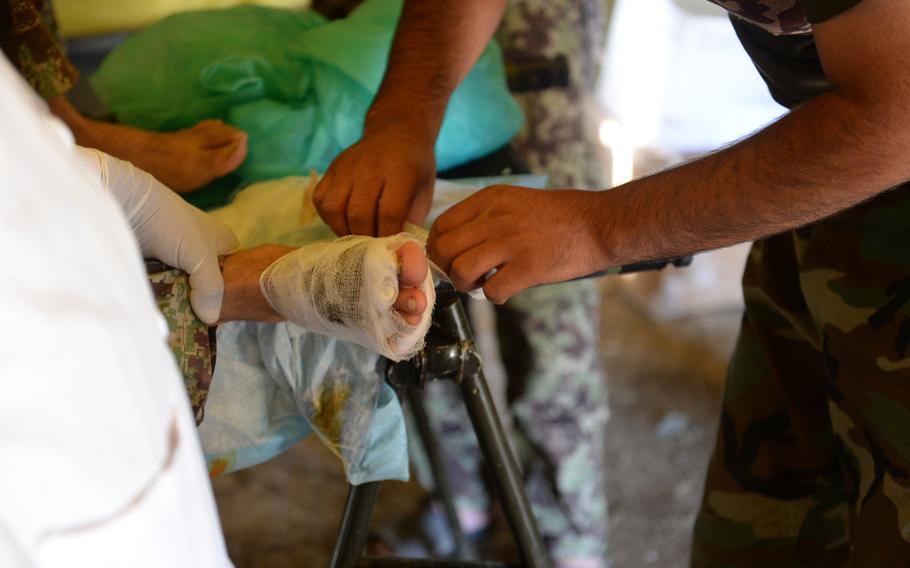 KANDAHAR, Afghanistan — The maelstrom of dust settled just long enough for the soldiers to hurry a stretcher bearing the latest victim of an insurgent's roadside bomb to the waiting helicopter.
In the back of the Russian-made Mi-17, the soldiers had to kick aside loose potatoes and onions that skidded across the floor, leftovers from the helicopter's previous cargo, unloaded just minutes before at another desert outpost.
As international military forces have withdrawn most air support, the handful of Afghan air force helicopters have become more vital to commanders at these isolated military bases in Afghanistan's restive south. Not only are the aircraft needed to evacuate a steady flow of soldiers and others wounded in the ongoing insurgency back to major hospitals, but they are also needed to transport cheap supplies like potatoes and firewood because ground transport is too dangerous.
The result, Afghan doctors say, is that quick medical evacuation has dried up for many victims, making the job of saving lives and limbs much harder, and sometimes impossible.
Making room
On this January day in Uruzgan province, Afghan National Army soldiers driving an armored Humvee hit an improvised explosive device. Two of the more seriously injured soldiers required evacuation to the Kandahar Regional Military Hospital at the ANA's Camp Hero, near Kandahar Air Field.
Two Mi-17s were diverted from their planned mission of delivering supplies, but they first had to drop off thousands of pounds of fuel and food to make room for the casualties.
Just another day for the overstretched Afghan air force, which is struggling to fill the void left by the reduction in coalition air operations.
"Imagine you are injured by an IED, and you have to wait for hours or days to get to a hospital," said ANA Lt. Col. Mohammed Sadiq, chief surgeon at Kandahar's regional military hospital. "That is a disaster for the patient."
The hospital Sadiq oversees in Kandahar is funded by international aid and boasts 100 beds with modern equipment in various laboratories, operating rooms, intensive care units and other facilities. But Sadiq says if critically injured patients don't reach such advanced care in time, all those resources don't matter.
Last year, Afghan security forces sustained nearly 10,000 casualties as fighting increased in several regions.
Former U.S. Defense Secretary Robert Gates pushed hard for injured American servicemembers to be able to reach advanced medical care within an hour of being wounded. Statistics show that at the height of U.S. operations, wounded soldiers who lived to make it to a large hospital like at Bagram Air Field had a 98 percent chance of survival.
The pair of ANA soldiers from Uruzgan were lucky; they both arrived within hours and their injuries were treatable.
Many others haven't been as fortunate, however. Bismullah Hagmal, 24, a member of a local police militia near the border with Pakistan, stepped on an improvised bomb while patrolling a road. Border police drove him halfway to Kandahar, while Hagmal's brother drove south from Kandahar to transport him the rest of the way.
The trip took 10 hours, leaving doctors little choice but to amputate Hagmal's right leg, Sadiq said.
"The tourniquet wasn't applied tightly enough, but even without that, had he been here sooner, there is a much higher chance we could have saved his leg," the surgeon said. While overall evacuation times have dropped, it may take some patients up to 36 hours to reach a hospital, he said.
Soldiers tend to have the best chances, as the army usually has the better developed systems and more resources, Sadiq said. Police and civilians, while often treated by military doctors, often don't have as immediate access to evacuation.
Military hospital officials in Kandahar say at least 65 percent of their patients are victims of IEDs. Gunshots account for 12 percent of injuries, while car crashes make up most of the rest.
The threat from roadside bombs is a double one: They not only cause injuries or death but can pose a serious danger to rescuers evacuating victims.
International forces, led by the United States, relied heavily on a vast fleet of military and contract helicopters to reduce the risk and to save time navigating bumpy dirt roads that connect many more remote locations in Afghanistan.
Limited resources
Afghan air crews have greatly reduced the amount of time it takes them to respond to evacuation requests, but their small number and limited resources leave most medical rescues to be made by ground across sometimes deadly terrain.
The Afghan Air Force's Kandahar Air Wing has about 14 Mi-17 helicopters, six of which are usually ready to be flown at any one time. The wing also has 10 Cessna C-208 light fixed-wing aircraft, but these can be flown only to locations with developed runways.
With that small number of aircraft, the wing has responsibility for supporting military forces in six provinces, including some of Afghanistan's most violent, such as Helmand. On top of evacuations, those six helicopters are tasked with delivering supplies and ammunition, transporting troops, dropping special forces into combat and performing other support roles.
"There are many challenges to overcome," said Col. Mohammed Asrail Wardak, deputy commander of the Kandahar Air Wing. "We actually need 60 helicopters and crews to cover that territory, but we are making a difference however we can."
Nooruddin Bakhshi contributed to this report.
Email: smith.josh@stripes.com Twitter: @joshjonsmith
---
---
---
---