Former active-duty Marine to receive Medal of Honor for controversial 2009 battle
---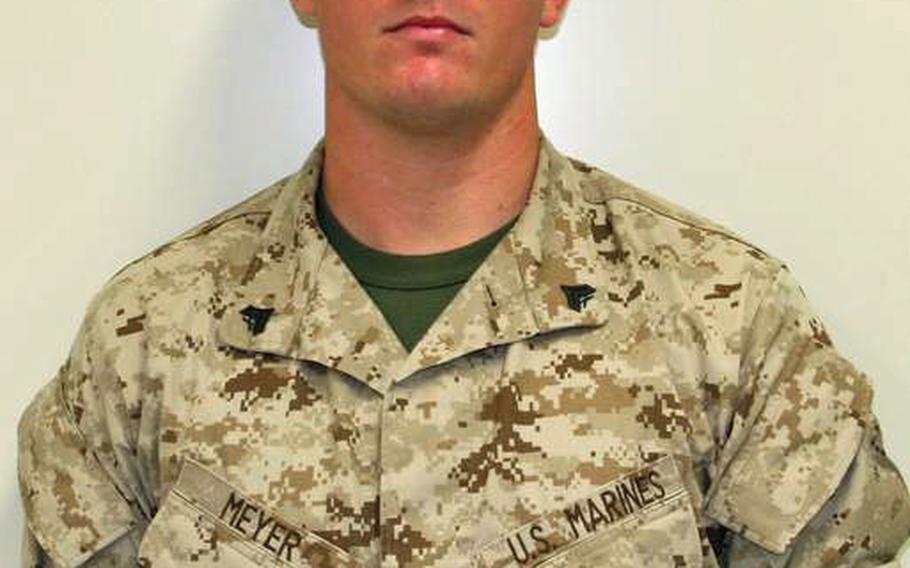 This story has been corrected.
WASHINGTON — A Marine who braved intense enemy gunfire in Afghanistan to recover the bodies of four fallen comrades will receive the Medal of Honor for his heroism, defense officials said Wednesday.
Dakota Meyer, who left the service last year, will be the third living recipient of the award for actions in Afghanistan and the tenth man recognized for exceptional bravery in the current wars. He'll also be the first living Marine to receive the honor since the Vietnam War.
White House and defense officials have not released details of the award or the timing of its presentation.
The 22-year-old's heroics came while serving with an embedded training team from the III Marine Expeditionary Force out of Okinawa, Japan. In September 2009, his team was ambushed in the controversial battle of Ganjgal, which claimed the lives of five Marines and nine Afghan allies.
A Defense Department investigation released five months later said that negligent leadership and a command refusal for artillery support directly contributed to the deaths of Meyer's fellow fighters, and reprimanded three Army officers.
Last month, two other Marines from that fight — Capt. Ademola Fabayo and Staff Sgt. Juan Rodriguez-Chavez — received the Navy Cross for their heroics evacuating wounded comrades and repelling the enemy ambush.
But Corps officials said Meyer's heroics went even further. He was wounded by shrapnel early in the battle, but when his unit lost contact with three Marines and a Navy corpsman pinned down by enemy fire, Meyer fought his way down a mountainside alone to their position.
When he found them all dead and in danger of being claimed as trophies by enemy fighters, he evacuated their bodies with the help of Afghan troops.
Just a few days after the attack, an angry Meyer told a reporter from McClatchy News Service that the off-site commanders' decisions not to order artillery support "basically screwed our guys over. They expect us to bring stuff to the fight, and [the commanders] didn't give it to us."
And in an interview with the Military Times late last year, Meyer said he felt praise for his heroics that day was unwarranted. "I feel like I let my guys down, because I didn't bring them home alive," he said.
Meyer left the Marine Corps last summer as a sergeant. He could not be reached for comment.
Meyer had been rumored to be on the military's short list for the Medal of Honor since last fall. After years without any living medal recipients for the current wars, the White House has already awarded two living recipients with the highest military honor since last fall: former Army Staff Sgt. Sal Giunta, and Army Staff Sgt. Leroy Petry.
Twitter: @LeoShane
CorrectionMeyer served with an embedded training team from III Marine Expeditionary Force. He left the Corps as a sergeant.
UPDATE, 6:45 p.m. EDT Aug. 12: Meyer will receive the Medal of Honor on Sept. 15, 2011, the White House announced
---
---
---
---