Extended weekend bar hours on South Korea bases
---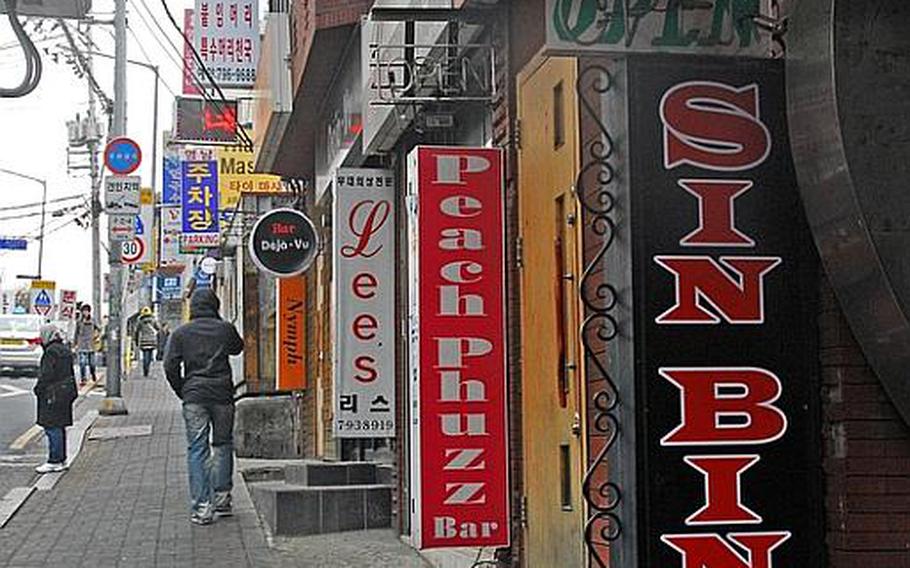 SEOUL - Bars and restaurants at some U.S. Army bases in South Korea will remain open until 3 a.m. on Fridays and Saturdays, beginning this weekend, as a result of the 1 a.m. off-base curfew imposed by the military earlier this month.
"With the curfew, soldiers come back before 1 a.m. and want to do something," said David Roudybush, business operations chief for Family and Morale, Welfare and Recreation in Area I. "We're trying to give them a safe option, a safe location to spend their evening."
In Area I, the extended hours will affect Mitchell's Club at Camp Red Cloud, Gateway Club and Warrior's Club at Camp Casey, and Reggie's Club at Camp Stanley. Most of those facilities previously closed at 2 a.m., Roudybush said.
At U.S. Army Garrison Humphreys, Tommy D's will remain open until 2 a.m. on Thursdays and 3 a.m. on Fridays and Saturdays, with post shuttle hours from the bar being extended until 3:15 a.m. on those nights.
Hours for FMWR establishments in other areas of South Korea will not change, though under longstanding policies, one club at Camp Carroll normally stays open until 3 a.m. and another at Camp Walker has the option to remain open past its normal 1 a.m. closing time based on customer demand.
U.S. Forces Korea commander Gen. James Thurman enacted a curfew last fall that required troops to return to their installations on weekend nights by 3 a.m. following the rape of a South Korean teenager in Dongducheon. But the move to a 1 a.m. curfew raised the ire of many troops and bar owners who cater to the military, including Cho Yongseok, who on Friday said he was angry that on-post bars would be allowed to remain open longer while his business suffers.
"I'm frustrated," said Cho, owner of the Xanadu bar near Camp Casey. "Of course it's unfair. We are weak and we have been suffering."
Cho said he doesn't mind the weekday curfew, but said business on Fridays and Saturdays would increase by 30 percent if the curfew were pushed back to 3 a.m. on those nights.
USFK did not immediately respond to a query asking whether an effort was being made to keep troops on their bases at night, or if there had been an increase in on-post incidents since the 1 a.m. curfew was enacted.
Roudybush said the Area I FMWR might extend closing hours for its establishments until 4 a.m. if there is enough demand, and is considering other late-night entertainment options, such as lengthening bowling center hours or holding late-night poker events.
"Right now, everything is on the table," he said.
Stars and Stripes' Yoo Kyong Chang contributed to this story.
---
---
---
---