Exercises with Indonesia show growing ties with largest Muslim nation
by
Wyatt Olson olson.wyatt@stripes.com
June 21, 2013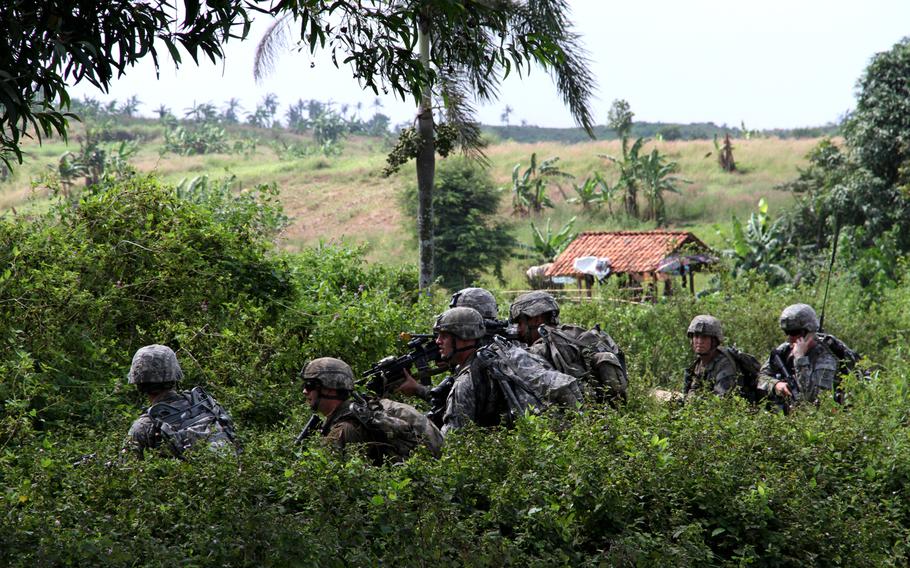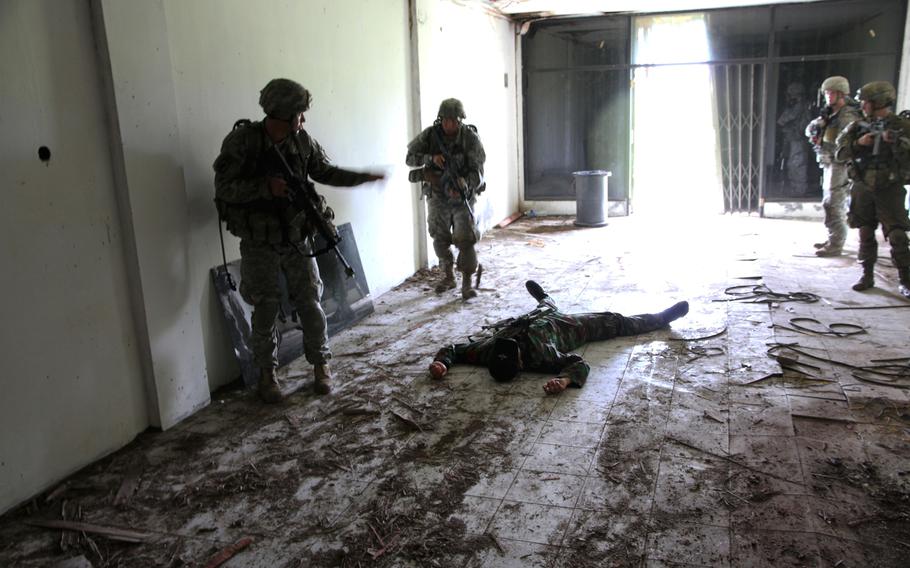 CILODONG, Indonesia — Staff Sgt. Ronald Hartford was full of nervous energy standing among fellow paratroopers from the Army's 82nd Airborne Division during this week's Garuda Shield exercise. As a veteran of more than 90 jumps and numerous deployments, not much surprises him.
Gathered nearby were about 100 Indonesians drawn by the spectacle of the massive combined tactical jump with the National Indonesian Army, followed by a mock attack using blank ammo on abandoned buildings.
A carnival atmosphere reigned, with squealing kids, snack carts and even an ice cream vendor playing upbeat recorded music. Many locals pleaded to have photos taken with the American paratroopers. Young women gazed adoringly.
Hartford admitted he was astounded by their reception in the country.
"We come here and we feel like rock stars," he said, echoing what other paratroopers said of the people they'd met in this largely Muslim country.
"They're more accepting of us here," he said. "In Afghanistan and Iraq, the Muslims there, especially the women, if we were walking on the streets or driving, they'd turn away from us. They wouldn't look at us.
"Here, they want to have pictures with us, talk with us. We were in a McDonald's and this guy was trying to get a picture of his child with us. Then he had his wife take a picture of him with us. Everybody, for some reason, loves Americans here. It seems like they like us being here."
U.S. policymakers and military planners hope that sentiment will only grow stronger.
Defense Secretary Chuck Hagel mentioned America's desire to develop closer ties with Indonesia during a speech at the Shangri-La Dialogue in Singapore earlier this month, where he held talks with Indonesia's defense minister.
"The United States and Indonesia — the world's largest Muslim-majority nation — are building new habits of cooperation that reflect a shared vision for a peaceful and prosperous region," Hagel said, adding that the island nation had a "key role in leading this region."
Indonesia offers the U.S. a chance to develop a relationship with a secular Muslim country that has a compelling interest in curtailing jihadist extremism.
In 2002 a terrorist bombing on the tourist island of Bali killed 202 people and injured 240. Many of the dead were Australians but the number included seven Americans.
With the help of American advisers and equipment, the Indonesian army has hunted down and killed or captured many members of Jemaah Islamiyah, the militant Islamic group that planned the attack.
The U.S. has also assisted the nearby Philippines in combating Jemaah Islamiyah and similar groups. Together, the three nations have driven the extremist groups to outlying islands –- though many Filipinos remain leery of a renewed American military presence in the country.
Col. Trevor Bredenkamp, commander of 82nd Airborne's 1st Brigade Combat Team, touts the value of cultural exchanges between armies — such as Garuda Shield between the United States and Indonesia.
"It's not just sending a message militarily; it's sending a message from the national level that we are committed to working together, to respond to crises in the future," he said.
Garuda Shield has been held before, but this year it's part of a much bigger military engagement with Indonesia, said Col. James Robinson, assistant chief of staff, Security Cooperation and Policy for U.S. Army Pacific Command.
With an emphasis on UN peacekeeping operations and involvement by components from the U.S. Reserves and National Guard, it was held with other exercises that included disaster relief and response and medical operations.
"This engagement with the Indonesian military at this time is the largest engagement we've had with Indonesia in our recent history," Robinson said.
The U.S. maintained an arms ban against Indonesia for many years after the country invaded East Timor in 1975. During its 24 years of occupation, Indonesian forces brutally suppressed, deprived and tortured the population there.
The country has steadily improved its human rights record since the late 1990s, when President Suharto was forced out of office after 31 years of control and following the Indonesia military's withdrawal from East Timor. The U.S. eased its weapons ban in 2005, although some critics remain wary of the Indonesian army using such imports against its citizens.
"We've worked together through the policy, and both Indonesia and the U.S. are at an understanding now that we can train and work with each other in a more-than-symbolic way," said Robinson, who in 2006 was the first American to ever graduate from the Indonesian war college. "It's the first time we've worked with them at this scale."
The engagements are only likely to become more robust, because the Army is shifting 70,000 soldiers to the Pacific command as part of the drawdown in the Middle East and the rebalancing from Europe to Asia.
"I think the Army has a significant role to play in the establishment and maintenance of good relationships throughout the region," said Maj. Gen. John W. Nicholson, commander of the 82nd Airborne Division.
A decade of counterinsurgency warfare in the Middle East has led to "a predictable, formulaic approach" by the Army," he said. "We go into these areas with a high degree of situational understanding and, frankly, in many ways a very predictable rotation."
That has to change, particularly for the 82nd Airborne, which is America's "global response force," he said, noting that elements of the division responded to the Haiti earthquake in 2010.
"We have to be ready to perform a range of tasks," he said. "In order to be ready for that we've had to really widen our aperture in terms of what we do, where we do it and get there quickly and with less information than we've been used to having."
The 82nd recently completed exercises with the Indian army in the U.S., and exercises will be held soon in Egypt and South Africa.
They require some intense planning.
For example, the 82nd needed to get 480 parachutes to Indonesia from Fort Bragg, N.C. They had to be shipped via Federal Express so they could be fully bonded and maintained in a strict "chain of custody" to guarantee their safety certification, Bredenkamp said.
But, as most soldiers at Garuda Shield discovered, the reception was worth the effort.
"I jumped into the drop zone and once I was rucked up and moving out toward the road, all the children and family members on mopeds were offering to carry your bag, carry your helmet," Robinson said. "It's just been nothing but welcoming here."
---
---
---
---