Eight-pound part falls from special ops aircraft and lands at US air base on Okinawa
By
Hana Kusumoto Matthew M. Burke
October 22, 2019
---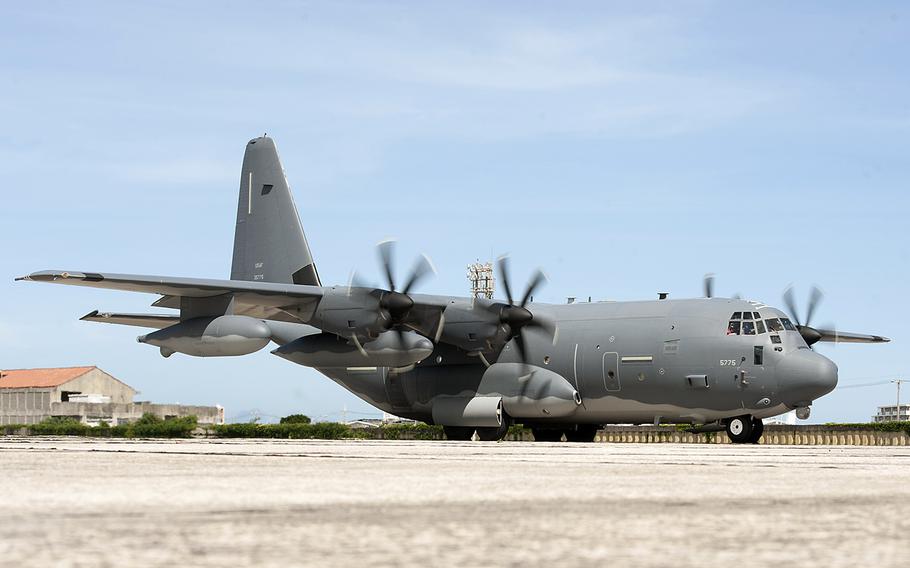 CAMP FOSTER, Okinawa — An 8-pound aircraft part that fell off a special operations MC-130 has been found on a U.S. military installation, Air Force officials said Tuesday.
The part, described as a torque tube from the landing gear, was missing during an aircraft inspection Friday morning at Kadena Air Base, Okinawa, Japan's Mainichi newspaper reported. Mainichi cited officials from the Okinawa Defense Bureau, which represents Japan's Defense Ministry on the island.
The part was later found on a U.S. airfield, believed to be Kadena, the paper said. It remains unclear when the part was located. No injuries were reported.
A torque tube is part of the aircraft's main landing gear, the newspaper reported. It is believed the 35-inch-long by 3-inch-wide part fell off during takeoff or landing.
Kadena's 18th Wing confirmed the incident Tuesday but referred questions to the 353rd Special Operations Group, which did not immediately respond to emails seeking information or comment.
"On Friday, Oct 18th, the 353rd Special Operations Group notified US Forces Japan that an object dropped off an MC-130 most likely over a US-controlled airfield or water," said the wing statement Tuesday. "As of [Monday] afternoon, the 353rd SOG reports the part has been recovered from a US-controlled airfield."
After the part was discovered missing, the 353rd Special Operations Group notified U.S. Forces Japan, which in turn notified the U.S. Embassy, which informed the Japanese government, Mainichi reported. Okinawa prefectural officials found out about the incident from the Japanese government Friday night and informed the media Monday afternoon.
Spokespeople from the Okinawa prefectural offices and defense bureau were not available to comment Tuesday because of a Japanese holiday.
Several incidents in recent years of parts falling from U.S. aircraft on or around Japan's southern island prefecture have drawn condemnation from residents and local officials.
On Aug. 27, a Marine Corps CH-53E Super Stallion helicopter lost a cabin window over open water off the Okinawa coast, U.S. military officials reported at the time. No injuries or property damage was reported.
In December 2017, a 3-foot-by-3-foot window fell from a Super Stallion based at Marine Corps Air Station Futenma and landed on an elementary school sports field near the base fence line. More than 50 schoolchildren were playing nearby at the time.
burke.matt@stripes.com Twitter: @MatthewMBurke1
kusumoto.hana@stripes.com Twitter: @HanaKusumoto
---
---
---
---