DODEA wants answers to students' declining performance on SATs
---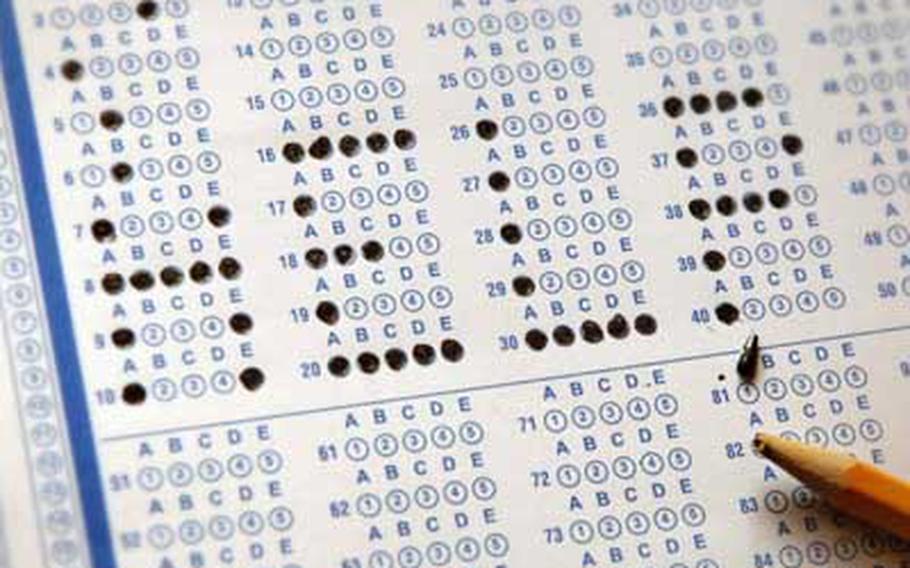 SAT math scores for students at Defense Department schools are falling further below the national average.
For the third straight year, Department of Defense Education Activity students have seen their math scores dip, from 512 in 2006 to 498 in 2009. A perfect score is 800.
In 2006, DODEA's math scores were six points below the national average. Now, they are 17 points below, according to test results released recently.
"We're not happy with the scores. They're not where we want them to be," Sheridan Pearce, DODEA mathematics coordinator, said in a recent phone interview from Arlington, Va.
"We're concerned by the trend."
The SAT is divided into three categories: mathematics, critical reading, and — since 2006 — writing.
In critical reading and writing, DODEA seniors in 2009 compared more favorably to their peers across the nation, but those scores either were unchanged or dropped from last year.
DODEA's average score in critical reading was 505, down four points from 2008, but four points above the national mean score of 501.
In writing, DODEA averaged 492, the same as last year, and one point below the national mean score of 493.
The stagnating and declining scores "are big enough to warrant some action," said Steve Schrankel, DODEA chief of assessment and accountability.
Even so, DODEA's SAT results follow a national trend of unchanged or declining scores over the last several years, he said.
"We don't know why that is," Schrankel said.
DODEA officials say they're already addressing the math deficiency. But measurable progress will likely take time, they warn.
Change in standards
Last year, after DODEA's math scores came in at 16 points below the national mean, officials began an initiative to help students improve their performance.
The education activity is revising its grades nine through 12 math standards. The new standards will be organized by subject rather than by grade, Pearce said. For example, instead of using math standards for ninth-graders, DODEA will make sure students are meeting the standards for a particular subject, such as geometry.
School officials also are considering ways to get more juniors and seniors interested in taking upper-level math courses.
DODEA students are required to earn only three credits in math for graduation; each completed course earns a student one math credit. If students take Algebra I in eighth grade, they could be done with math credits before their junior year, Pearce said.
For the 332 DODEA students who took calculus — an advanced math course — the mean SAT math score was 580, 65 points above the 2009 national average.
"We're looking to see if we can add [math] courses to the curriculum, above the geometry level," Pearce said. "If we can keep them in math classes, we think their skills will improve."
But DODEA probably won't at this time require more math credits for graduation, said Carole Newman, who also works in the assessment and accountability office.
Most states require at most algebra I for graduation, and in some instances, geometry. Because of DODEA's mobile student population, "we really do try to be in line with what other states have," she said.
The school system's SAT scores are in stark contrast to the TerraNova test results, in which DODDS students routinely score above the national norm. In TerraNova results released in September, the 49,456 DODEA students in grades three through 11 who took the test scored above the national average in every subject area.
Newman said that test can't be compared with the SAT. TerraNova tests basic skills and knowledge, while the SAT is much more of a reasoning test, she said.
Many colleges and universities across the nation factor SAT results heavily into the admissions process, according to the nonprofit College Board, which administers the test.
The writing portion was introduced in March 2005, and from 2006 to 2009, national averages have dipped — from 503 to 501 in critical reading; from 518 to 515 in math; and from 497 to 493 in writing.
Educators have cited, among other explanations, fatigue over a test that has grown to nearly four hours in length. A longer test, they say, may also discourage students from taking the test a second or third time to improve their scores.
The College Board's Kathleen Fineout Steinberg said the SAT tests academic skills students learn in high school, along with critical thinking skills, both of which demonstrate readiness for college-level work.
"The SAT is closely aligned to the high school curriculum and students who do well in their coursework tend to be the same students who do well on the test," she said in an e-mail to Stars and Stripes.
College admission
While SAT scores are still firmly ensconced in the college admissions process, there is a growing movement among liberal arts colleges and universities to make reporting of test scores optional.
Bates College in Lewiston, Maine, was one of the trailblazers, establishing the optional policy in 1984. After more than two decades of research, the college has found "no difference whatsoever" between submitters and non-submitters, said Bill Hiss, former Bates dean of admissions and currently the vice president for external affairs and an Asian studies lecturer. A third of Bates' classes enroll without reporting their SAT scores and the difference in college grade- point average and graduation rate between those who report and those who don't is five one-hundredths of a point and one-tenth of one percent, respectively, Hiss said.
By using standardized testing in the admissions process, "you're artificially truncating the pool of college students who would be successful if you would let them in and give them a chance," Hiss said. Through optional testing, Bates has doubled its applicant pool, he noted. The college carefully screens nonsubmitters, he said, to find "young people that have proven themselves to everybody except the testing agencies."
Britt Reynolds, director of undergraduate admissions at the University of Maryland College Park, said his school still weighs SATs in admissions but it's one of many factors.
Taken in consideration with the transcript, "it gives us a better indicator than just the transcript alone," he said.
---
---
---
---