Defense attorney says Okinawa confession made in a daze
by
Chiyomi Sumida Matthew M. Burke
May 20, 2016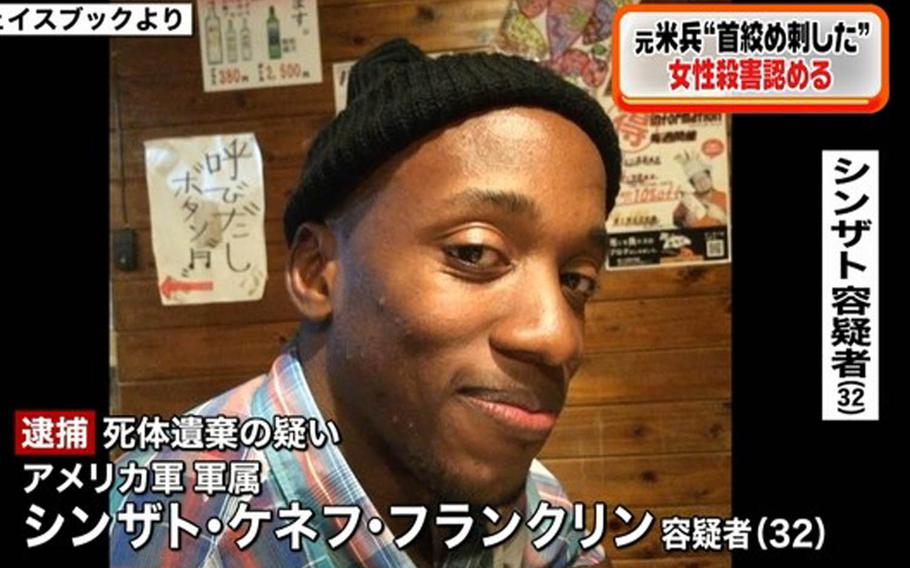 CAMP FOSTER, Okinawa — An American military base worker has admitted he strangled a missing Okinawan woman but made the statement to police while still dazed from a suicide attempt, his defense attorney said Friday.
"[He] attempted suicide twice — on May 17 and May 18 — using sleeping pills," attorney Toshimitsu Takaesu said. "He gave the statement the very next day. He was still in a daze. I do not accept a statement taken under such conditions. Right now it is the statement alone with no supporting evidence."
Kenneth Franklin Gadson, who works on Kadena Air Base and goes by his Japanese wife's family name of Shinzato, was arrested Thursday and charged with the illegal disposal of a body in connection with the April 28 disappearance of Rina Shimabukuro, 20. More charges could be filed after an autopsy is completed, police said.
Shimabukuro's body was found Thursday in a wooded location, in Onna Village's Afuso district, that Shinzato provided, Japanese police said. He allegedly told investigators he put her there "after she became motionless." She was identified using dental records.
Takaesu said his client's statements to police may have been given under the influence of the sleeping pills.
"Police believe that the victim died after she was strangled, but it is based on a statement given by the suspect with no evidence to support it," he said. "I need to wait for the results of the autopsy."
Police said they believe Shinzato and Shimabukuo did not know each other. They are still looking for a motive.
The alleged crime is already sending shockwaves throughout the island prefecture, where a small yet fervent protest movement has been fighting for years to dramatically decrease America's military footprint.
On Friday, the Okinawa prefectural government filed a protest with the Okinawa Liaison Office of the Ministry of Foreign Affairs and the Okinawa defense bureau of the Ministry of Defense.
Vice Gov. Mitsuo Ageda lodged a protest with Lt. Gen. Lawrence Nicholson, III Marine Expeditionary Forces commander, and Joel Ehrendreich, consul general at U.S. Consulate Naha, said a spokesman for the Military Affairs Office of the Okinawa prefectural government. Nicholson and Ehrendreich offered apologies over the incident.
"We were shocked and saddened to learn about the incident," USFJ public affairs director Lt. Col. Ken Hoffman wrote in an email to Stars and Stripes. "This is a terrible tragedy. We are determined to provide complete cooperation with the Government of Japan and local authorities in Okinawa regarding this investigation. Our heartfelt prayers and condolences are with Ms. Shimabukuro's family, friends, and loved ones. We also send our deepest sympathies to the people of Japan and express our gratitude for the trust that they place in our bilateral alliance and the people of the United States."
In a statement Thursday, Okinawa Gov. Takeshi Onaga once again called for tighter discipline and education for U.S. military personnel and civilians living and working on Okinawa. He also called for the reduction of U.S. servicemembers from the island.
"Such an atrocious incident is a grave shock to people of Okinawa who are forced to live in such close proximity to U.S. military bases, and this latest crime will add new fears," Onaga said. "It is painful to hear that the life of a young woman who was full of hope for the future was brutally cut short."
The incident occurred just a week before President Barack Obama is scheduled to visit Japan for the G-7 summit. He also is scheduled to visit Hiroshima, one of two cities hit by U.S. atomic bombs during World War II.
Relations between the U.S. military and residents of Okinawa have been rocky for years. Crimes committed by U.S. military personnel on or near American bases typically lead to protests from local residents and politicians. Okinawa is home to more than half of the 47,000 American troops based in Japan.
Prime Minister Shinzo Abe, who supports keeping U.S. forces on the island, also expressed anger over Shimabukuro's death. The Washington Post reported that Abe said he would bring up the alleged crime with Obama.
"I have no words to express my feelings, given how her family must feel," Abe said Friday. "I am outraged. We will demand that the U.S. side take strict measures to prevent something like this from happening again."
Shimabukuro, an Uruma office worker, had been missing since around 8 p.m. on April 28 when she told her boyfriend she was going for a walk. Several hours later, Shimabukuro reportedly "read" a message on her cellphone but did not respond. Her boyfriend reported her missing the next morning.
Police feared she had been the victim of a crime or an accident because she left behind her car and wallet. Her phone GPS indicated she was last in an industrial area near her home in Uruma's Suzaki district.
Shinzato's red SUV was among about 300 vehicles captured in security-camera footage from the area where the victim was last seen during that time period, police said, so he was brought in for questioning.
Police would not say if they believe this is an isolated incident or there could potentially be more victims. They also declined to provide the number of missing women in Okinawa.
Tsuyoshi Gushiken, chief of the Niijima community of Yonabaru where Shinzato lives, said not much is known about the suspect. Shinzato, his wife and infant daughter moved in with her parents about a month ago.
"It is beyond our imagination that someone who committed such a horrible crime lived in our neighborhood," Gushiken said. "Yonabaru is not a place where many foreigners live like in the central section of the island. Whenever an incident involving military member occurs in the central area, we used to feel sorry for the people in the area, but we have always thought it was something like fire on the other side of the river. We were surely caught by surprise."
U.S. Forces Japan officials referred questions about Shinzato to Okinawan police, but did say Shinzato is not a member of, or an employee of, the U.S. military, nor is he a Defense Department civilian worker.
"While living in Okinawa, he was hired by a company contracted to provide services to U.S. military installations on Okinawa," Hoffman wrote. "He was granted SOFA status through his employment with the contracted company."
According to Shinzato's LinkedIn profile, he was in the Marines at least from 2008 to 2012 and served as a postal clerk in the 3rd Battalion, 12th Marines mailroom and a combat marksmanship coach, then worked for the Defense Department in various capacities through 2014.
The profile also states he is enrolled in college courses at the University of Maryland University College.
---
---
---