'Corporal punishment?' Marines rail at changes to promotion wait times
by
Immanuel Johnson
November 1, 2019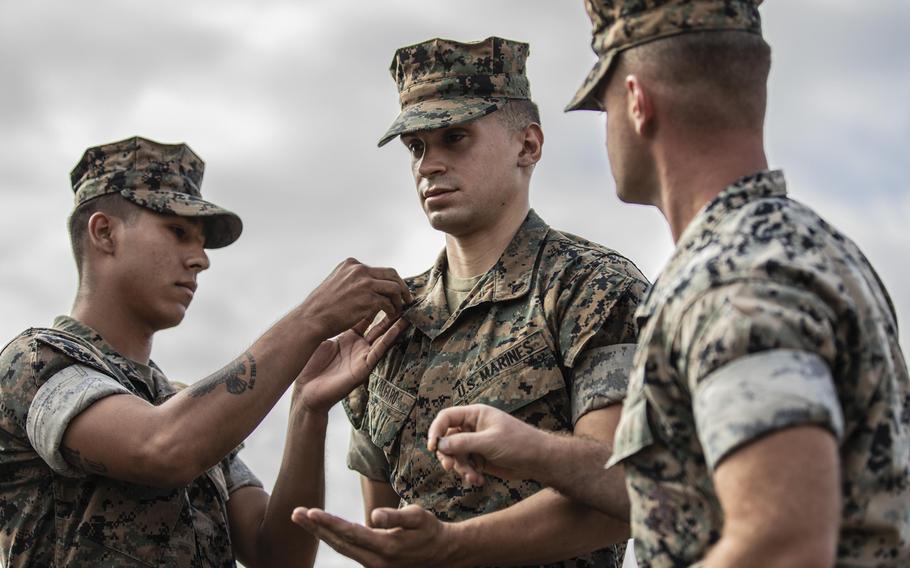 Most Marines will have to serve longer before they're eligible to reach the ranks of sergeant and staff sergeant, beginning Jan. 1.
Corporals will need at least four years of time in service to be promoted to sergeant, while sergeants must have served in the Marine Corps for at least five years to make staff sergeant, a service administrative memo released Wednesday said.
Corporals were formerly eligible for promotion after two years, while sergeants could move up after four years of time in service. Sergeants must also now have spent 36 months in their rank before getting promoted, up from 27 months.
The time spent in rank requirement can be waived if a Marine is being promoted on merit, but "there will be no waiver of the [time-in-service] requirement," the memo said.
Marines who have shown exceptional professionalism and performance over a period of time are eligible for meritorious promotions. There were 328 such promotions to E-5 in fiscal year 2019, compared to 11,566 standard promotions that year, Marine Corps officials said Friday.
There is no expectation that the number of meritorious promotions will rise after the policy takes effect, a Marine Corps spokeswoman said Friday.
Marines in pay grades E1-E3 will continue to be promoted based on time in service.
The changes are intended to "standardize the rate of promotion across the force" and keep Marines in the service longer, the memo said. As a result, other Marines would know that E-5s and E-6s have more experience in their fields, Marine Corps officials said Friday.
However, some Marines questioned whether the new policy would hurt retention and wondered what effects the changes would have on force structure.
Fewer Marines will want to reenlist, said Sgt. Jorge Ribera-Pedraza, a career planner with Marine Forces Reserve.
"Nobody is going to want to wait four years to pick up sergeant," he said.
The changes could mean there will be fewer sergeants, which would mean "less structure in the ranks," said Cpl. Sophia Roest, a maintenance chief with the III Marine Expeditionary Force.
Marine officials said the new policy brings promotions back in line with historical averages. In some job specialties, Marines are making sergeant in "quite less than" four years, said Col. Christopher Escamilla, branch head for the service's Manpower Plans, Programs and Budget section, in a Marine Corps Times interview.
About 38% of sergeants left active duty within 12 months of promotion in fiscal year 2019, service officials said Friday. Because active duty contracts often expire at the four-year mark, the new policy means that most Marines will have to reenlist to make sergeant.