CO, nine others removed from USS Stout over port visit misconduct
by
Sandra Jontz
March 1, 2011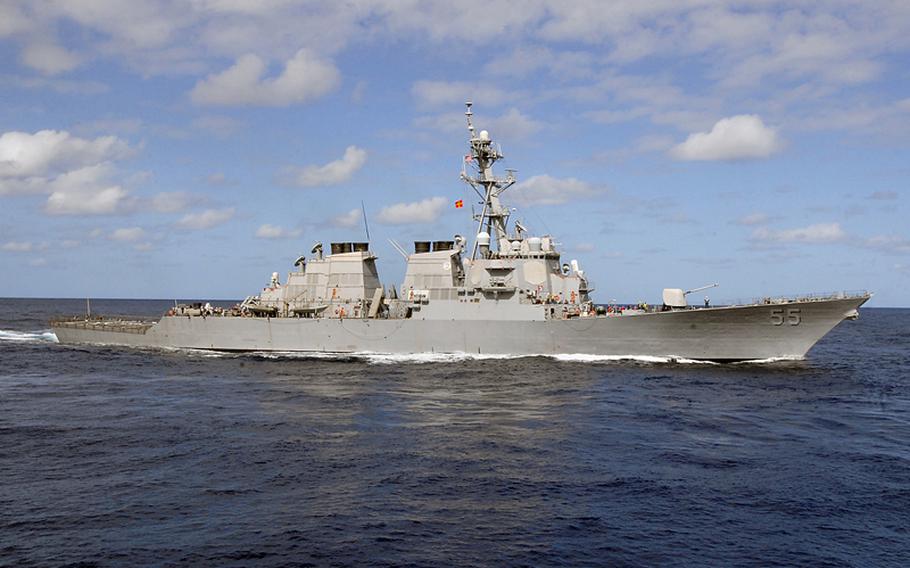 NAPLES, Italy — The commanding officer of the destroyer USS Stout and his top enlisted sailor have been relieved of command, and eight others disciplined, after incidents of inappropriate behavior at Mediterranean ports of call over the past few months, Navy officials said.
Vice Adm. Harry Harris Jr., commander of 6th Fleet, on Tuesday removed Cmdr. Nathan Borchers due to a loss of confidence in Borchers' ability to command, and relieved command master chief, Master Chief Susan Bruce-Ross, due to loss of confidence in her ability to effectively lead and serve, according to a Navy news release.
"The relief of Borchers occurred due to a loss of confidence in his ability to address a pervasive pattern of unprofessional behavior in overseas ports and a substandard command climate on board following an investigation into multiple allegations of crew misconduct," the release stated.
Additionally, an ensign, six chief petty officers and a lower-ranking petty officer were removed from the ship following nonjudicial punishment hearings for misconduct during incidents that occurred while on liberty ashore, officials said.
Offenses included fraternization, orders violations and disregard for naval standards of conduct and behavior, which contributed to poor crew morale and a hostile command climate, said Cmdr. Monica Rousselow, a spokeswoman for 6th Fleet.
One chief petty officer awaits further legal proceedings. Rousselow could not provide more information.
Capt. Dan Shaffer, commander of Task Force 65 in Naples, will assume command of the Stout until Borchers' replacement can be named, Rousselow said.
Navy officials cannot name the other eight sailors, nor provide the rank of the lower enlisted petty officer.
Biographical information and photographs for Borchers and Bruce-Ross were removed from the ship's website Tuesday and replaced with an "under construction" notice.
Since leaving its home port in Virginia on Dec. 15 for a scheduled six-month rotation to the Mediterranean, the Stout's crew has visited ports of call in Haifa, Israel; Souda Bay, Crete; Augusta Bay, Sicily; and Palermo, Sicily, Rousselow said.
Ballistic Missile Defense was the Stout's primary mission in the Med when it left Norfolk; but because of its proximity, it could be repositioned to the north African coast as deadly protests continue in Libya and the U.S. consults allies about possibly military operations.
Last year, the Navy began positioning sea-based ballistic missile defense in Europe, offering protection to NATO allies as well as Israel.
---
---
---
---