Clinton: Allies not worried Allen probe will affect Afghan mission
by
Jennifer Hlad
November 14, 2012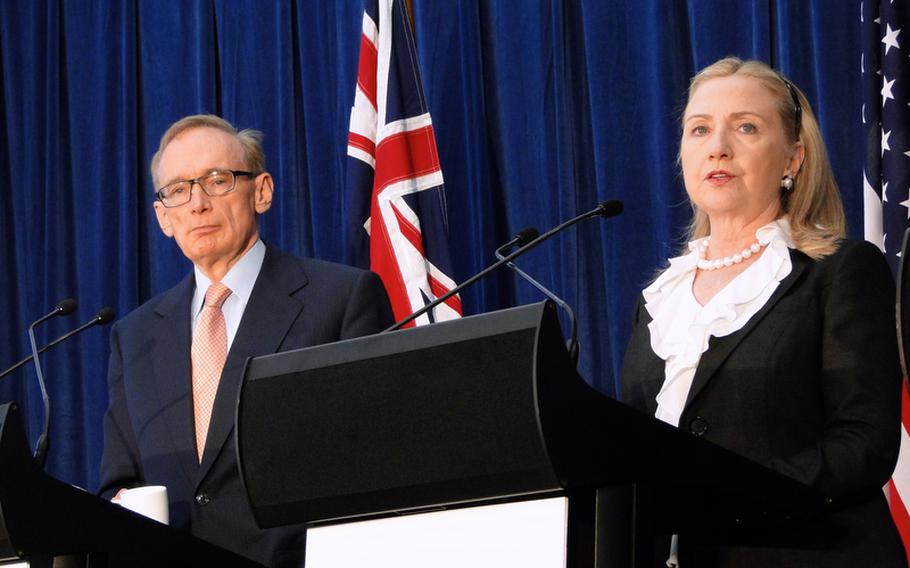 PERTH, AUSTRALIA — America's partners in Afghanistan are not concerned that the investigation into potentially inappropriate communications between Gen. John Allen, the top U.S. commander there, and a Tampa, Fla., woman will affect the mission there, Secretary of State Hillary Clinton said Wednesday.
"We have been in touch with our NATO allies," Clinton said at a joint news conference with Defense Secretary Leon Panetta and Australian leaders. "There's been a lot of conversation, as you might expect … but no concern whatsoever is being expressed to us, because the mission has been set forth and is being carried out."
Allen, who has led the International Security Assistance Force and commander of U.S. forces in Afghanistan since July 2011, has been nominated to serve as NATO supreme allied commander, Europe, and head of U.S. European Command when he leaves Afghanistan.
On Monday, senior defense officials told reporters on Panetta's plane to Australia that Allen is under investigation after FBI agents discovered 20,000 to 30,000 pages of emails and documents exchanged between Allen and socialite Jill Kelley, 37.
Panetta, in a written statement, said then that he had asked Senate leaders to put Allen's confirmation hearing – scheduled for Thursday – on hold.
On Wednesday, Panetta said putting the nomination on hold is a "prudent measure until we determine what the facts are." But he said Allen has his backing in Afghanistan.
"He certainly has my continued confidence to lead our forces and continue the fight," Panetta said.
Still, he said, referring the matter to the DOD inspector general was the right thing to do.
"After receiving information from the FBI on Sunday regarding the emails, I felt it was important, and my responsibility as secretary of defense, to refer the matter on General Allen to the department's inspector general, so that the inspector general could determine the facts here," Panetta said. "No one should leap to any conclusions."
The email exchanges came to light as part of an FBI investigation that led the former U.S. commander in Afghanistan, retired Gen. David Petraeus, to resign as CIA director amid revelations that he had an affair with his biographer.
Meanwhile, the confirmation process for Allen's replacement as the top commander in Afghanistan, Marine Corps Assistant Commandant Gen. Joseph Dunford, is to move ahead.
A statement released Tuesday by the Senate Armed Services Committee said that, if confirmed, Dunford would take over in Afghanistan in February, the expected date of Allen's departure. The change of command in Europe has been delayed until March at the earliest, the statement said.
hladj@stripes.comTwitter: @jhlad