GALLERY
Capitol improvements: 2-year project refurbishes Washington's most famous dome
---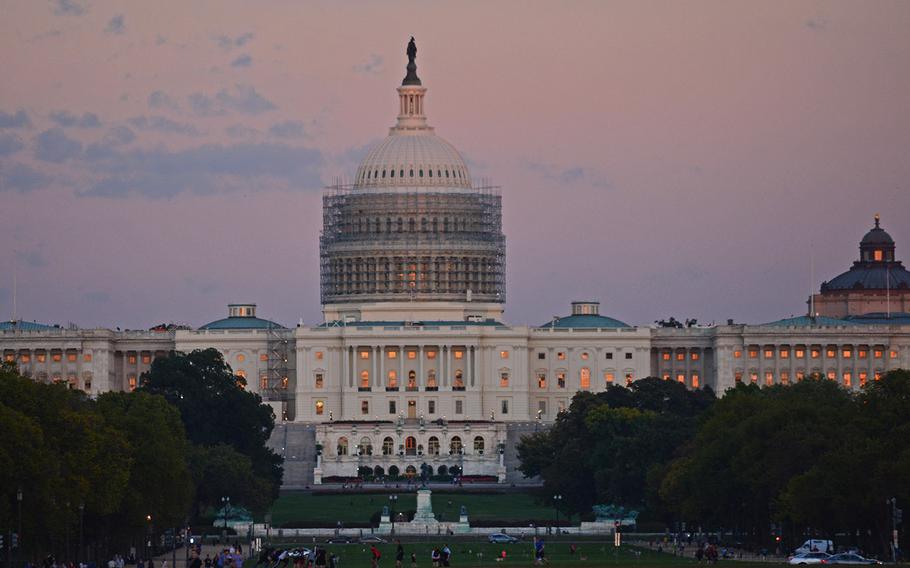 WASHINGTON — Dirty work is going on at the highest levels of government.
Atop the roof of the U.S. Capitol, in front of its apex covered in scaffolding, officials on Tuesday provided an update on a two-year restoration project that planners say will add 50 to 75 years to the life of the cast-iron dome.
Architect of the Capitol Stephen Ayers said workers have completed the scaffolding — 52 miles of metal piping and two miles of wood planking. It will give workers access to blast away eight layers of paint dating to its completion in 1866, as well as to repair cracks and paint it all again. Construction crews erected 25 tiers of platforms, from the bottom of the dome to the statue of freedom at the very top.
The last time a refurbishment was done was in 1959-60, Ayers noted.
In a fierce wind and temperatures in the teens, workers demonstrated the protective gear they will use to blast away and capture the dust from layers of lead paint, as well as the various techniques that will be used to repair the dome and all the architectural details attached to it. The work requiring the scaffolding will continue, snow or shine, until August 2015, with the entire project done in time for the inauguration festivities in January 2017.
Sen. John Hoeven, R-N.D., ranking member of the congressional subcommittee that oversees the architect's office, said the $60 million restoration is a priority for him and all Americans.
Joe Abriatis, the project construction manager, at Hoeven's prompting, noted that the project is both on budget and on schedule.
"We worked $60 million into the FY14 budget to make sure that this work is done," Hoeven said. "And to make sure that this work is done for the next inauguration so that when the next president is sworn in, the people of America can see their Capitol and their dome and be comfortable and confident that, just like this great nation, it's here for the long term."
---
---
---
---