Buried drums near Kadena schools spark pollution fears
by
Chiyomi Sumida Travis J. Tritten sumida.chiyomi@stripes.com tritten.travis@stripes.com
January 23, 2014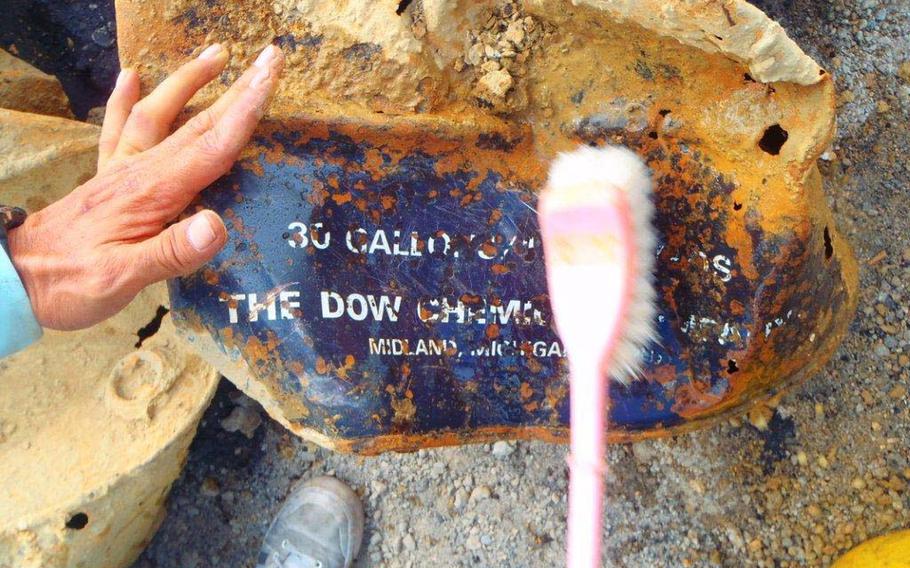 CAMP FOSTER, Okinawa — The ongoing Japanese recovery of herbicide- and dioxin-tainted barrels just outside Kadena Air Base alarmed hundreds of residents this week who fear for the safety of children at adjacent on-base schools.
After seven months of testing, Japan's government has found no indication of wider soil or water contamination, and the Air Force has said base drinking water is safe.
But those results were less than reassuring for Kadena residents, whose fears were fueled by dire warnings from an advocate for victims of herbicide contamination. They sought more information, rallied on Facebook and petitioned for a town hall meeting as word spread that drums with dioxin residue are buried within sight of the schools.
Twenty-two empty Dow Chemical drums have been unearthed since June, and another 11 unidentified containers have been detected but remain buried at the Japanese soccer field, which is separated from Kadena's Amelia Earhart Intermediate School and its playground by a raised expressway. The Bob Hope Primary School and the Kadena middle and high schools are nearby.
The web group of concerned residents ballooned with over 400 new members Thursday. Some reported health problems after moving from the Air Force base. Parents wondered about pulling children out of school or forcing them to drink only bottled water.
"The thought went through my head to home-school but I also did not want to do anything sudden," said Sheri King, whose 8-year-old daughter goes to Bob Hope Primary School. "I have sent her with bottled water … I am not sure what I'll do next week. I'll probably send her with bottled water."
All three levels of the Japanese government — Okinawa City, the prefecture and the Ministry of Defense — have conducted individual testing on the drum residue as well as soil and water in the area.
The results found potentially dangerous chemical traces inside and immediately around the discarded drums. But soil and water samples collected from across the soccer field were found to be safe.
Okinawa Prefecture also conducted water tests on two wells on Kadena and the base watershed at the ocean and detected no dangerous levels of pollution.
Okinawa City and the Ministry of Defense separated the soccer field into 23 sections and performed independent pollution tests on each one. The city and ministry samples were analyzed by separate labs and both found the soil posed no danger.
The tests appear to be a strong indicator that the chemical pollution has not spread to the rest of the soccer field or surrounding areas. A full survey of the soccer field is not expected to be completed until March, the ministry said.
Still, substances found at the site can pose serious risks to human health.
Samples from inside the barrels contained highly toxic dioxin, which can cause cancer, reproductive and developmental problems, immune system damage and hormone imbalances, according to the World Health Organization. Testing also found the herbicide 2,4,5-trichlorophenoxyacetic acid, which was an ingredient in U.S. defoliants but was discontinued due to health concerns.
Debate flared over whether the drums could be evidence of Agent Orange, an infamous Vietnam-era defoliant contaminated with dioxin that the U.S. claims was never present on Okinawa. Dow Chemical, a producer of the wartime herbicide, said the unearthed 30-gallon drums were never used for Agent Orange; one U.S. expert said they likely contained base garage and hospital waste.
Local concerns over the buried drums were ignited again last month by Agent Orange victims' advocate Heather Bowser, who warned Kadena residents in a letter to the Japan Times newspaper that dioxin in "nearby water was 840 times safe limits" — quoting from recent reports in that paper. She said base children may be susceptible to "chronic B-cell leukemias, diabetes mellitus type 2, multiple myeloma, Parkinson's disease, prostate cancer and respiratory cancers."
Bowser, who was born with multiple birth defects and is cofounder and national coordinator of the Children of Vietnam Veterans Health Alliance, told Stars and Stripes that Kadena parents have a right to know about the findings outside of the fence — and whether there is any pollution on the school grounds. The unearthed drums were first reported in Stars and Stripes in June.
"I believe there is a danger of having an openly contaminated area near schools," she said. "As a parent myself, it is better to be safe than sorry."
That sentiment echoed across Kadena this week. By Thursday, many fearful parents and residents were groping for more information on pollution risks as the defense school district and the Air Force offered some assurances but few details.
"We are aware of the situation and we are working very closely with the military to gather the facts," Department of Defense Education Activity-Pacific spokesman Charly Hoff said.
The school district deferred questions to the Air Force, saying it has the environmental expertise to handle any testing and evaluation of pollution risks.
The Air Force has released statements saying its environmental department has found base tap water safe to drink. It did not immediately respond to a Stars and Stripes request for water and soil testing results for the on-base school properties.
The lack of information on the pollution at the soccer field was the biggest frustration for some. Posters on the Facebook page wrote that official statements so far were unconvincing and pointed to the decades of pollution in drinking water at Camp LeJeune, N.C., as proof of the stakes.
"People are starting to panic a little bit because they don't know what is going on," said Jennifer Hall, a Marine spouse and member of the group, who said her child is slated to attend a Kadena school in the future. "I don't know what the effects are of the barrels."
tritten.travis@stripes.com Twitter: @Travis_Tritten