Bell tells officials to ditch the rules
by
Jon R. Anderson
April 25, 2004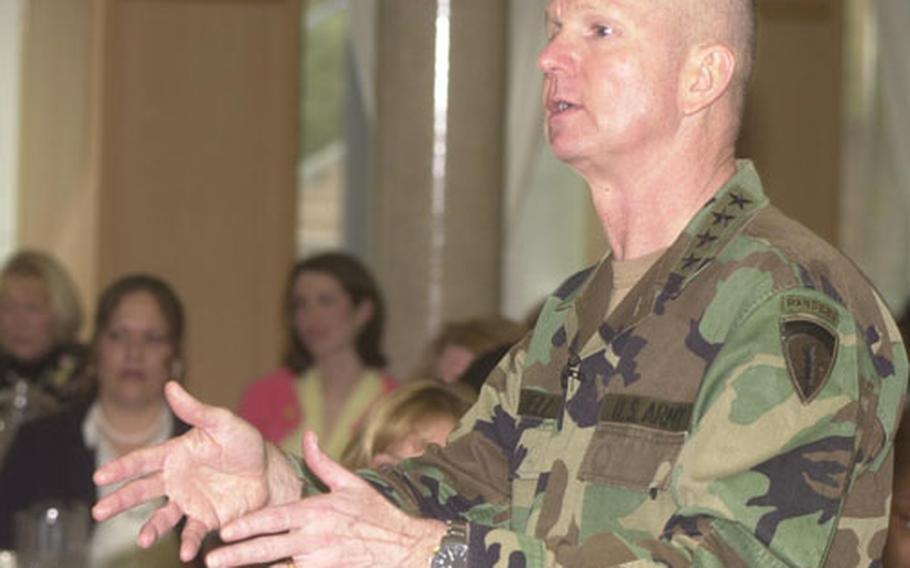 BAUMHOLDER, Germany — When she found out her husband was getting extended in Iraq for another four months, the wife of one 1st Armored Division soldier hoped she could get her old job back as an Army drug and alcohol counselor.
Her husband, a pilot for the division's Germany-based helicopter brigade, had been slated to move to his next assignment this summer. Meanwhile, the couple was eagerly anticipating the 30 days of block leave promised upon the soldier's return home from the war.
All that was put on hold with the extension, however, and the wife figured she'd go back to work while she waited for his return.
Instead, flabbergasted, she was told Army regulations prevented her from getting her job back.
"That's bullshit!" roared Gen. B.B. Bell, before base officials and Army support staff in Baumholder on Friday. Instead, says Bell, "some great civilian employee didn't make the right call because they didn't feel empowered." In short: "The system said no."
It's a story he's been telling throughout the division's Germany-based communities in a new blitz to personally order local officials to cut through red tape and take care of families.
Indeed, once the situation came to Bell's attention, the woman had her job back the next day.
"If we follow all the rules, we are going to frustrate people," Bell said.
"Find ways around the regs that don't make sense," Bell told a similar gathering in Friedberg. "I am here to authorize you to do what's right."
Listeners could be forgiven for thinking Bell is preparing troops for battle. And in a way, he is, with his own personal compassion campaign.
"You have to be bold and aggressive and take some risks," said Bell in Baumholder. "Forget the obstacles." But not the law, he adds.
"Don't do anything illegal," he cautioned. No fraud. No abuse. "But if you have to waste a few bucks of Uncle Sam's money in the final accounting, so be it." In the end, he said, if you're taking care of people, it's not waste anyway.
When plumbing backs up or playground swing sets break or faucets leak, "I want to see 30 people coming out to fix it," said Bell. "Tell them: 'Help is on the way.' I am encouraging you — frankly, I am ordering you — to do that."
For 1st Armored Division communities, he said, "everything is an emergency work order for the next four months."
It's not lost on Bell that family members are calling the day that most of them found out their spouses were getting extended "Black Thursday."
"When Black Thursday hit, life turned into a nightmare for the soldiers' families," Bell said in Baumholder. "We have to attend to this nightmare.
"We've got no time to muck around. We've got to do it right now. Maybe we can turn this nightmare into a regular dream and maybe people can wake up four months later and be OK."
Repeatedly, Bell stressed brevity of the moment.
"Our battle cry has to be we've got to do it right now. Not two weeks from now, not two months from now."
And if that means working weekends or late nights, "then I ask you, from the bottom of my heart, to work," said Bell.
"If there was ever a time in your service of America to stand and deliver, now is the time."
---
---
---
---