Another Navy warship sails near islands militarized by Beijing in South China Sea
by
Christian Lopez
March 16, 2020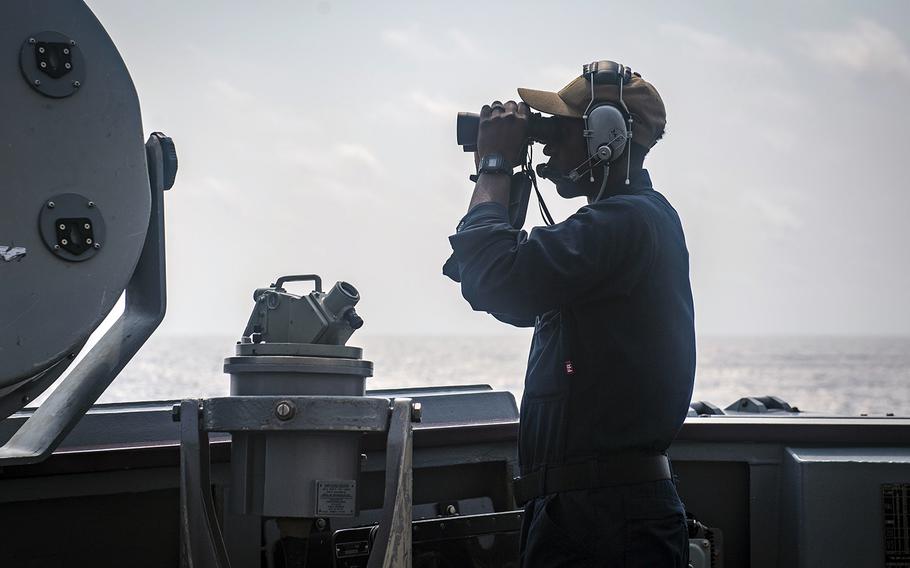 YOKOSUKA NAVAL BASE, Japan — The guided-missile destroyer USS McCampbell steamed through disputed waters in the South China Sea in the second freedom of navigation operation by the U.S. Navy this year.
The destroyer sailed near the Paracel Islands, a group of contested islands and reefs, on March 10, according to a statement Monday from the 7th Fleet. China, Taiwan and Vietnam have overlapping claims on the Paracels. Beijing on March 11 objected to the McCampbell's passage, according to an online report by msn.com.
"Under the guise of 'freedom of navigation,' the US has repeatedly flexed its muscles, been provocative and stirred up trouble in the South China Sea," msn.com quoted the People's Liberation Army Southern Theatre command spokesman Colonel Li Huamin as saying.
"This is a hegemonic act that violates international law, and … threatens the peace and stability of the South China Sea."
The PLA tracked the McCampbell and warned it to leave the area, msn.com reported.
International law holds that ships from other nations do not need permission for "innocent passage" within a 12-mile territorial limit, according to an email Fridayfrom 7th Fleet spokeswoman Cmdr. Reann Mommsen to Stars and Stripes.
Territorial seas normally extend 12 nautical miles from the coastline.
"Unlawful and sweeping maritime claims in the South China Sea pose an unprecedented threat to the freedom of the seas, including the freedoms of navigation and overflight and the right of innocent passage of all ships," Mommsen said.
In January, the littoral combat ship USS Montgomery sailed near reefs in the Spratly Islands, another feature in the South China Sea. The Montgomery steamed near Fiery Cross, a reef militarized by China, and Johnson South, where the country has made similar build-ups.
The Spratly Islands dispute involves China, Brunei, Malaysia, the Philippines, Taiwan and Vietnam. In 1974 Chinese forces expelled Vietnam from the Spratlys and has continued to increase its presence on the widespread archipelago ever since, according to GlobalSecurity.org.
The U.S. does not recognize any nation's claim of sovereignty over the Spratly Islands.
lopez.christian@stripes.com Twitter: @Clopez_Stripes
---
---
---