After impasse, senators to restart negotiations on VA Choice reform
by
Nikki Wentling
January 22, 2018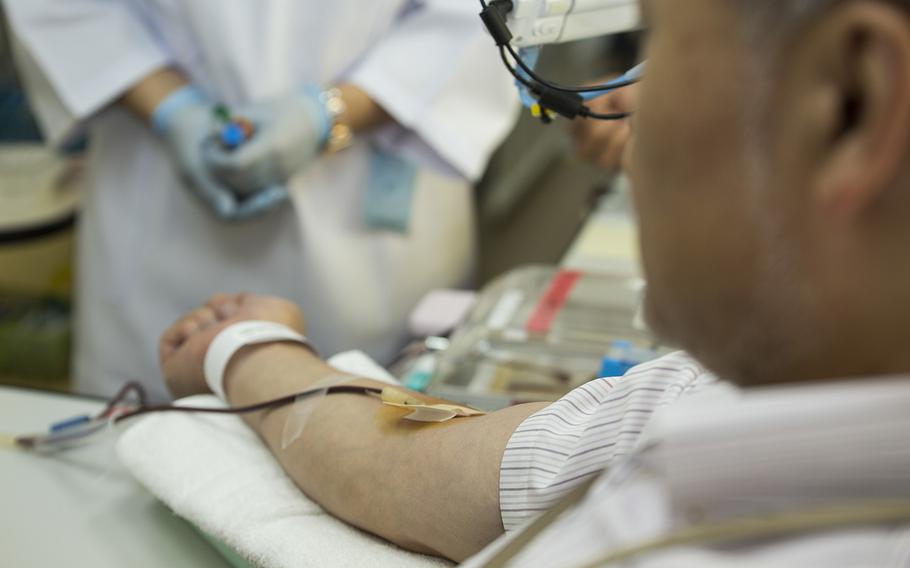 WASHINGTON — With an assist from the White House, senators are expected to restart negotiations about how to overhaul the flawed program veterans use to receive medical care in the private sector.
Sen. Johnny Isakson, R-Ga., chairman of the Senate Veterans' Affairs Committee, said President Donald Trump and White House officials would soon send guidance to the committee on what they wanted in a reform bill – information Isakson thinks could spur agreement among senators divided on the issue.
Isakson requested the information after legislation his committee approved more than two months ago failed to make it to the Senate floor for a vote.
"I hope what comes from the White House will be a catalyst," Isakson said last week during a committee hearing. "We'll begin work on it and try to find a bill we can unanimously get to the floor."
Congress has been negotiating reform to the Veterans Choice program for about a year, and Department of Veterans Affairs Secretary David Shulkin urged lawmakers to agree on changes by the end of 2017 – a deadline that came and went without consensus.
The Choice program was created following the VA wait-time scandal in 2014, in order to get veterans quicker health care by sending them to private sector doctors. But lawmakers, veterans and VA officials have criticized the program as bureaucratic and complex, with arbitrary rules governing which veterans are eligible to receive non-VA health care.
It's also faced numerous funding shortfalls. In August, Congress passed $2.1 billion in emergency funding for the program just before its bank account was to run empty. The same thing happened in December, and Congress authorized another $2.1 billion.
Shulkin attributed the funding shortfalls to the growing popularity of the program and the unpredictability of month-to-month expenses. According to the latest VA data, 36 percent of VA appointments in fiscal 2017 were made through the Choice program. More than 1 million veterans used the program, an increase of 35,000 from fiscal 2016.
Shulkin said last week that the committee should prioritize Choice reform.
"We've extended our current system but still have all the inefficiencies that we all know exist in Choice," he said. "If we want to do the very best thing for veterans, we should pass new legislation that implements a better system."
One committee member, Sen. Jerry Moran, R-Kan., blamed Shulkin for disagreements among senators that led to an impasse on reform efforts.
The Senate committee voted in November to send a bipartisan bill, the Caring for Our Veterans Act of 2017, to the Senate floor. The approximately $50 billion legislation offered more flexibility concerning veterans' eligibility for private-sector care and included other provisions, such as a popular one to expand VA caregiver benefits to veterans injured before 9/11.
The committee voted 14-1 on the bill, with Moran as the lone holdout. He later introduced his own legislation with Sen. John McCain, R-Ariz., that he said better lays out in what instances veterans can seek private-sector health care, instead of leaving those specifics up to the VA to decide.
"In my view, too often commitments and pledges are made to this committee and to individual members regarding legislative efforts on behalf of our veterans," Moran said during a Thursday committee hearing where Shulkin testified. "This is typical of what I've found with congressionally passed legislation — the VA changes course and thwarts the intent of Congress."
Moran said during the hearing that he thought Shulkin supported his bill over the one passed out of committee. He accused Shulkin of "double talk" that led to a rift between senators.
"In every instance, you led me to believe that you and I were on the same page," Moran told Shulkin. "I learned, though, you have said something different to the chairman and ranking member, and I'm of the opinion that our inability to reach an agreement is, in significant part, related to your ability to speak out of both sides of your mouth."
Shulkin responded to Moran that he was making "unfair characterizations."
"Everyone in public service takes the job to make a difference. There is no reason to turn things personal," Shulkin told reporters later. "I know Senator Moran wants the best thing for veterans and wants the Choice bill to be the best it can. That's exactly what I want."
Sen. Jon Tester, D-Mont., the ranking Democrat on the committee, pushed for Shulkin to issue clear support for the Caring for Our Veterans Act to help build consensus.
"There's a certain amount of frustration from Senator Moran, the chairman, myself and other members of this committee that you've been silent," Tester said.
Criticism from Congress has been scarce for Shulkin during his first year in office, particularly from Republicans. Lawmakers often mention Shulkin's 100-0 Senate confirmation vote and laud the VA as an area of bipartisan agreement, and Trump touts it as an agency that's made significant progress.
Congress has passed several major reform bills for the VA in the past year, including implementing new accountability measures and expanding the GI Bill. But Choice reform – a priority for Shulkin since his Senate confirmation hearing – is an area of contention.
Isakson said he expected to receive guidance from the White House in the next few days and start negotiations soon after that.
In the House, a Choice reform bill was passed along party lines. Democratic members voted against it, saying they were concerned about the government having the ability to fund an overhaul of VA community care programs because the long-term cuts created by the Tax Cuts and Jobs Act. It's uncertain whether the bill will be taken up by the full House.
wentling.nikki@stripes.com Twitter: @nikkiwentling