After allowing KIA bracelets, Marines order sleeves rolled down
---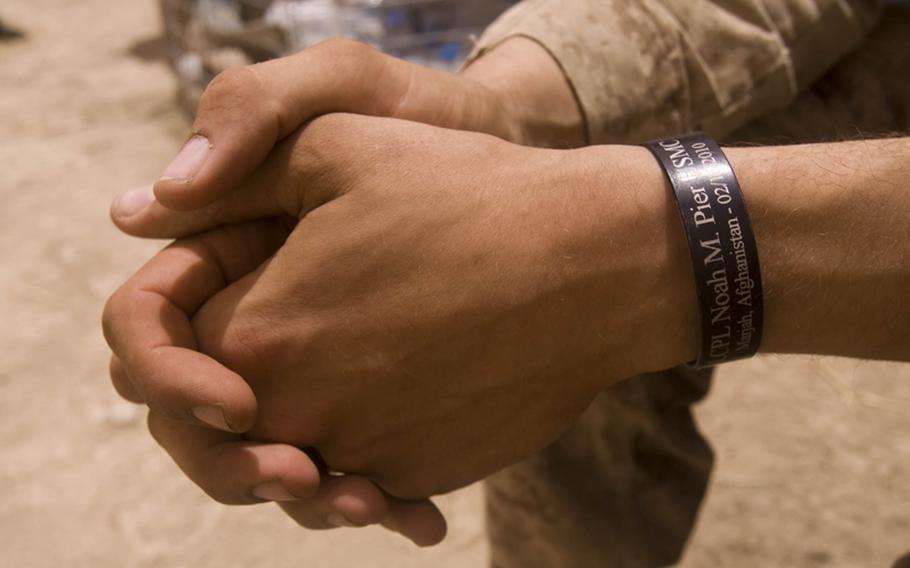 WASHINGTON — Hours after the Marines announced they would allow KIA bracelets to be worn in memory of fallen comrades, the Corps released separate guidance that decrees Marines will no longer be permitted to roll up the sleeves on their uniforms.
Starting Oct. 24, Marines will have to wear the sleeves of the combat utility uniforms down at all times, regardless of the season. The news has not met with favorable response among Marines, many of whom have used social media to point out the awkward juxtaposition of Tuesday's announcements.
"So let me get this straight, you can wear a KIA bracelet but you have to cover it up with sleeves?" tweeted one Marine.
Both issues were raised at a recent symposium of Marine Corps leaders, but the decisions were unrelated, a Marine Corps official told Stars and Stripes.
Complaints about regulations banning the bracelets, even as POW-MIA bracelets were permitted by grooming standards, prompted Commandant Gen. James Amos to allow the KIA bracelets.
"We are acknowledging the close personal nature of our ten years at war and the strong bonds of fidelity that Marines have for one another, especially for those fellow Marines who we have lost," Amos said in a statement Tuesday.
Since Marines downrange already wear their sleeves down year round, Marine Corps leaders decided to require all Marines do so in order to create a uniform appearance.
Of course, in true Marine fashion, the online outrage at the sleeves regulation was blended with an appropriate mix of humor. Users created the hashtag #occupyHQMC as a unifying element for their gripes.
"Marines sleeves down all year round ... Really really ... Lets just be the army" another Marine tweeted.
---
---
---
---