Afghan civilians reportedly killed in NATO airstrike
by
Josh Smith Zubair Babakarhail smith.josh@stripes.com
September 8, 2013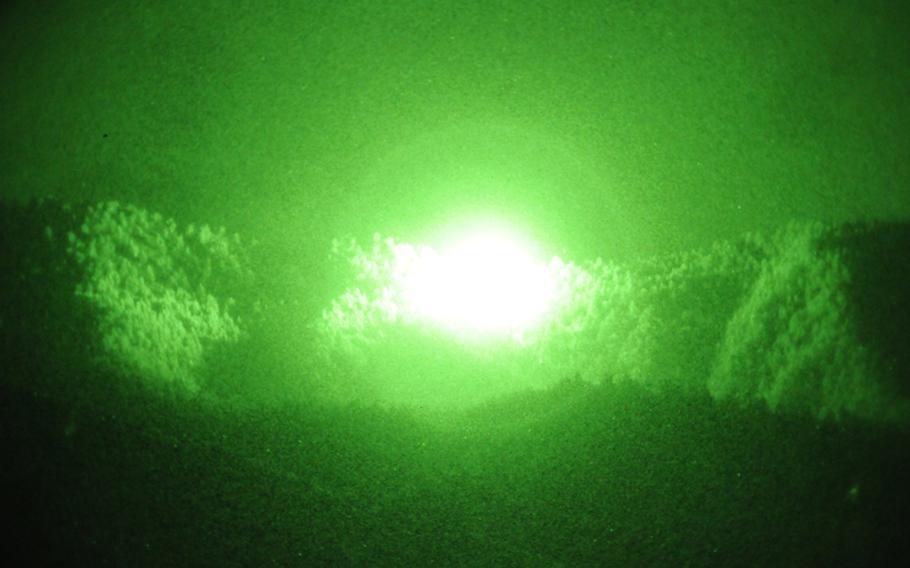 KABUL, Afghanistan – As many as 12 civilians were killed by an apparent NATO airstrike that also killed four insurgents in eastern Afghanistan on Saturday, according to Afghan government officials.
ISAF confirmed it had carried out the strike in Watahpur district, Kunar province, but said it had "no reports of any civilian casualties in regards to this incident." The international coalition statement said 10 insurgents were killed.
"We take all allegations of civilian casualties seriously," ISAF officials said in a statement. "We are continuing to look into the incident and will provide updates as appropriate."
According to Kunar province Gov. Shujaulmulk Jalalah, 13 civilians were traveling in a pickup truck from the city of Asadabad to destinations in Watahpur district. Sometime after the truck left Asadabad, four insurgent gunmen reportedly got into the truck, which was one of many used by locals as informal taxis between the city and more rural areas, Jalalah told Stars and Stripes.
An ISAF airstrike hit the truck in a mountainous area, killing four women, four children, and four male civilians, as well as the four gunmen, the governor reported. A fifth child was taken to a hospital in nearby Nangarhar province with injuries, he said.
Local media carried photos showing dead children wrapped in blankets, and a resident of Asadabad, Abdul Ali, told Stripes he observed one of the gunmen's bodies brought to a hospital in Asadabad. The dead man was reportedly from a Dangam district, on the border with Pakistan, according to Ali.
Watahpur district Gov. Zalmai Yousafzai said he had reported the incident to the central Afghan government, and had initial contact with ISAF officials. He said he worried the civilian deaths could make it harder for the Afghan government to broaden its support among the residents in the historically volatile region.
"We are trying hard to serve people in a good way… but when we see these kinds of attacks it makes people angry," he said.
Kunar province has been a base for both Taliban and other insurgent groups, and the effects of air strikes can be difficult to independently confirm in the mountainous region.
Throughout the long war in Afghanistan, civilian casualties caused by coalition forces have increased friction between Afghans and the foreign troops.
In July the United Nations reported a 14 percent in increase in deaths and a 28 percent surge in injuries among Afghan civilians in the first half of 2013, compared to the same period the year before. Nine percent of those casualties were attributed to pro-government forces, including ISAF, while 74 percent were blamed on anti-government insurgents. The remaining 17 percent were unattributed due to fighting between both sides, or from unexploded ordnance, the UN reported.
The U.N. specifically criticized insurgents for their deliberate targeting of civilians, but the organization has called on all sides to try to protect non-combatants.
"The violent impact of the conflict on Afghan civilians marked by the return of rising civilian casualties in 2013 demands even greater commitment and further efforts by parties to the conflict to protect civilians who are increasingly being killed and injured in the crossfire," the head of the U.N.'s mission in Afghanistan, Ján Kubiš, said in a statement in July.