New fuel card program in Italy kicks off Jan. 1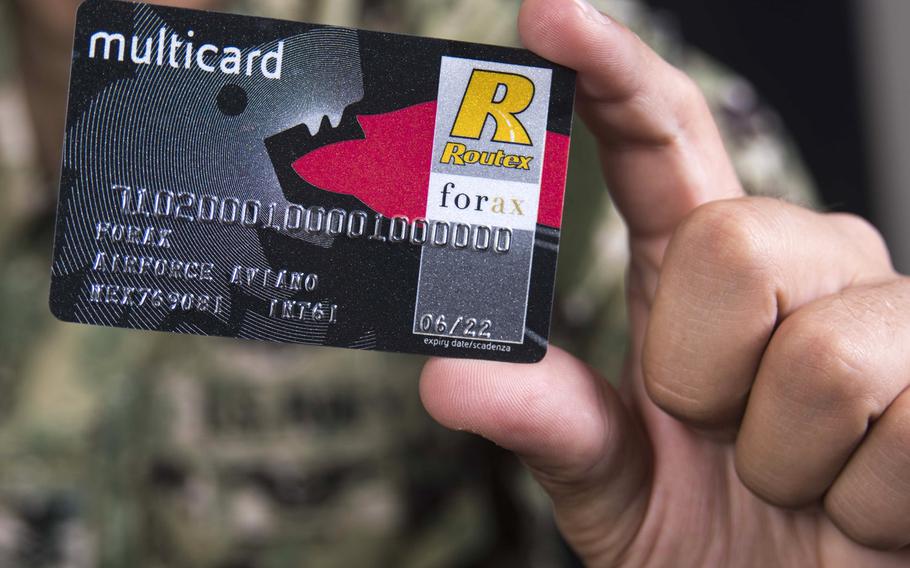 NAPLES, Italy – Gas rationing in Italy is about to enter the 21st century.
Servicemembers and Defense Department employees in Italy will start the new year buying gasoline with debit cards, which will replace the gas coupons used here since World War II.
The cards will be available Monday at Navy Exchange, AAFES and MWR outlets but won't be activated until Jan. 1. Anyone who uses the cards before then will be charged the full Italian fuel-pump price and taxes, which adds up to roughly 60 percent more than rationed gas.
Cards are more convenient, more secure if lost or stolen and prevent abuses such as users selling surplus coupons on the black market, Navy officials said.
"The NATO tax-free gas card program allows an increased level of oversight and monitoring that includes reduced risks for fraud, misuse and fuel overages," said Lt. Tim Pietrack, spokesman for Navy Region Europe, Africa and Southwest Asia, which oversees gas rationing for the U.S. military in Italy.
About 38 million gallons of fuel are sold yearly through the gas-rationing program in Italy for an estimated $70 million.
The cards will each come with a PIN, Pietrack said. They will be issued to servicemembers and Defense Department employees and not to spouses or children, he said.
The cards can only be used at ENI service stations, Pietrack said. The gas ration will remain the same amount, but instead of pre-paying for gas at military stores, as is done with coupons, the full monthly ration will be available on the cards, he said.
Each purchase will be deducted from the card and an electronic receipt emailed. If drivers buy more than the monthly ration, they will be charged the full gas-pump price for the overage.
They also will be charged full price if they buy diesel on a card designated for regular gasoline and vice versa.
Unused rations don't roll over to the next month, Pietrack said, adding that the ration is the same each month. The lack of rollover was the main complaint about the new fuel cards among commenters on a Naples Facebook page Saturday.
"With the coupons I could save my liters from not traveling in winter, and I could use them in the spring and summer," said Lori Ann Deckert Davis, a sailor's spouse. "This new system means I can't save my unused liters. So I'm penalized for not driving enough." The cards will allow drivers to buy gas at self-service pumps, rather than requiring an attendant to pump the fuel as the coupons do, so drivers can get gas when stations are closed at night or during the three-hour midday break known as "riproso," Pietrack said.
And sliding a card through a reader is much simpler than the current system of signing, dating and writing down the car's license plate on each coupon – and often a half a dozen coupons are needed for one gas purchase.
The change to plastic from paper comes more than a decade after a similar switch for U.S. forces in Germany. In 2006, the German Finance Ministry requested eliminating the gas coupons because they'd been counterfeited, sold, stolen and otherwise mishandled.
ENI requested that the military switch to fuel cards, so a test program was done to see how well the cards would work, and they proved to be a viable alternative, Pietrack said.
wyland.scott@stripes.com Twitter: @wylandstripes