Military not covered by Supreme Court ruling against gay, transgender discrimination
by
Caitlin M. Kenney
June 16, 2020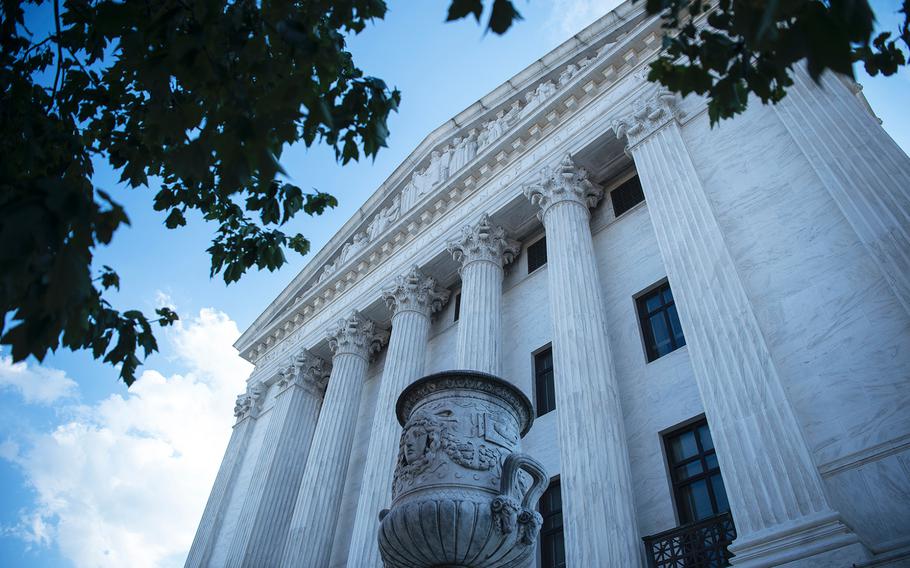 WASHINGTON — The landmark Supreme Court ruling Monday that a prohibition against sex discrimination also extends to gay and transgender people does not affect service members or Pentagon policy. However, lawyers and LGBTQ advocates believe the ruling could impact current lawsuits challenging Pentagon policy by making its ban harder to defend.
In a 6-3 decision, the Supreme Court ruled that employers who fire people for being gay or transgender violate Title VII of the Civil Rights Act of 1964. Title VII protects an individual from being discriminated against by an employer based on their race, color, religion, sex or national origin. The court ruled that the mention of "sex" applies to individuals who are gay or transgender.
"Because discrimination on the basis of homosexuality or transgender status requires an employer to intentionally treat individual employees differently because of their sex, an employer who intentionally penalizes an employee for being homosexual or transgender also violates Title VII," according to the court's decision summary.
Monday's landmark ruling affects employees across the country, but not the military. Courts previously have ruled that Title VII does not apply to uniformed military personnel, Rachel VanLandingham, a law professor at Southwestern Law School in Los Angeles and a former Air Force judge advocate, said in an email.
"It's a judicial exemption ostensibly based on military discipline that Congress hasn't bothered to correct," she wrote.
The Pentagon's 2019 transgender policy does not allow individuals who have been diagnosed with gender dysphoria to enlist in the military nor to continue to serve as their preferred gender without a medical certification or waiver. Gender dysphoria is the medical condition associated with individuals who do not identify with their birth sex.
In May, a transgender Navy officer was the first service member to receive a waiver to serve in their preferred gender since the policy was put in place.
The Defense Department referred questions about the Supreme Court decision and its transgender policy to the Justice Department. The DOJ "has no comment," a spokesman said in an email.
The Supreme Court ruling also will not apply directly to the four federal lawsuits challenging the transgender policy because they are based on the Constitution's equal protection clause and not the Civil Rights Act, according to Jennifer Levi, the Transgender Rights Project director at GLBTQ Legal Advocates & Defenders.
However, the Supreme Court ruling still will have an impact on the transgender policy, she said.
"It is absolutely going to be influential because that principle that's articulated in today's case — that discrimination against someone for being transgender is sex discrimination — will then apply to the court's analysis in the case under the constitutional equal protection challenge that's been brought in those cases," Levi said.
There is reason to believe that the courts will rule the same way, Levi said, and it is highly unlikely the Defense Department will be able to defend the ban.
Because the court's ruling does not apply, it makes the military "an outlier amidst a national consensus that arbitrary discrimination is harmful and wrong," Aaron Belkin, the director of the Palm Center, said in a prepared statement Monday.
"With transgender workers protected by federal law in all other sectors, the military's transgender ban is now even harder to defend," he said. The Palm Center is a nonpartisan research institute analyzing military personnel policies, particularly regarding the LGBTQ community.
Peter Perkowski, the legal and policy director for Modern Military of America Association, said the court's decision gives the organization hope "that justice will prevail in our lawsuit challenging the transgender military ban."
The association is a LGBTQ nonprofit that currently represents six service members in a lawsuit challenging whether the ban is constitutional.
"Make no mistake: The Supreme Court has ruled that discrimination against LGBTQ people is discrimination based on sex. That truth applies regardless of context. At the end of the day, what matters for military service is whether or not you are capable and qualified, not your gender identity," Perkowski said in a prepared statement.
kenney.caitlin@stripes.com Twitter: @caitlinmkenney